It's Wet Nose Wednesday! Do you have room in your heart and home for one of these two cuties from the Humane Educational Society?
Allison
When you see Allison for the first time, you're going to think she is visually a hot mess of a cat. She's lost most of her fur and has a grumpy (but cute) face. PLEASE do not judge! You will be missing out on a super sweet and affectionate cat. Allison came to HES along with several other cats after being rescued from a bad situation. She does look a little rough around the edges since she has lost most of her fur due to a flea allergy, but the fur is growing back and Allison will be gorgeous again in no time! Despite her appearances, Allison has a terrific attitude and is a happy girl. She's outgoing and wants you to pet and love on her. Allison LOVES to curl up in a kitty bed for a nice cat nap. She is ok with other cats if they let her be and don't go nose-to-nose. Come meet this sweetheart at the Humane Educational Society and give her a chance to have a loving forever home today!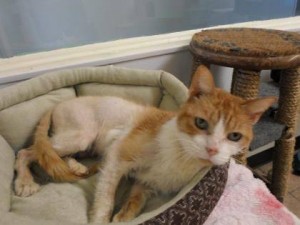 Gretel
If you are looking for a loving canine companion to snuggle with, then this week's Wet Nose Wednesday dog is perfect for you. Her name is Gretel, and she's a 3-year-old Australian Cattle Dog mix. Gretel is such a gentle, sweet girl that you can't help but fall in love with her. She wants nothing more than to be with you, getting in some cuddle time and being your best pal. She does have a fun side and will wiggle her cute little doggy tail when she is happy and ready to play. Come meet this loving and lovable girl today at the Humane Educational Society and make her your new best friend.