The Local Scoop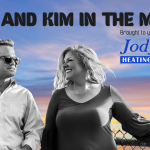 The "word of the year" for 2020 is… "pandemic". Both Dictionary.Com and the Merriam/Webster Dictionary say that the word "pandemic" has come to be known in ALL languages. And it is the word that has had the most impact on what is talked about, world-wide.
So how much exercise do you need, in order to make up for a day of sitting? Researchers say about 40 minutes of exercising, with "moderate physical movement", will off-set sitting at your desk the entire day. Walking, jogging, or riding a bike were mentioned as being excellent ways to "get out and move around"
McKamey Animal Center is now open on Sundays, from noon until 6, during December, so that YOU can find your new Forever Furry Friend. You'll need to have an appointment, but your adoption will include spaying, parasite protection, a microchip, and food for a week. Visit online, McKameyAnimalCenter.org, or call them at (423) 306-6500, extension 100.
The Tennessee Valley Federal Credit Union sponsored a golf tournament recently, and they raised $40,000. That money will help a non-profit group called "STARS – Students Taking A Right Stand", with their anti-bullying programs.
If your child needs a new coat or gloves or scarf for the Winter, call the Forgotten Child Find. Their number is (423) 697-0031. That's The Forgotten Child Fund, and they want to make sure your child is warm this Winter.
The Catoosa County "Toy Ride" is this Sunday, December 6th. Strap a new toy to your motorcycle, and meet at the Big Lots in Fort Oglethorpe. The ride begins at 2:30, and will travel FROM the Big Lots, TO Ringgold High School.