Weekend Bright Spots!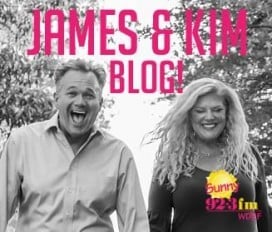 James and Kim's Weekend Bright Spots!!
Carols in the City and Community Christmas Tree Lighting
Mainstreet Cleveland lights the community Christmas tree and welcomes Santa Claus. After the community tree lighting, the crowd walks together to each of the historic downtown churches for a musical presentation on the steps of each church. "Reverse caroling" is a charming way to start the holiday season. Always 6 p.m., the Friday night before the Cleveland Christmas Parade, which is Saturday.
Mainx24
2019 marks the 13th annual MAINx24 street festival, which will take place on Saturday, Dec. 7th. MainX24 celebrates Chattanooga's Main Street and Southside neighborhood this weekend by hosting a grassroots, 24-hour long festival organized by locals, merchants and party revelers in an attempt to make the Scenic City as popular for night owls as it is for families. MainX24 is bigger and better t with over 150 events planned and packed into a 24-hour time frame including pancake breakfast, parade, adult big wheel race, chili championship and vendors!
Singing Christmas Tree
The Chattanooga Boys Choir Singing Christmas Tree, one of Chattanooga's longest-running and most treasured holiday traditions, will be held on Saturday, December 7, 2019 at the Tivoli Theater, with family-friendly 12:00pm and 5:30pm showtimes. $18-$40
CCS Holiday Market & Variety Show
The annual CCS Holiday Market & Variety Show is a family-friendly, community event hosting a wide range of local craftspeople, artisans, and food trucks with a variety show in the afternoon and evening. Activities include a photobooth, Noah's Little Ark live Nativity petting zoo, and kids games. Holiday Market is FREE and open to the public from 12:00 – 7:00 PM and is located in the center of the Upper School CCS campus, both indoors and outdoors. Variety Shows at 2pm and 7pm. Dec 7th
Signal Mountain Tree Lighting
The MACC will once host the full Town Tree Lighting Festival on Saturday, December 7th, from 4:00 to 7:00 PM. Santa (take your own pictures with the kiddos), Mrs. Claus (story time), letters to Santa, popcorn and cranberry stringing, nature ornaments to hang on our tree or yours, many more kids crafts, live music and drama provided by our local schools, churches and other programs, an art exhibit by our MACC students and local artists, food and beverages, and a great Holiday Market filled with local crafters!
Chattanooga Market
Find us indoors during December weekends at the Chattanooga Convention Center . The Holiday Market features 200+ local food vendors, artists and crafters each Saturday & Sunday in December offering unique gifts and festive preparations – everything you'll need for the holiday season!