Bright Spots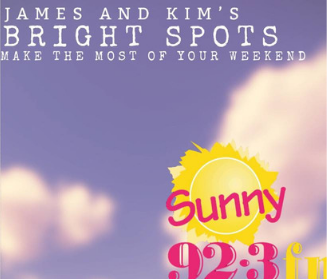 James and Kim's Weekend Bright Spots
Live music Fridays!
Nightfall in Chattanooga-Free
Off the Rails Dalton Music Festival-Free
Friday Festival, Summer on the Square 155 N Ocoee St. visitclevelandtn.com 7pm-9pm Free
World's Longest Yard Sale
August 1-4, 2019. The 127 Yard Sale is an annual event which takes place the first Thursday-Sunday in
August each year. It's literally, The World's Longest Yard Sale! The route spans 6 states (Michigan, Ohio, Kentucky, Tennessee, Georgia, Alabama) and is 690 miles long.
Superhero Sprint
Enjoy the 3rd annual Superhero Sprint benefiting the Epilepsy Foundation of Southeast TN. The 5K and
1-Mile fun run will be held at the Chattanooga Riverpark off of Amnicola Hwy. Registration begins at 8am with the 5K starting at 9am. $15 for 1-Mile Fun Run and $25 for 5K Run!
Back-to-School Bash
Hamilton County Schools is kicking off the 2019-20 school year with our second annual Back-to-School
Bash! This event will build on the excitement leading up to the first day of school with fun, food, student performances, and tons of resources for families. Free, 1st TN Pavillion 10am-2pm August 3rd
Cleveland Kool Aide Festival
Cleveland Kool-Aid kids and craft festival free to the public. Located in Cleveland TN. Food Petting zoo
Bounce houses Sat, August 3, 2019, 9:30 AM – 7:00 PM EDT 755 Raider Drive Cleveland, TN 37312
Riverfront Nights
"Riverfront Nights" is a music series to the city's 21st Century Waterfront. Enjoy great music Saturday
nights in mid July & August. Local Acts start at 7 p.m., Headliners at 8 p.m.
Sporting Events
Chattanooga Redwolves Aug. 3rd @ 7pm Chattanooga Christian School
Chattanooga Market
Salute our local Farmers this weekend! Enjoy fresh local produce, music and shopping from 11am-4pm