Happy Veteran's Day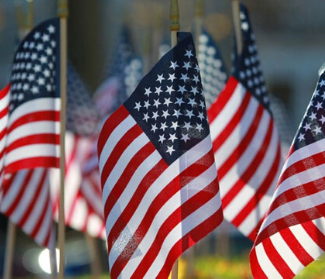 Happy Veteran's Day
Here's a list we've complied of freebies and Chattanooga events to celebrate our Military Veterans! Thank you for all you've done for our country, our home and The United States of America. Get out today and enjoy!
Chili's is offering veterans and active military members a free meal from a selection of menu items including Chicken Crispers, Margarita Grilled Chicken and Chicken Bacon Ranch Quesadillas.
Applebee's also has active and retired military members covered with a free dine-in meal.
Buffalo Wild Wings is giving Military Personal discounts today; See location for more!
Cracker Barrel is serving up a Southern homestyle holiday, thanking veterans with a complimentary Pumpkin Pie Latte or Double Chocolate Fudge Coca-Cola Cake. The Old Country Store will also be donating 10% of sales on select rocking chairs to the nonprofit Operation Homefront.
Denny's is giving the diner vibe to active, non-active and retired military personnel from 5 a.m. to noon with a Build Your Own Grand Slam deal.
O'Charley's is also offering a free entree from a limited menu for all veterans and active-duty personnel. The menu includes Chopped Steak, Low Country Shrimp and Peach Chutney Chicken.
IHOP is making sure veterans and active military can enjoy a free red, white and blueberry pancake combo.
Dunkin' is giving a sweet salute to its customers from the armed forces with a free donut of their choice.
Little Caesars  Get one free Hot-N-Ready Lunch Combo, with four slices of of DEEP!DEEP! Dish pepperoni pizza, and a 20-ounce soft drink, between 11 a.m. and 2 p.m. Nov. 11, at participating restaurants. Normally the combo costs $5. Order must be placed by 2 p.m. Those eligible are active duty and veterans.
Smoothie King  Get one free 20-ounce smoothie of your choice on Nov. 11 for military personnel and veterans, with military ID, veteran ID card of license with veteran designation.
Academy Sports and Outdoor offers a 10 percent discount on the entire purchase in stores and online through Nov. 11, to active duty, retirees and veterans and their immediate family members. In the stores, show military identification or driver's license with veteran's designation. Online, once you're ready to check out, under the promo section, there will be an added military discount option. Click on the Troop ID button. After verification, you must copy the promo code from ID.me and paste it into the promo code section on on the shopping cart page for single-use redemption.
Home Depot: Get a 10 percent discount on in-store purchases on Veterans Day. This is available to all veterans on Memorial Day, Independence Day and Veterans Day. But those who are currently serving in the military, or retired, or disabled veterans, and their dependents are eligible for a 10 percent discount on in-store purchases every day. There are certain limitations.
Lowe's: Get a 10 percent discount year-round. To get the discount, military, retirees and veterans should sign up online for the MyLowe's card, Lowe's personal shopping card (not a credit card). Spouses and dependents up to age 18 also qualify, as the discount for the household is linked to the MyLoew's card. It applies to online purchases, too. There are certain limitations.
Walgreens Get 20 percent discount on eligible regular-priced merchandise, from Nov. 8 through Nov. 11. You must use a Balance Rewards card.
Khol's Get a 30 percent discount on purchases from Nov. 7 through Nov. 11. Those eligible are military, veterans and their families. This is double the year-round 15 percent discount Kohl's offers on Military Mondays. Show a military ID, military dependent ID or veteran ID at checkout.
Target in-store or online to get a 10% discount. Don't forget to get your discount coupon from their site, though.
Great Clips will give a free haircut to veterans on this holiday. Don't need a haircut right now? That's cool. They'll also hand out a free haircut card to be used at a later date.
Goodyear Auto Service's "Free Checks for Vets" program is performing free checks on tires, brakes, alignment, shocks and struts, batteries and wiper blades for active and retired military. Plus, they will provide free tire installation for any tire purchase.
Ancestry.com  
From 7.p.m. EST Nov. 8 through 11:59 Nov. 17, the company is opening its archive of U.S. military records to allow people to search for free. Normally to gain access to these records it would cost $99 for six months or $189 for 12 months. There are more than 260 million military records, with documents from every major war from the American Revolution through Vietnam. To search, enter a family member's first name, last name, and birth year or location. Click 
here 
beginning at 7 p.m. Nov. 8.
Amazon is giving veterans and active military a year of Amazon Prime for $79 (it's usually $119).
The National Park Service invites veterans and their families to enjoy free entrance at its more than 400 national parks this Veterans Day. The free entrance does not cover amenity fees for activities such as camping, boat launches or tours.