James and Kim's Weekend Bright Spots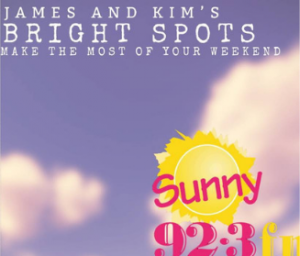 Welcome to the Weekend!
Chattanooga Public Library – Kid's Lego Club
Creativity and imagination soar at Lego Club! The unlimited ideas and learning opportunities are unwrapped each week with a productive playtime building, sorting and thinking in three dimensions. No matter how you stack them, Legos mean learning! Open to ages 3-8.
February 2, 2:00-3:00 PM | 278 Northgate Mall Drive Chattanooga, TN 37415 United States | 423-643-7785
Easy, Home-made Ice Cream
Need: milk, cream, sugar, 1 sandwich bag, 1 gallon bag, ice, salt
How: Mix 1 cup of milk, half cup cream and half cup sugar and add to sandwich bag.
Put ice, then salt into the 1 gallon bag, filling it half full. Put your ice cream bag into the gallon bag, then fill the top of the gallon bag will ice.
Shake for 5 minutes. Serve with your favorite toppings!
Will Chattanooga Chuck see his Shadow?
Please join the Tennessee Aquarium, Saturday at 10:30 AM, to find out if we will have 6 more weeks of winter. According to chief seasonal hog-nosticator, if he sees his shadow on Saturday morning there will be 6 more weeks of winter, but if he doesn't see his shadow that means Spring will come early to the Tennessee Valley. You don't want to miss it! Throughout the month of February, all college students, faculty and staff 50% off!
February 2, 10:30 AM | 1 Broad St, Chattanooga, TN 37402
Art if for Lovers @ Chattanooga WorkSpace
First Fridays Open Studio Nights is back! Come celebrate & kick off the first Open Studio Nights of 2019 "Art is for Lovers" at Chattanooga WorkSpace on Friday, February 1st from 5:30 to 8:30 pm. 4 floors of creative awesomeness. We will have local art and gifts for purchase, food, entertainment, & live demonstrations. This is a free event, open to the community, & all ages. The 1st floor WorkSpace Gallery will feature Girls Preparatory School AP Exit Show. Students that are enrolled in AP Drawing, AP 2D and AP 3D will celebrate their visual arts careers and have their works on display. The WorkSpace artists are featured in the 3rd Annual 'Red Show' in the ArtSpace Gallery on the 2nd floor. This is a one-of-a-kind unique show and all of their work is for sale and makes the perfect gift for your special Valentine. February will also feature several other talented guest artists throughout the building. This is a family friendly event. Admission is free! Don't miss out on the fun!
February 1, 5:30 PM | 302 W. 6th Street | (423) 822-5750
Enjoy your Hometown!
Chattanooga weather has been pretty fickle this week. We've been stuck inside for most of the week due to well below freezing temperatures. Get out and explore! Take a walk around the neighborhood with the dog. Rent a bike and ride across the Market Street Bridge down to Coolidge Park. Park and walk down the street visiting local shops. Or take the kids to a park to let them run off their pent up energy!