James and Kim's Weekend Bright Spots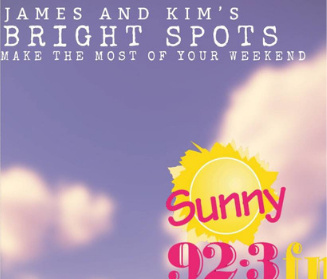 James and Kim's Weekend Bright Spots
USS LST 325
Visit history this weekend! The World War 2-era USS LST 325 is docked at Ross's Landing. It will be here until Tuesday. Tours will be available daily from 10am –5:30 pm. Tickets are $10 for adults, $5 for children 6-17 and free for children under 5. WW11 and Korean War Vets may tour at no charge.
Free Music
It's a FREE music weekend !!! This is the only weekend this summer when Levitt Amp series, Nightfall and Riverfront nights fall on consecutive days.
Levitt Amp Series … happening this weekend at the Bessie 200 E. M.L. King Blvd.
Nightfall … is Friday night in Miller Park,928 Market St. starting at 7pm
Riverfront … Saturday August 24, at Ross's Landing, 201 Riverfront Parkway, at 8pm
The Game
Chattanooga Football Club is home! Tickets are avalible at chattanoogafc.com
8/24 Chattanooga v. Michigan Stars FC
The Lookouts are Home! Friday though Tuesday … and Tuesday is the last home game of the season. Go Lookouts!
8/22 Lookouts v. Mobile AL @ 7:35 PM ET Fireworks after the Game!
8/23 Lookouts v. Montgomery AL @ 7:15 PM ET Fireworks after the Game! College Night!
8/24 Lookouts v. Montgomery AL @ 2:15 PM ET Food Drive. Kid's Club Sunday.
8/25 Lookouts v. Montgomery AL @ 7:15 PM ET Kid's Eat Free!
8/26 Lookouts v. Montgomery AL @ 7:15 Food City Tuesday. Last Home Game of the Season.
The Theater
Dalton Little Theatre opens the season with Fat Shirley's: a Trailer Park Opera …210 N. Pentz St. Dalton Ga. 7 pm show times starting August 23rd call 706-226-6618 for info.
The Chattanooga Market
Free Fun for Foodies this Sunday at the Market! 5 Chefs from area Restaurants will compete in a Lodge Cast Iron Cook-off! The winner of the cook-off will receive a Golden Ticket into the 2020 World Food Championship! 11-4 and it's always FREE!