James and Kim's Weekend Bright Spots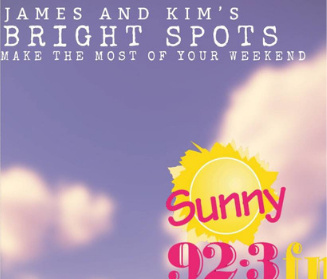 James and Kim's Weekend Bright Spots
Thursday Night Football!
UTC MOCS vs. Eastern Illinois 7pm Finley Stadium
Live music Fridays!
Nightfall in Chattanooga-Free LAST WEEKEND
Chattanooga Labor Day Parade & Picnic
Aug. 31, 9:30 a.m.
Join the Chattanooga Area Labor Council in the Inaugural Labor Day Parade & Picnic. The event will celebrate the hard working folks of Chattanooga. It will start on Cherry Street for coffee and a brief history on our local labor efforts followed by a march down Market Street into Coolidge Park for a huge picnic. The picnic will feature free BBQ, raffle prizes, and, of course, fun for the whole family.
*Free downtown parking at County Central Parking Garage (625 Cherry St.)
**ATU 1212 will bus folks back downtown from Coolidge Park!
Sock Hop and Car Show for Stocking Full of Love
The Al Millard Memorial Stocking Full of Love is in its 30th year of providing Christmas gifts for needy children in Walker County. The nonprofit organization is kicking off the season with two fundraising events: A '50s Sock Hop Dance on Sunday, Sept. 1, and a car show on Monday, Sept. 2, both at the Walker County Civic Center in Rock Spring. Sock Hop is $5 per person. Children age 5 and under can attend at no cost. The cost to enter the car show is $20 per vehicle. Registration is the morning of the show at the Walker County Civic Center from 8 a.m. to 11:30 a.m
Chattanooga Market Beast Feast
It's an American tradition…summertime Bar-B-Que, cold beer and live music. And it's all happening at Chattanooga Market where several local pit-masters will be competing at our 10th Annual Beast Feast BBQ Contest.
Labor Day in the Streets
Enjoy a fun day with 50 vendors confirmed, a cornhole tournament with prizes, a talent show, high school marching bands, a Little Miss Labor Day Pageant for ages birth through 18, and much more. There will be food, activities, games and music. September 2nd 10am-4pm on Lafayette Road
Light up Chattanooga TEAL
Watch for area Chattanooga business and locations to light up TEAL blue for National Poly Cystic Ovarian Syndrome Day (PCOS) on September 1st!