James and Kim's Weekend Bright Spots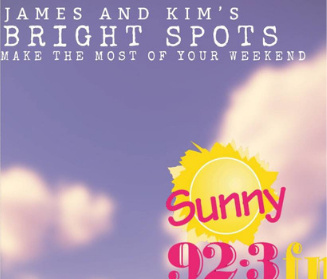 James and Kim's Weekend Bright Spots
New Moon Bash
The North Shore Merchants Collective will be hosting a neighborhood festival Friday, September 6th from 3pm -11 pm. To kick off the Moon River festival, New Moon Bash includes: Local musician showcase, family friendly activities through the afternoon, food from North Shore, craft retail and art vendors- Free
PioneerFest
The 2nd annual PioneerFest fall festival will be held at Camp Jordan Park on Saturday, September 7 from 10:00 am – 4:00 pm and is sponsored by the East Ridge Needy Child Fund. PioneerFest brings area residents, civic and religious leaders, and businesses together for a FREE fun-filled family day. There will be fun for everyone–food, games, entertainment, craft vendors, a Cruise-in for car enthusiasts and the first ever East Ridge Has Talent!
4 Paws Pantry Palooza – September 7th
Join McKamey Animal Center, 4 Paws Pantry, and Humane Educational Society on Saturday, September 7th at the First Tennessee Pavilion from 11 am to 4 pm for the first annual 4 Paws Pantry Palooza! You don't want to miss the doggie parade, dog cake eating contest, animal rescue groups, vendors, food trucks, photo booth and more! Leashed dogs are welcome to attend this family friendly event! A food donation for animals in need gets you in the door!
Doggie Pool Party
Swim with your pup in an Olympic-sized pool or one of two wading pools at The Warner Park Pool. All sized dogs are welcome! Saturday, September 7th 2019 11 a.m.-3 p.m.. Canine Admission: $15 per pooch pre-registration ($10/additional dog) or $20 at the door registration ($10/additional dog). Humans are FREE. Proceeds benefit the homeless animals at McKamey Animal Center.
Tennessee Valley Railroad Founders Day
A special ribbon cutting happening September 6th with dinner on the newly restored Cross Keys Tavern. They will be running the Missionary Ridge Local featuring double steam engines all day on Saturday, September 7. $90 Cross Keys Tavern ribbon cutting and dinner, $5 grounds pass – $5 will go toward the purchase of ticket or pass ,$25 Day pass for unlimited MRL rides, $18 MRL adult, $12 MRL child https://www.tvrail.com/events-exhibits/rides/founders-day
Chattanooga Market
Cruise-in for one of our most revved up events…Whether you're a hobbyist or just enjoy checking out these classic beauties, it's a sight to see. It's a great opportunity to get under the hood and see these classics up close while enjoying a day at Chattanooga Market.