James and Kim's Weekend Bright Spots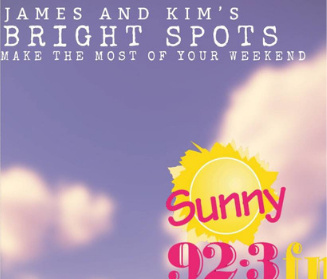 James and Kim's Weekend Bright Spots
Mamma Mia
The Colonnade Players open Mamma Mia at the Colonnade. Tickets $13-17 Thursday, Friday andSaturday 7:30pm Sunday 2:30pm
Voices of Lee- 25th Anniversary
Enjoy the Voices of Lee 25th Annual Reunion Concert Saturday 9/14 at the Conn Center at 7pm Tickets: $30, $20, $15
Polo Matches
Bendabout Farm hosts Polo Matches on Saurday at 10am and Sunday at 2pm parking and admission is free. For information bendabout.com or 423-476-6602
156th Anniversary of The Battle of Chickamauga
Visitors are invited to join the staff and volunteers of Chickamauga and Chattanooga National Military Park as we commemorate the 156th Anniversary of the Battle of Chickamauga with a series of ranger- guided tours, hikes, lectures, and living history demonstrations. Programs are scheduled to begin Friday, September 13, and to conclude Sunday, September 22.
Latin Festival
Excitement is in the air as we prepare to celebrate the 5th Annual Latin Festival in Chattanooga, TN. We are pleased to announce that this year the Festival will take place at the Chattanooga State Community College campus on Saturday, September 14, 2019. Located along the banks of the Tennessee River, the campus will provide a beautiful backdrop for the festival while also letting us showcase the more than 500 Latino students who are currently enrolled at Chattanooga State who serve as role models for our
community.
Sports
Chattanooga Football Club vs Napa Valley @Finley Stadium 7pm 9/14
Chattanooga Market
Scenic City Wings promises to be a little spicy, a little messy, but a whole lot of fun! Patrons can sample the unique tastes of Chattanooga's best wings from area restaurants in this blazing annual competition. Each $10 ticket will get you two sample wings from each of our 6 wing contestants, and you vote on your fav! There will be 2 winners – popular vote and judge's choice. And it's all for a good cause, all ticket sales will directly benefit the Chattanooga Area Food Bank. Now that's something you can sink your
teeth into!