James and Kim's Weekend Bright Spots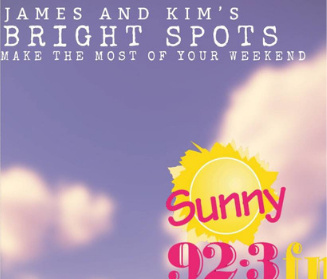 James and Kim's Weekend Bright Spots!!
Beastly Feast at the Chattanooga Zoo
Join the Zoo, on Friday November 8th from 6-8pm, as we learn all about the beastly eating habits of our carnivores! Take this opportunity to watch our animals enjoy dinner a little bit more naturalistic, learn why it is important for their survival, and admire the naturalistic behaviors of our more hungry animals like our jaguars and dragons! Come with an appetite to purchase food and drinks – we know that the beasts will! The tickets are $12.
The Fall Forever Bluegrass Festival
We need more Bluegrass!!! This November festival-goers and musicians from all around the Southeast will be making their way to the historic Mountain Cove Farms in Chickamauga, Georgia, for an unforgettable 3 days of music and mountains. The 3rd Annual Fall Festival will take place on Thursday, Friday and Saturday – November 7th, 8th & 9th! Daily tickets from $10-$30 and Three Day passes for $66
Glass Street Block Party
With the goal of bringing neighboring communities together, Glass Street LIVE's family-friendly festivities include a street party, a pop-up history museum, live mural paintings, a bounce house and freshly-made food for purchase. Free 12n-5pm Saturday
Veteran's Day Concert with the CSO
The tradition continues as the CSO honors the men and women of our military with a free Veteran's Day performance, featuring special guests the Lee University Singers. FREE 4-6pm Sunday Memorial Auditorium
Chattanooga Market
Come enjoy the music of Sweet Georgia Sound on the EPB stage for another free performance (last one until next season). The 20+ band is well known for a variety of ballroom dance music that includes classic and modern big band, swing, Latin, and waltz tunes. In the Chattanooga area, Sweet Georgia Sound has earned the favor of accomplished ballroom dancers! Sunday 11am-4pm
Veteran's Day Service
A Veterans Day Program to remember and honor all military members who have served or are currently serving the nation on Monday, Nov. 11 at 11 a.m. at the Chattanooga National Cemetery Pavilion. Keynote speaker will be Major Kevin Beavers, department head, military science at UTC.