James and Kim's Weekend Bright Spots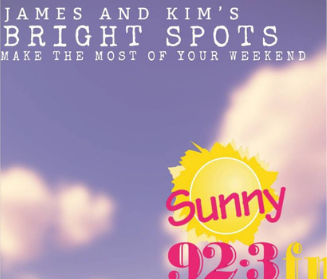 James and Kim's Weekend Bright Spots
Reflection Riding Arboretum & Nature Center
Weed Wrangle®, is a one-day, citywide, volunteer effort to help rescue our public parks and green spaces from invasive species through hands-on removal of especially harmful trees, vines and flowering plants. Typical unwelcome plants are honeysuckle , Chinese privet , winter creeper , autumn olive , English ivy and kudzu. March 7th 9:30am-12pm, Meet at Welcome Center, Wear long pants, sturdy boots, and closed-toe shoes. Bring a reusable water bottle!
Read Across Chattanooga
The annual Read Across Chattanooga event returns to Hamilton Place Saturday, March 7 from noon to 2 p.m. The first 300 kids to arrive will get a free Dr. Seuss book!They will celebrate with arts & crafts, giveaways and more This year, the following partners will be hosting activities for all to enjoy:Tennessee Aquarium, Chattanooga Public Library, Soddy Daisy Community Library, Imagination Library, City of Chattanooga Office of Early Learning and held in partnership with United Way of Greater Chattanooga
and Barnes & Noble Booksellers. The goal is to show Chattanooga's children the joy of reading and build a nation of readers.
Amuseum
Explore seven amazing wonders of the world without ever leaving Chattanooga at CDM's 7 Wonders of the World: AmuseUm 2020. This incredible annual fundraising party is sure to be the talk of the town! Featuring a variety of cultural cuisines from around the world, awe-inspiring activities, delightful drinks, live music, and so much more! 7pm-11pm Tickets $125
Journey 2020: An Evening in Bali.
Experience Journey 2020: An Evening in Bali. Journey features a stunning location but an even more impactful purpose — supporting the work of Hospice of Chattanooga. This year, funds raised from Journey will support the grief counseling and support services
provided by Hospice of Chattanooga to ANYONE in the community who has ever experienced a loss and needs the support of trained grief counselors. Tickets include: cocktails, silent auction, a gourmet four-course dinner, and an after-party with casino and dancing to . The Downtown Band: Corporate & Wedding Entertainment Tickets $75
Collegedale Market
The Collegedale Market is open on Sundays from 11a-4pm. Come enjoy crafts, food vendors and more! Fresh produce, local art and live music! Located at the Commons in Collegedale
Southern Adventist University's Symphony Orchestra Free Concert
Join them for an evening of orchestral music with a wonderful program that features Beethoven, Dvorak, and Hummel. The Symphony Orchestra, under the direction of Laurie Redmer Cadwallader, will perform alongside guest trumpeter Carlot Dorve. This event is free and open to the public. For more information, visit southern.edu/musicevents or call 423.236.2880.