Wet Nose Wednesday!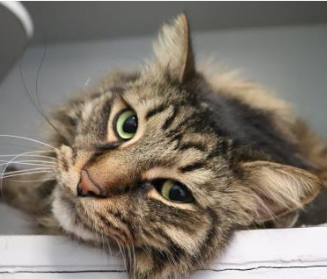 Just in time for Valentine's Day – a couple of pets who want to be your one-and-only!!
Alex 40690231
Alex is a wonderfully huge 8-year-old puffball of a cat. He is 18 pounds of purring, loving, furry kitty cat. Alex loves people and being petted. He'll roll around and make air biscuits while you pet him. Sometimes he'll get a little too happy and give you a couple of little love nibbles, but he means no harm. Alex isn't really a fan of other cats, so he'll need to be your one-and-only kitty love. Alex is declawed, so you will have to make sure he stays inside at all times. Come meet this sweet hunk of cat today. He'll steal your heart!
Baxter 322250883
Baxter is a 4.5-year-old neutered male Terrier mix. He's a loving guy who really just wants a simple life of snuggling with people, going for nice walks and hikes, and being loved. His ideal day would be going with you for a walk around the neighborhood or a nice romp through the woods then cuddling up to you on the couch at the end of the day. That's not too much to ask, is it? Baxter is not a fan of cats, so he needs a home that is feline-free. He can be choosey about his canine pals, so he would need to do a meet-and-greet if you have other dogs already. Baxter is loving enough to make up for being your only pet, though. Plus, he's super handsome and has a nice smile! Come adopt Baxter today and see that smile for yourself!