Happy Easter Weekend!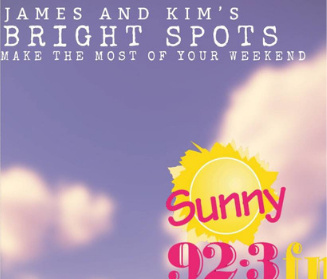 James and Kim's Bright Spots
Reflection Riding Plant Sale
Join us once again for our Spring Native Plant Sale to purchase the region's best selection of trees, shrubs, and perennials. For each native plant you buy, we'll plant one too! Your plant purchases support ecosystem restoration in both your yard and our 317-acre teaching landscape
Make plans now to attend the 32nd Annual Spring Native Plant Sale at Reflection Riding. 
Friday, April 19th: 9:30am-6:30PM Public Sale
Saturday, April 20th: 9:30am-6:30PM Public Sale + Earth Day Festival and James Howard book signing from 10a-1pm
Hug-a-Bunny at the Chattanooga Zoo
Hug-a-Bunny is a spring celebration for all ages! Guests will have the chance to get their photo made with the Easter Bunny, enjoy springtime games and crafts, gather Easter eggs, watch as our Zoo animals enjoy their egg hunt enrichment, encounter the Zoo's real bunnies, and more! This year's celebration will be April 19th & 20th from 9am-5pm each day. Choose between either date for a hoppin' good time!
Included with Zoo admission: Golden egg scavenger hunt, animal enrichment activities, photos with costumed characters, story time, & enjoying the Zoo! Bunny Zone includes bounce houses, games, crafts, face painting, bunny encounters, tortoise encounters, & ambassador animal encounters!
Bunny Zone wristband pricing:$5 online wristbands, $6 member day-of wristbands, $7 non-member day-of wristbands
Free National Park Day on April 20th
National parks are America's best idea, and there are more than 400 parks available to everyone, every day. The fee-free days provide a great opportunity to visit a new place or an old favorite, especially one of the national parks that normally charge an entrance fee. The others are free all the time. The entrance fee waiver for fee-free days does not cover amenity or user fees for activities such as camping, boat launches, transportation, or special tours.
Easter at Coolidge Park
This event is FREE for the whole family. The egg hunt begins at 9 a.m Sunday but be sure to arrive early to set up your lawn chairs in the park and take part in the other fun activities! After the egg hunt, grab your seat and enjoy songs of praise led by Stuart Heights' Worship Choir and Band, followed by a message of faith, hope and gospel of Jesus Christ at 10am.
Sunrise Service at the National Cemetery
The Salvation Army of Chattanooga celebrates Easter Sunday with its traditional Easter Sunrise Service at The Chattanooga National Cemetery at 1200 Bailey Ave. around the flag pole overlooking downtown Chattanooga. The community is invited to worship together in this location beginning at 7:02 a.m. as the sun rises over Chattanooga. Be sure to come early for parking and seating.