35 Years Ago Tonight: The Who Performs Final Gig With Kenney Jones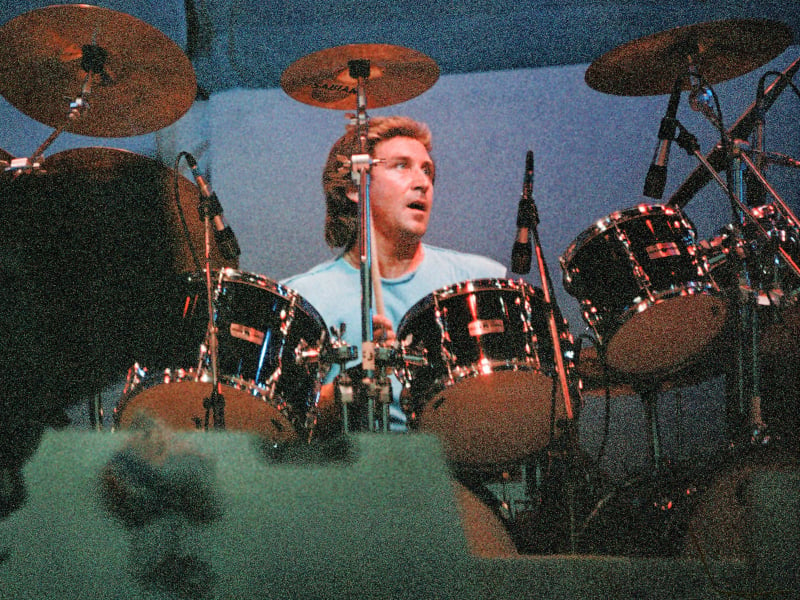 It was 35 years ago tonight (February 8th, 1988) that the Who performed for the last time with drummer Kenney Jones as an official member of the group. The band — Pete Townshend, Roger Daltrey, John Entwistle, and Jones — reunited for a three-song set at London's Royal Albert Hall during the British Phonographic Industry (BPI) awards, after receiving the prestigious lifetime achievement award. The group, who hadn't performed live since 1985's Live Aid concert, tore through their hits "Who Are You," "My Generation," and "Substitute," but were hardly at the top of their game. Talks had already begun about the band reuniting for some type of major project in time for their 25th anniversary in 1989.
Townshend told the band he didn't want to tour, preferring instead to record. He tossed around the idea of having outside writers such as Paul McCartney and Bruce Springsteen contribute material for the album, but nothing came to pass. Townshend has gone on record saying that the band couldn't raise the proper funds to record a new album, and Daltrey was adamant that he wouldn't carry on as the Who with Jones as a member.
Jones was a longtime friend of the group, and co-founded both the Small Faces and the Faces before playing on Who-related projects like the Tommy and Quadrophenia film soundtracks. He was made a full member of the band in late-1978 after drummer Keith Moon died. Jones also drummed on Townshend's first mainstream solo album, Empty Glass, and was featured on the album's standout track, "Rough Boys."
Daltrey was vehemently opposed to naming anyone Moon's replacement, preferring to change drummers on a project-to-project basis. After being out-voted by Townshend and Entwistle, he reluctantly approved Jones joining the band, yet openly criticized his drumming as being wrong for the Who.
With the prospect of a major tour looming, Daltrey gave the band an ultimatum: it was either him or Jones. Townshend, who was always Jones' biggest supporter, eventually sided with Daltrey.
Townshend told author Richard Barnes why he eventually relented: "Although I did promise Kenney that I wouldn't work without him, in the last conversation I had with him I started to get very irritated. He kept saying, 'The It's Hard album is not a great album. I've got a right to make a great album with the Who.' And I thought, 'This isn't true. You were brought in at the end. I've got a right to make a great album with the Who, or Roger, or John has, but you haven't."
Roger Daltrey says that despite never being happy with Jones as the Who's drummer, the two were actually quite close: "I actually got on very well with Kenney, I just didn't feel ever that he was the right drummer. . . And people didn't ever seem to listen to what I was saying. They'd say 'Well Kenny's a great drummer!' And I'd say 'Yes, I know Kenney's a great drummer, but he's not the right drummer!' (Laughs) He's a great drummer! Could you imagine putting Keith Moon in the Faces — would he have been the right drummer for the Faces? Of course he wouldn't."
Pete Townshend's younger brother, touring Who guitarist Simon Townshend, grew up as a die-hard Who fan. Simon, who caught the Who with Keith Moon well over 30 times, recalled seeing his first Who show with Kenney Jones as the Who's new drummer: "I remember what Pete was wearing. Pete was wearing a Clash t-shirt. I mean, I love Kenney and I love his drumming and he's fantastic, fantastic. But in terms of the Who, my first time seeing Kenney play with the Who was in some respects — not because of Kenney — it was because the Who as I knew it had become something different, so I was very, sort of upset, really. Because up until that point all I'd ever saw was the Who as the fireball that they were with Moonie."
Kenney Jones told us that despite Daltrey commenting over the years that Jones was never right for the Who, Jones is quick to point out that he was Townshend and Entwistle's ultimate choice as Keith Moon's immediate replacement: "I think, to be honest, it was a confusing time for him and it was a confusing time for everybody. But, as Pete says, I had the support of Pete and John. I know I fitted, anyways — not a problem. It's just, y'know, you can't fit in in two seconds flat, you have to find your way around it. Now, obviously I found my way around it. The hardest thing I found when joining the Who, was not actually playing in the Who, it was actually learning the songs in the Who and trying to find my way of playing them."
We asked Kenney Jones — who stayed close with his Faces bandmates throughout the years — whether or not he ever held a grudge against the Who for cutting him loose: "It was really something that Roger was flying into the middle, here, y'know? And I thought, 'Okay, this is enough — 10 years with the Who,' and I thought, 'Fine, I'll just move on, that's great.' I haven't fallen out with any one of them, contrary to what anybody says. Pete and I have played together at the Albert Hall a few times, we speak on the phone quite comfortably. John I saw in different bars and stuff — we talked, y'know, it's fine. I've seen Daltrey; it's all water underneath the bridge. It's what happened and it's what happened then — not a problem to me."
Although the financial settlement between Jones and the Who has never been discussed, he eventually relinquished all rights in the band's partnership. In 1989, the Who, with drummer Simon Phillips and a host of additional musicians, undertook the 50-date 25th anniversary The Kids Are Alright tour, hitting North America and then Britain.
Townshend, Daltrey and Jones were all on hand for John Entwistle's funeral in 2002.
Daltrey says that he was glad that Jones chose to participate in the Who's recent retrospective, Amazing Journey: The Story Of The Who, to shed light on the band's career: "It took a lot of courage for Kenney to do that, and indeed for people like (late former manager) Chris Stamp. Y'know, it's a painful part of their past. I'm sure it's still painful for him to have to revisit. The great thing is we're still all friends out of all this and we respect each other and we love each other."
Ringo Starr's son Zak Starkey has been the Who's unofficial full-time drummer since 1996. Although Townshend and Daltrey have offered him a permanent spot as the Who's third official drummer, he has declined, preferring to remain a free agent.
In recent years, Jones has formed a new rock trio, the Jones Gang, with ex-Foreigner bassist Rick Wills and one-time Bad Company frontman Robert Hart — as well as performing in a revamped version of the Faces with Ron Wood and the late-Ian McLagan.
On April 14th, 2012 Jones was inducted into the Rock and Roll Hall of Fame as a member of both the Small Faces and the Faces.
In 2018 Kenney Jones published his long awaited autobiography Let The Good Times Roll: My Life In The Small Faces, The Faces And The Who. He Ron Wood and Rod Stewart are currently compiling a new Faces album to feature both new and archival material.
FAST FORWARD
Pete Townshend and Roger Daltrey reunited with Kenney Jones on June 14th, 2014 in Surrey, England at Hurtwood Park Polo Club for the "Rock 'n' Horsepower" benefit in aid of Prostate Cancer UK. In January 2014, Jones was diagnosed with prostate cancer and following treatment; the disease has thankfully not spread.
Townshend and Daltrey — backed by the event's house band — performed with Jones on drums, marking the first time the three have shared a stage since the '88 BPI awards. The Who performed a rugged five-song set — "I Can't Explain," "Substitute," "The Kids Are Alright," "Pinball Wizard," and "5:15." Townshend joined in later on the encore of the Rolling Stones' "It's Only Rock N' Roll" — which he explained was recorded in Ron Wood's house — which is now Townshend's main London residence.
Other performers included Mick Hucknall, Jeff Beck, John Lodge of the Moody Blues, Procol Harum, Mike + The Mechanics, John Parr — of "St. Elmo's Fire (Man In Motion)" fame — along with Steve Marriott's's daughter, Mollie Marriott.