45 Years Ago Today: Bruce Springsteen Releases 'Darkness On The Edge Of Town'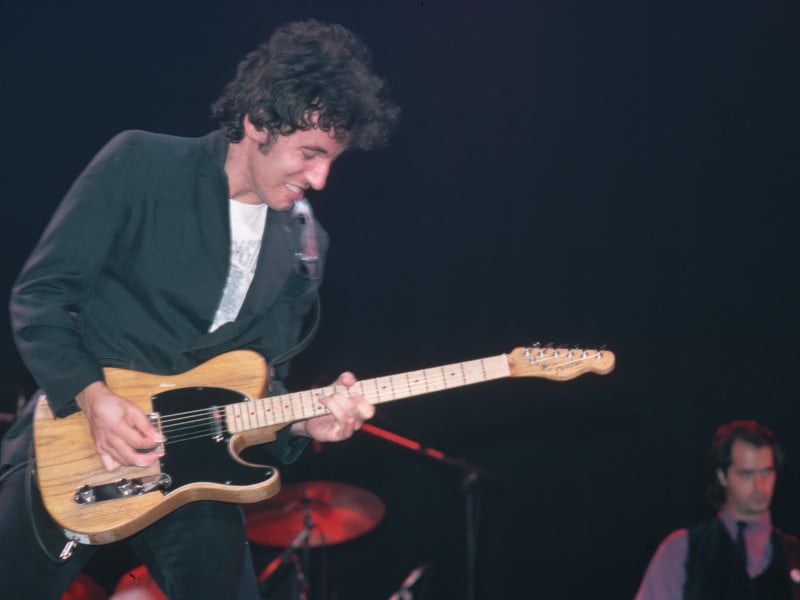 It was 45 years ago today (June 2nd, 1978), that Bruce Springsteen finally released his long awaited followup to 1975's Born To Run, Darkness On The Edge Of Town. The album peaked at Number Five on the Billboard Pop Albums chart and stayed in the Top 10 for a total of eight weeks.
The recording of Springsteen's fourth album was blocked for a year while Springsteen was in litigation with his former manager and producer Mike Appel. Appel's suit barred Springsteen from recording with future manager and producer Jon Landau.
The tracklisting to Darkness On The Edge Of Town is: "Badlands," "Adam Raised A Cain," "Something In The Night," "Candy's Room," "Racing In The Street," "The Promised Land," "Factory," "Streets Of Fire," "Prove It All Night," and "Darkness On The Edge Of Town."
The album's two singles — although becoming instant FM and live staples — fared less well on the Billboard Hot 100 — with "Prove It All Night" hitting 33, and "Badlands" stalling at Number 42.
The Darkness sessions generated dozens of outtakes, as well as songs that went on to become successful for other artists, including "Fire" for the Pointer Sisters, "Because The Night" for Patti Smith, and "Rendezvous" for Greg Kihn and later Gary "U.S." Bonds.
On November 16th, 2010 Bruce Springsteen released the box set The Promise: The 'Darkness On The Edge Of Town' Story. The collection featured the first remastered version of the Darkness album, along with two CD's of previously unreleased outtakes titled, The Promise. The set also included an 80-page notebook, and three DVD's.
Bruce Springsteen explained that the songs during the Darkness On The Edge Of Town sessions easily — and more often than not — morphed into one another: "There was a lot of multi-versions of all kinds of things. We were always pulling things apart. I had like a big junkyard of stuff as the year went by. If something wasn't complete, I just pulled out the parts I liked, like pulling the parts you need from one car — put 'em in the other car so that car runs."
Darkness On The Edge Of Town engineer — and now famed music mogul — Jimmy Iovine explained the core difference between the creation of Born To Run and its followup: "Born To Run, there were only, maybe, nine songs — eight made the album. On Darkness, there were, like, 70 songs. That was a big difference. If you think about that; somebody sculpting eight songs, and then all of a sudden, the next album, they're writing 70 songs."
E Street Band rummer Max Weinberg remembered the Darkness sessions as being an intense period for the band as Springsteen forged a new path both musically and thematically: "Y'know, I've read things and, of course, discussed personally with Bruce things about that record and what he was aiming for. And, y'know, I guess when I think back, what we were all trying to do was working really hard to give Bruce what he wanted. And we were all — we were kids, y'know? Certainly on Bruce's part — I mean, he's the true (laughs) artist! And learning how to do it together, basically. None of us had a huge amount of experience recording. Y'know, we kinda learned that process together."
Steve Van Zandt explained that unlike nearly all of his peers, schedules be damned — with Darkness On The Edge Of Town, Bruce Springsteen recorded and discarded songs until he found the album he was trying to make: "Basically, the first good 10 songs you write, you put 'em out — there's your record. That process would end (laughs) — forever, and never came back."
After 1975's Born To Run album, Bruce Springsteen redirected the romantic scenes found on the album and refocused his work onto the real lives and responsibilities of people — like those in his hometown of Freehold, New Jersey — who were grappling just to survive day to day: "What happened was, I got to a point where the answers that I found in my favorite rock n' roll records, they didn't work for me anymore. Y'know, I couldn't find what I wanted in a Phil Spector record anymore. The whole thing wasn't workin' out. It wasn't workin' (laughs) — the way the old story goes — the way you thought it was gonna work out."