45 Years Ago Today!!! The Rolling Stones Release 'Some Girls'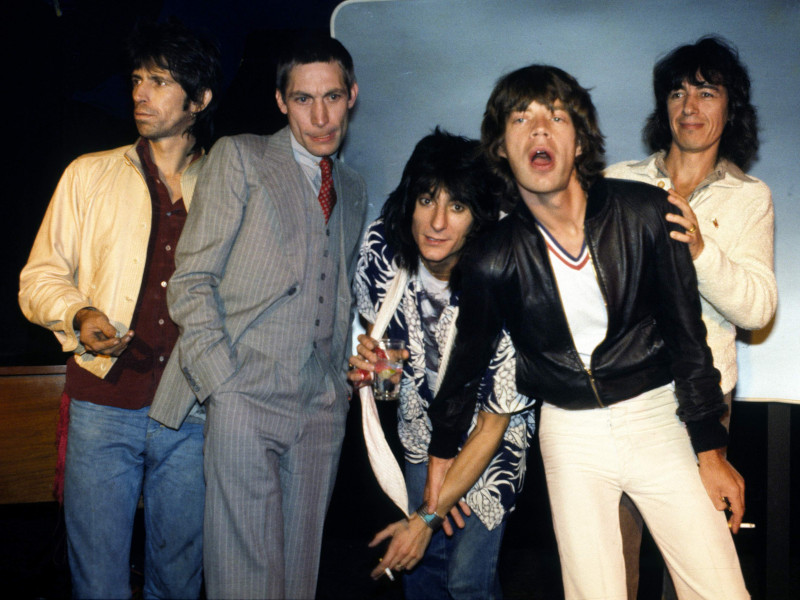 It was 45 years ago today (June 9th) that the Rolling Stones released their 1978 blockbuster, Some Girls. The album, which was competing on the charts and turntables around the globe with breakthrough punk and disco records, was able to absorb the musical influence of what was going down in the clubs and the streets of New York City and become the first album in years to drastically redefine the Stones' sound. It also featured the band's first chart-topper since 1973's "Angie" — the disco-based monster summer hit and instant classic, "Miss You, which remains the Stones' last Number One single to date.
Some Girls was recorded between October 1977 and March 1978 at Paris' EMI's Pathe Marconi Studios. The album hit Number One on July 15th, 1978 and topped the Billboard 200 album chart for two weeks. The album spent a further eight weeks at Number Two behind the soundtrack to Grease — and for its final week at Number Two, Boston's Don't Look Back. All told, Some Girls spent a total of 23 weeks in the Top 10 of the Billboard 200 albums chart and has sold over six million copies to date.
The album's lead single, "Miss You," topped the charts for one week starting on August 5th, 1978, with other highlights including "Beast Of Burden," "Far Away Eyes," "Respectable," "Before They Make Me Run," and their cover of the Temptations' "Just My Imagination (Running Away With Me)," among others.
Back in 2011, Keith Richards told Spinner.com that after the excesses of some of the band's then-recent albums — which saw the Stones dabbling in reggae and R&B — for Some Girls, they simply went for broke writing and performing a straight-ahead rock based album: "Yeah, it was a deliberate idea of Mick (Jagger) and I to strip the band back down to basics. And also, it was the first full album that I was doing with Ronnie (Wood), so we were all feeling our way in that respect. We were just getting into each other's way of playing on this stuff. To me, I remember it as a load of fun, but I'm sure some other people might have other ideas."
Although Wood had only popped up on two tracks on 1976's Black And Blue, he had been touring with the band since 1975. And while Wood's guitar work was all over the 1977 concert set, Love You Live, Some Girls featured the first full album of the signature "Keith & Ronnie" guitar sound. Richards counted that as one of the album's high points, recalling, "That was one of the joys of it. Every session we'd go to, every day — and we were there a long time — Ronnie and I realized we were finding a way to play together. As Ronnie calls it, 'the ancient form of weaving.' You don't know which guitar is doing what. And that's the joy of playing with two guitars or three, the interaction. I remember it as a fun album to make."
The album's followup single to "Miss You" — "Beast Of Burden" — peaked at Number Eight, with the third and final single, "Shattered," stalling at Number 31. Mick Jagger explained that "Shattered" — like most of Some Girls — picked up on the key musical movements happening in London and New York City: "It's kind of, like, a punk beat with this guitar riff that Keith does, and me — sort of what I do is a semi-rap thing. It's sort of half talking in it. So, I was obviously very influenced by that. But I think this record is a good synthesis of all those kind of things that were going on at the time."
Keith Richards recalled the emergence of the punk bands forcing the Stones into bringing their A-game to the sessions for 1978's chart-topping Some Girls album: "There was another great session — that was in Paris puttin' a whole lot — but, y'know, the band was really hittin' the groove there. And I guess, in a way, the punks kinda kicked us up the ass a little, y'know? And we felt obliged to come out with something that really kicked — and it did the trick, respectably."
Although Some Girls had some obvious punk influences on songs like "Respectable" and "Lies," Jagger feels that it had a much broader pallet than just the sound of the gutter: "Inevitably, you live in the time you're in. And you couldn't possibly avoided the whole thing, of the feeling of that. . . of those years. I mean the years before that. I think it's more in the playing than the writing — I mean, I think a bit of both. But having said that, of course you can say that and then you can turn around say (laughs) 'Yeah, but you did this country song that was really. . . you did this straight country song, and then this dance song ' — which is 'Miss You,' which had nothing to do with punk. Couldn't be more different."
In 2011 the Stones released a deluxe reissue of Some Girls featuring a dozen vault tracks — some of which were recently completed by Mick Jagger, Keith Richards, and producer Don Was, along with a DVD — Some Girls, Live In Texas '78. The concert was filmed on July 18th, 1978 in Fort Worth, Texas at the Will Rogers Memorial Center.
Upon the official release of the Stones' Ft. Worth show, Mick Jagger looked back at the band's 1978 tour in support of Some Girls: "It was quite a short tour. There were a mixture of gigs. This one is an arena, and then there were theaters — there was the Fox Theatre in Atlanta, which we've played since then, and then there were some stadium shows. There was, like, three, four stadium. . . Soldiers Field in Chicago and the stadium (at) Anaheim — and then some regular arenas. Mostly arenas."