45 Years Ago Tonight: 'Elvis In Concert' Airs On CBS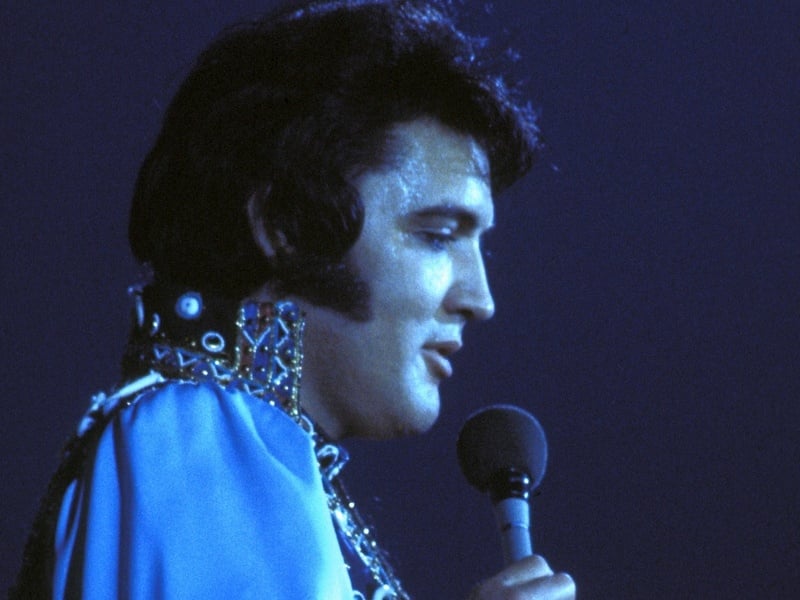 It was 45 years ago tonight (October 3rd, 1977) that CBS aired Elvis Presley's final concert special, Elvis In Concert. The show, which was broadcast six weeks after Elvis' death of a heart attack at the age of 42, featured a heavily made up and obviously ill Elvis, looking bloated and sweating profusely. Sadly, in pop culture circles, the show is best known as the "Fat Elvis" concert. After its initial airing and several repeats, which were allowed as part of the original contract with CBS, the Presley estate has never permitted any further showings of the full special, which showed Elvis at his worst.
Although he was physically in bad shape, his voice was able to carry the special, which featured footage taped on June 19th, 1977 in Omaha, Nebraska and on June 21st in Rapid City, South Dakota. Although many have referred to the performance as Elvis' final show, his last concert actually took place on June 26th, 1977 in Indianapolis.
Among the high points of the show were a near operatic version of his cover of Timmy Yuro's "Hurt," 1970's concert staples such as "You Gave Me A Mountain," and such '50s and '60s hits as "It's Now Or Never," "Jailhouse Rock," "Teddy Bear," "Don't Be Cruel," "Can't Help Falling In Love," and his version of the Frank Sinatra standard "My Way."
Pete Townshend told us the enormity of pressures surrounding Elvis is what ultimately led to his death at such a young age: "That's a terrible tragedy when you think what a decent kind of guy he seemed to be when you read the stuff. Y'know he came to pieces at the end. And it's easy to blame Vegas, but it wasn't about Vegas, it was just about the load."
James Burton, Elvis Presley's lead guitarist and bandleader from 1969 to 1977 says that "The King" was unpredictable as he was charismatic on stage: "With Elvis, y'know it was a lot of surprises, and you didn't have any idea. You could never take your eyes off of him. You had no idea where he was going to go next."
Former Memphis Mafia member Jerry Schilling, who was the longtime Creative Affairs director of Elvis Presley Enterprises — and is now the president of the Beach Boys' Brother Records Inc. — was asked whether fans can ever expect to see an official release of the 1977 special: "I wouldn't be one on a bandwagon saying, 'Let's do 14 DVD's on the concert on which Elvis looked the worst of his life and shouldn't have been on the stage, and was dying. . .' No, I'm not that guy. Should it ever come out again? Probably. I wouldn't say that it's never going to come out. I think there needed to be a moratorium after his death."
According to Schilling's recent memoir, Me And A Guy Named Elvis, he took Elvis' manager Colonel Tom Parker to task for allowing Presley to appear in such bad shape before the cameras. Parker reportedly told Schilling that he tried to stop the deal due to Presley's poor health, but that Presley demanded that the special go ahead as scheduled.
The soundtrack album to the Elvis In Concert special peaked at Number Five on the Billboard 200 album charts and went all the way to Number One on the Billboard Top Country Albums charts.
FAST FORWARD
Elvis Presley's legendary guitarist James Burton has revealed he's battling kidney cancer.
In a Facebook post, the Rock and Roll Hall of Famer wrote:
PRAYERS REQUESTED
I have been diagnosed with kidney cancer and I am scheduled for an operation Monday Oct. 3rd at Vanderbilt Hospital in Nashville. Even though I have a great team of Doctors, I know GOD is in control.
I would personally appreciate your prayers for a TOTAL HEALING.
Please share this request with all your friend.
Thank You with Love
GOD BLESS YOU, James