50 Years Ago Today: Bruce Springsteen Releases Debut Album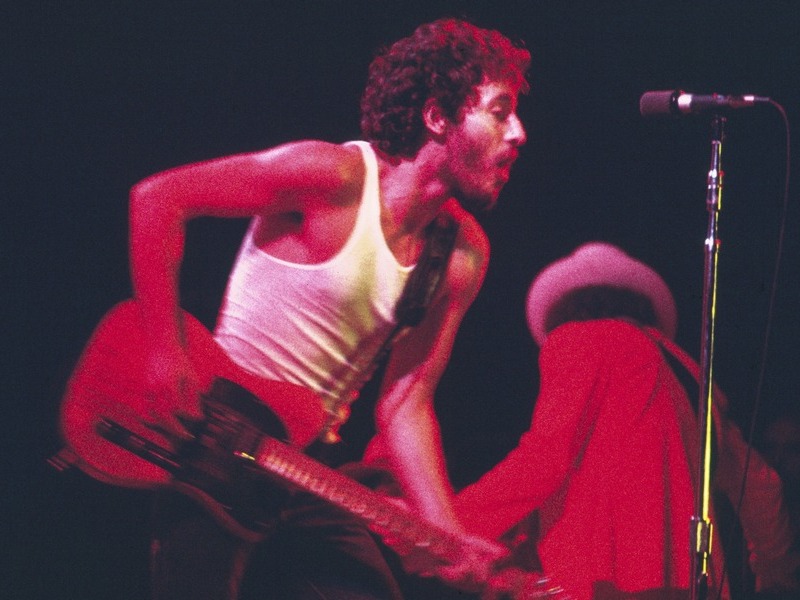 It was 50 years ago today — January 5th, 1973 — that Bruce Springsteen released his debut album, Greetings From Asbury Park, N.J. Springsteen, who was signed as a solo artist, was signed to Columbia Records — the only label he's ever recorded for by record producer John Hammond.
Greetings From Asbury Park, N.J. was produced by Springsteen's then-managers and publishers Mike Appel and Jim Cretecos and recorded in Blauvelt, New York's low-rent 914 Studios. Although not billed as such, the early E Street Band is featured on the set — Clarence Clemons, Garry Tallent, David Sancious, "Mad Dog" Vini Lopez — and an uncredited Steve Van Zandt, who provides a rumble blast of ambient amplifier noise.
Among the instant classics included on the set are "Blinded By The Light' — a 1977 chart-topper in a drastically reworked prog version by Manfred Mann's Earth Band — "Spirit In The Night," "Growin' Up," "For You," and "It's Hard To Be A Saint In The City."
Although the album did not crack the Top 40 on the Billboard 200 albums chart — it eventually made its way up to Number 60. Reviewers hailed Springsteen as the "new Dylan" — despiote the fact that Bob Dylan was still actively recording and only 31. Rolling Stone has since rated the album 37th on their list of "Greatest Debut Albums list.
The tracklisting to Greetings From Asbury Park, N.J. is: "Blinded By The Light," "Growin' Up" "Mary Queen Of Arkansas," "Does This Bus Stop At 82nd Street?," "Lost In The Flood," "The Angel," "For You," "Spirit In The Night," and "It's Hard To Be A Saint In The City"
By 1972, Bruce Springsteen had only recently scaled his act down to being a solo acoustic performer, having made his bones in and around New Jersey's shore circuit leading such bands as the Castiles, Child, Steel Mill, Dr. Zoom & The Sonic Boom, and the Bruce Springsteen Band.
In 1998 Springsteen recalled to BBC TV how original manager Mike Appel secured an audition on May 2nd, 1972, purely through the gift of gab: "He just talked his way into an audition with John Hammond. I remember I came up on the bus with my acoustic guitar with no case. I was embarrassed carrying it around New (laughs) York City, like, y'know, at my side. . . And we had the audition, and I played a couple of songs and he said, 'You gotta be on Columbia Records.'"
Original E Street Band drummer "Mad Dog" Vini Lopez played in nearly all of "The Boss's" pre-fame groups, and spoke about the camaraderie that surrounded Springsteen's back line in the early days when they literally lived hand to mouth: "Well, we all stuck together, 'cause, strength in numbers, and we weren't liked in most of those communities, so we stuck together and nobody messed with us and we had a good time. We did. Y'know, me and Clarence (Clemons), David (Sancious) — we all hung out. Danny (Federici) — we all hung out."
In March 1999, during his acceptance speech at his Rock and Roll Hall of Fame induction, "The Boss" took time out to thank the past and current staff at Columbia Records for their faith and support over the decades: "They created a conduit for a lifetime of thoughts and ideas. A place where I was a. . . I felt safe and supported and encouraged to do my best and my truest work. I've heard enough record company horror stories, right from this stage, to realize — to appreciate the fact that I don't have one."
On November 22nd, 2002 — the final date of their Working On A Dream — Bruce Springsteen & The E Street Band performed Greetings From Asbury Park, N.J. in its entirety for the first time at Buffalo's HSBC Arena.
FAST FORWARD
In December 2021, Bruce Springsteen sold his publishing and recorded works to Sony for a reported $550 million. Rolling Stone reported, "A rep for Sony declined to comment on the deal. Springsteen has remained with Sony's Columbia Records since he launched his career, and was given ownership of his earlier albums. According the RIAA, his album catalog has sold 65.5 million in the U.S., which includes his 15-times platinum Born In The U.S.A. and five-times platinum The River.
In Sony's official announcement regarding the deal, Springsteen was quoted as saying: "I am one artist who can truly say that when I signed with Columbia Records in 1972, I came to the right place. During the last 50 years, the men and women of Sony Music have treated me with the greatest respect as an artist and as a person. I'm thrilled that my legacy will continue to be cared for by the company and people I know and trust."