55 Years Ago Today: The Beatles Kick Off 'The White Album' Sessions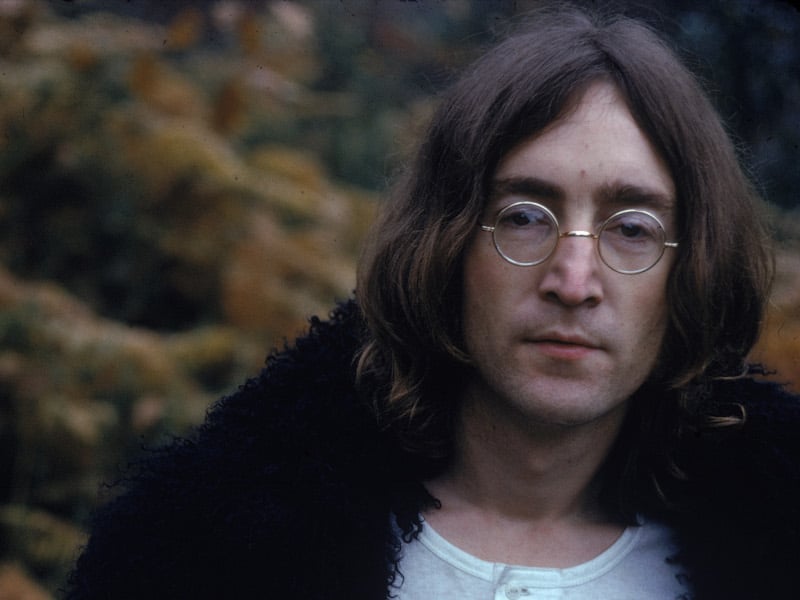 It was 55 years ago today (May 30th, 1968) that the Beatles began recording their 30-song self-titled double album, which is commonly known as "The White Album."
On May 30th, 1968, the "White Album's" first session was held for John Lennon's "Revolution 1," which was recorded in London at EMI's Studio Two, with the session stretching from 2:30 p.m. to 2:40 a.m. the next day. It was the group's first studio work since returning from Rishikesh, India after an extended stay to study transcendental meditation under the Maharishi Mahesh Yogi. In 2009, a near-10-minute version of "Revolution 1" made the rounds of underground collectors — the majority of which stems from the May 30th session.
Most of the songs from "The White Album" were written while the group was in India, including "Back In The U.S.S.R.," "Yer Blues," "I Will," "The Continuing Story Of Bungalow Bill," "Rocky Raccoon," "I'm So Tired," "Ob-La-Di, Ob-La-Da," "Dear Prudence," "Mother Nature's Son," and Lennon's thinly veiled attack on the Maharishi, titled "Sexy Sadie." Other highlights on the album included "While My Guitar Gently Weeps," "Julia," "Helter Skelter," "Glass Onion," "Martha My Dear," "Birthday," and Ringo Starr's first composition, the country-flavored "Don't Pass Me By."
Several songs originally intended for the "White Album" turned up on later solo albums, such as "Junk" which Paul McCartney released on his 1970 solo debut McCartney, "Child Of Nature" which John Lennon rewrote as "Jealous Guy" for his 1971 album Imagine, "Not Guilty" which made its way onto George Harrison's 1979 self-titled album, and Harrison's "Circles" which finally saw release on his 1982 album Gone Troppo.
The main difference between the "White Album" sessions and all that had come before was the constant presence of John Lennon's then-new girlfriend, Yoko Ono, who was seemingly glued to Lennon's side at all times, breaking a long-standing unwritten rule that girlfriends and wives pretty much stayed away from the studio. Now, they had an outsider there all the time that was quite comfortable voicing an opinion about the music they were recording.
George Harrison's first wife Pattie Boyd says that the days of all the Beatle wives being a close-knit group pretty much ended with Yoko entering the inner circle: "John fell in love with Yoko and that was that. She was more a man's woman than a woman's woman. She would never have girlfriends, I don't think, anyway. Y'know, that was fine, so I knew I'd never get close to her. She was quite friendly toward me. I mean, she and John once stayed in our house and she was just so intent on John all the time. John was her only focus, really and truly."
During The Beatles Anthology, George Harrison defended the group's decision to release a 30-song album: "But y'know, what do you do when you've got all them songs and you want to get rid of them so that you can do more songs? Y'know, there was a lot of ego in that band, and there was a lot of songs (on 'The White Album') that should have been elbowed, or maybe made into B-sides." 15
The Beatles' late-producer George Martin said that the album sounded more like the work of four solo artists rather than one unified band: "They came back from abroad. . . They'd been away for quite a while after the death of (manager) Brian Epstein. They came back and presented me with 33 songs, which they all wanted to record at once, literally. They said, 'Well, you've got another studio. George has something going in one studio, and I can go in another,' says Paul. I was running from one studio to another, doing a kind of executive role."
Martin recalled that the material seemed to not be up to their usual standards when they first presented it to him: "A lot of the recordings, they would have a basic idea, and then they would have a jam session to end it, which sometimes didn't sound too good. But this was fairly small criticism. When they did 'The White Album,' I thought we should have made a very, very good single album out of it, rather than make a double album out of it. I think it was an album that could have been a fantastically good album if it had been compressed a bit and condensed. But a lot people I know think it's the best album they made. So, it's not my view."
Paul McCartney doesn't buy into Martin's revisionist beliefs that it could have made a single album on par with Revolver and other single-disc Beatles masterpieces: "Well, y'know, you can always say that. Perhaps I'll go with — but not definitely — in fact I think it's a fine little album. I think the fact that it's got so much on it is one of the things that's cool about it, 'cause they're very varied stuff, y'know 'Rocky Raccoon,' 'Piggies,' 'Happiness Is A Warm Gun' — that kind of stuff. I think it's a fine album. I'm not one for that: 'Maybe it was too many of that — what do you mean? It's great, it sold, it's the bloody Beatles' 'White Album' — shut up!"
With tensions in the band high between the Beatles, the group's longtime engineer Geoff Emerick quit the sessions rather than face further attacks by the band. Engineer Chris Thomas stepped in and later went on to produce key albums for the Sex Pistols, the Pretenders, Pete Townshend and McCartney. Emerick was asked if he ever regretted his decision to miss out on engineering White Album and Let It Be classics such as "While My Guitar Gently Weeps," "Back In The U.S.S.R.," and later on, "Get Back" and "The Long And Winding Road": "Not at all. And thinking about it afterwards, I think it was good because it certainly jolted them. It's something that should have been done a long time ago. Looking back, I'm glad I did it. I didn't lose any respect (from them) because I went back and worked at (the Beatles' company) Apple and recorded (their album) Abbey Road."
James Taylor was one of the initial artists signed to the Beatles' Apple Records. He remembers watching the band record "The White Album" at London's Trident Studios, which unlike EMI's Abbey Road had made the upgrade to an eight-track console as opposed to EMI's severely limiting four track machine: "I remember listening to the Beatles in 1968, when they were recording 'The White Album,' I was using the time they weren't using in the studio between their sessions essentially. I remember listening back to their playbacks of 'Hey Jude' or 'Revolution' or — y'know those were intact. Those were like done. They had just moved up to eight-track, that's why they were in Trident Studios. But y'know, with four musicians, and one of them a set of drums, eight tracks is gone, that's it."
The Beatles' "White Album" was released on November 22nd, 1968 and went on to top the charts for nine non-consecutive weeks beginning on December 28th.
FAST FORWARD
November 2018 saw the Beatles back in the Top 10 with the 50th anniversary reissue of the band's "White Album." The set jumped back onto the Billboard 200 album charts hitting Number Six, with the magazine reporting "The new reissue climbs back onto the tally with 63,000 units earned — up 1,499 percent in the week ending November 15th, according to Nielsen Music. Of that sum, 52,000 were in traditional album sales — up 5,596 percent."
The massive six-CD, one Blu-ray "Super Deluxe" version of the "White Album" features the album's 30 tracks newly mixed by producer Giles Martin and mix engineer Sam Okell in stereo and 5.1 surround audio, joined by 27 early acoustic demos and 50 session takes, most of which are previously unreleased in any form.
This is the first time the "White Album" has been remixed and presented with additional demos and session recordings. The album's new edition follows 2017's universally acclaimed Sgt. Pepper's Lonely Hearts Club Band "Anniversary Edition" releases.
To create the new stereo and 5.1 surround audio mixes, Martin and Okell worked with an expert team of engineers and audio restoration specialists at Abbey Road Studios in London. All the new "White Album" releases include Martin's new stereo album mix, sourced directly from the original four-track and eight-track session tapes. Martin's new mix is guided by the album's original stereo mix produced by his father, the late-George Martin.