65 Years Ago Tonight: Lennon & McCartney Play Their First Gig Together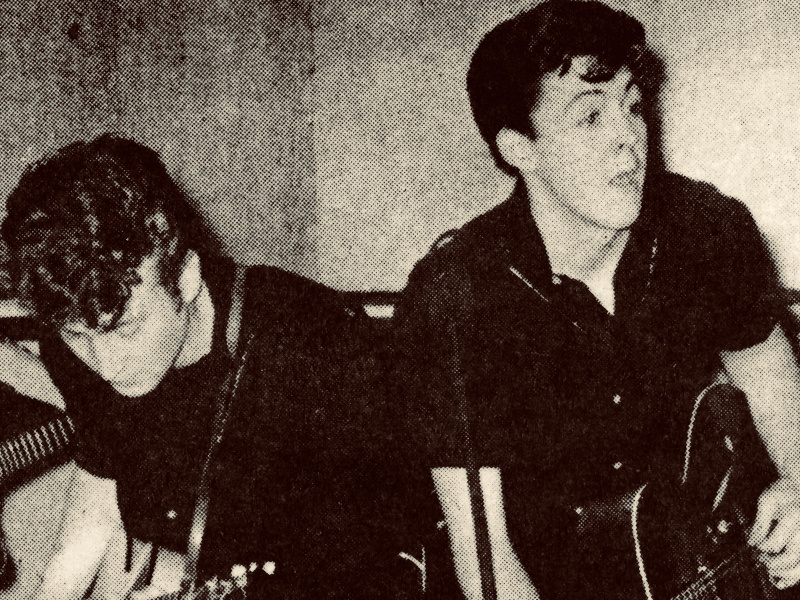 It was 65 years ago tonight — October 18th, 1957 — that 15-year-old Paul McCartney made his live debut performing with 17-year-old John Lennon and his skiffle band the Quarrymen. The local Liverpool venue was the New Clubmoor Hall in Norris Green, and Lennon and McCartney — who were the group's joint frontmen — wore cream colored sports coats with a black bootlace ties.
According to legend, McCartney played the lead guitar intro to Bill Justis' "Raunchy" — the very song his friend George Harrison played during his audition for the group in March 1958. In later years, McCartney remembered completely botching his solo on Arthur Smith's "Guitar Boogie."
Lennon & McCartney had officially met the previous July 6th at a Church summer event where Lennon's band the Quarrymen performed.
Although people nearly always pegged Paul McCartney as the softer of the two — he explained John Lennon's perceived toughness was a result of an unsteady childhood: "The truth is, when John and I were together, we are much more equal. When we'd get in public, his front would come down. I never needed it, 'cause my family in Liverpool was very, sort of, comfortable and you were quite confident to be around people. John was always having to fight. He was always having to put up a front — and he always suspected. . . And so, he had this acerbic wit as a defense mechanism, I'm sure."