Beatles News Roundup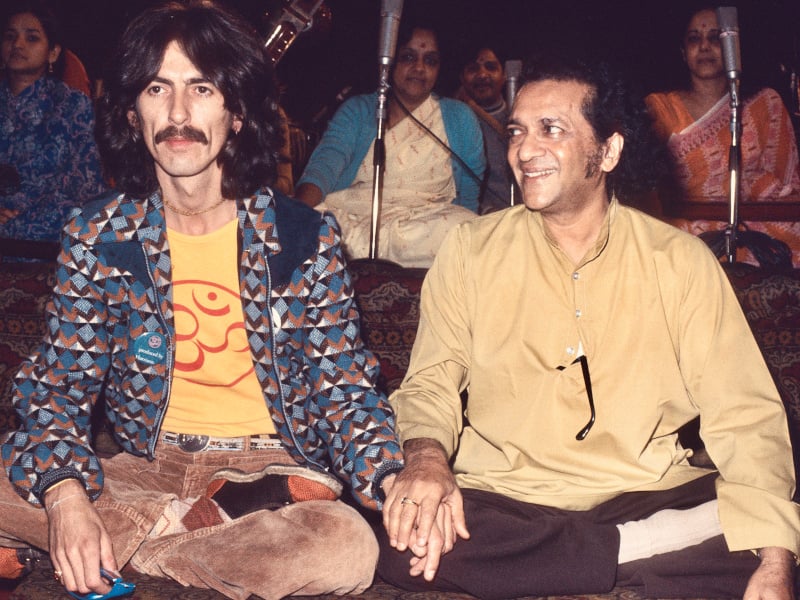 RINGO IS BACK WITH 'EP3'
Out today (September 16th) is Ringo Starr's latest EP titled EP3. Joining the famed-Beatles drummer on his third EP over the past year-and-change is longtime All Starr Band member and Toto co-founder, Steve Lukather, along with Linda Perry, Dave Koz, José Antonio Rodriguez, and co-producer Bruce Sugar. The set will be released on vinyl and cassette on November 18th.
Ringo Starr is a rare breed having nothing but love and respect for has past and excitement and pleasure from his work today: "Well, I think the shining hours keep coming. I do, I think they keep coming. You sell yourself short if you think that was the moment. I've had many great moments; I've enjoyed my life, I've been, y'know. . . the gift of being able to play and to still be able to play with musicians like I've got on stage today — it's a blessing."
'THE BEST OF DARK HORSE RECORDS' SET FOR RECORD STORE DAY
Set for a special Record Store Day release on Black Friday (November 25th) is The Best Of Dark Horse Records: 1974-1977. Limited to only 2,150 U.S. copies, the 12-track album features a sampler from the recently reissued albums that originally appeared on George Harrison's Dark Horse label.
The set includes Harrison-produced tracks by Ravi Shakar and Splinter — along with selections from Attitudes — featuring David Foster and solo-Beatles session favorite, drummer Jim Keltner, Stairsteps, Keni Burke, Jiva, and former-Wings guitarist, the late-Henry McCullough.
Back in 1974 upon the launch of Dark Horse Records, George Harrison shed light on how the label grew out of needing to find a home for his work with Splinter and Ravi Shankar as the Beatles' label gradually ceased operation: "There was some talk with Ringo and I, (what) we were planning to do at that time was if John (Lennon) and Paul (McCartney) didn't really wanna know about Apple, we were just going to get the rights to take over Apple Records. And then we just put a new logo under new management, bring in a couple of new people and keep going. That sort of thing couldn't happen because of the Beatles' settlement — y'know, it was all business legalities. It was just like a hold on it. It was just, sort of, stuck in a limbo."
The tracklisting for The Best Of Dark Horse Records: 1974-1977 is:
Side A
Ravi Shankar – "I Am Missing You"
Ravi Shankar – "Dispute & Violence"
Splinter – "Costafine Town"
Splinter – "Lonely Man"
Attitudes – "Ain't Love Enough"
Attitudes – "Sweet Summer Music"
Side B
Stairsteps – "From Us To You"
Stairsteps – "Time"
Keni Burke – "Give All You Can Give"
Henry McCullough – "Lord Knows"
Henry McCullough – "Mind Your Own Business"
Jiva – "Take My Love"
RINGO ROCKING RECORD STORE DAY
Ringo Starr is getting in on the Black Friday (November 25th) Record Store Day action with two new releases.
The previously-unissued 2019 Ringo Starr And His All Starr Band Live At The Greek Theater 2019 will be limited to only 2,000 copies. The band included Santana and Journey's Gregg Rolie, Toto's Steve Lukather, Average White Band and Paul McCartney sideman Hamish Stuart, and Men At Work's Colin Hay.
Also coming is a blue vinyl-edition limited to 500 copies of Ringo's 1983 Joe Walsh-produced favorite, Old Wave. The RSD release will include a bonus 45 r.p.m. of the 1978 version of the album's standout ballad "As Far As We Can Go (Early Version)."
Joe Walsh, who co-wrote and produced the Old Wave album, has been part of several All Starr Band tours and married Marjorie Bach — the sister of Ringo's longtime wife, and former 007 Bond girl, Barbara Bach.
Ringo spoke about himself and Walsh and the entirely new existence the pair finds themselves in decades after Old Wave: "It's a different life we lead now. We both, actually got our share of 'medication' (laughs), y'know, for many years and we both pulled out of that life and now, y'know, we're a couple of healthy guys, livin' a life. We're playing a lot; I'm playing every chance I get — y'know, he's Eagle-ing, or he's out solo. And we're brother-in-law(s) now. He's my brother-in-law — not only my best friend."