Bruce Springsteen Serenades NYC For Wounded Vets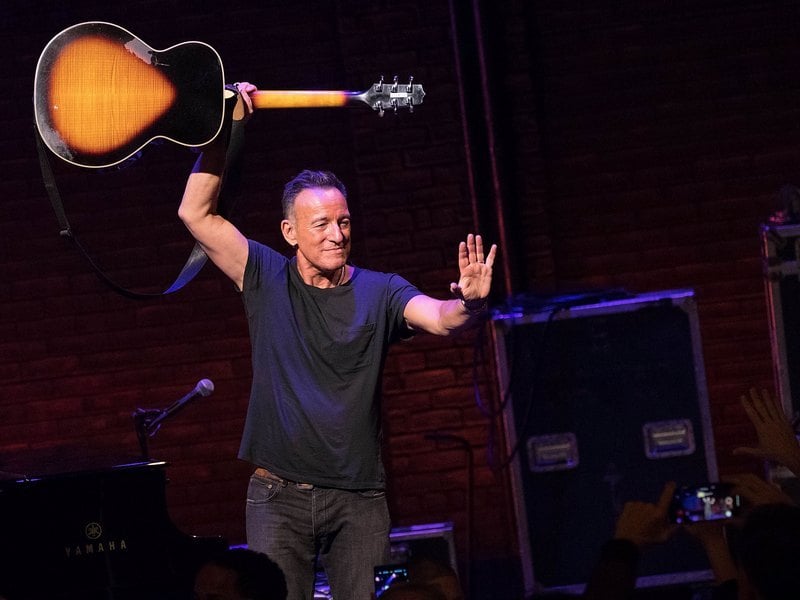 Once again on Monday night (November 7th), Bruce Springsteen headlined the annual "Stand Up For Heroes" benefit benefitting the Bob Woodruff Foundation. The 2022 event, which took place this year at Manhattan's David Geffen Hall at Lincoln Center for the Performing Arts, also featured mainstay Jon Stewart along with fellow comedians Hasan Minhaj and Iliza Shlesinger, among others.
Springsteen, performing acoustically, live-premiered his 2020 Letter To You standout, "House Of A Thousand Guitars" and dedicated his 2007 Magic favorite "I'll Work For Your Love," to Eddie and Jill Vedder, who were in attandance. "The Boss" performed one more Letter To You tune — "I'll See You In My Dreams," before finishing with "Dancing In The Dark."
The event kicked off the 16th annual New York Comedy Festival and is but one of over 100 performances held across New York City and runs through November 13th.
Variety reported, "The foundation — which Bob Woodruff and his wife Lee started after he suffered a traumatic brain injury while embedded with troops in Iraq in 2007 — has helped more than 12 million veterans by giving more than 560 grants. This year's event added $4.5 million to the coffers including more than $700,000 raised in donations from audience members."
Bruce Springsteen told us that he believes his role as an American songwriter extends far beyond the entertainment community in which he works: "You're supposed to remain interested in the world. Y'know, my job was always to put you in somebody else's shoes and, and have you walk a while in those shoes, I've said a lot in the past. You're out there, and you feel what's in the air out there, and you feel what's on people's minds. People are looking for ways to have a dialogue about these ideas, about these issues. They're looking for ways to try to get a handle and, and make sense of, of what's happening, y'know? And I think that music and film and, and art has a service to perform in, in that fashion."