Bruce Springsteen Taps 1996 Acoustic Show For New Vault Release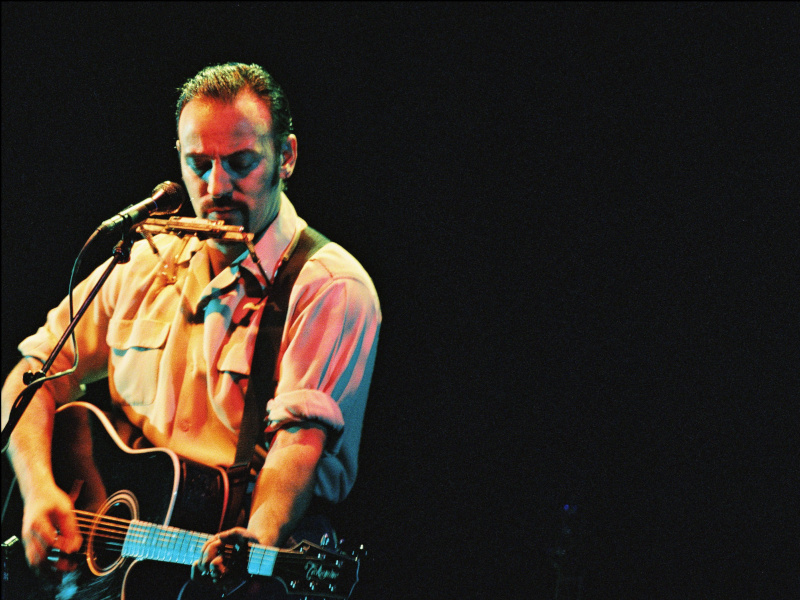 Bruce Springsteen has just issued Asbury Park, NJ – 11/26/96, the latest official bootleg of his ongoing monthly archive series. The show, recorded in New Jersey's Paramount Theatre, was culled from his 1995/1997 solo acoustic tour behind his 1995 Grammy Award-winning album, The Ghost Of Tom Joad.
The set marks "The Boss'" sixth dip into the soundboards from the historic tour, which has also seen the release of Freehold, NJ – November 8th, 1996; Belfast, UK – March 19th, 1996; Asbury Park, NJ – November 26th, 1996; Nice, France – May 18th, 1997; and Upper Darby, PA – 12/9/95.
The new concert release features guest appearances by E Street Band co-founders Danny Federici and "Mad Dog" Vini Lopez, Steve Van Zandt, Patti Scialfa and Soozie Tyrell, early-Springsteen session percussionist Richard Blackwell, and Asbury Park local legend Big Danny Gallagher.
The tracklisting to Bruce Springsteen's Asbury Park – 11/26/96 is: "For You," "It's Hard To Be A Saint In The City," "Atlantic City," "Straight Time," "Tougher Than The Rest," "Darkness On The Edge Of Town," "Johnny 99," "All That Heaven Will Allow," "Wild Billy's Circus Story," "Red Headed Woman," "Two Hearts," "When You're Alone," "Shut Out The Light," "Born In The U.S.A.," "The Ghost Of Tom Joad," "Sinaloa Cowboys," "The Line," "Racing In The Street," "Across The Border," "I Don't Want To Go Home," "Spirit In The Night," "Rosalita (Come Out Tonight)," "This Hard Land," and "4th Of July, Asbury Park (Sandy)."
While on the road behind The Ghost Of Tom Joad, Bruce Springsteen spoke frankly about how it felt to be taking his show on the road as a solo act: "It's different, y'know? It's a little more lonely, I guess. But at the moment, I sort of, heard more my folk voice inside my head and I had a collection of songs that were about very specific subjects and the best way to, sort of, communicate those things was by myself with a guitar. They come out of the folk tradition, blues tradition — Robert Johnson, Woody Guthrie, y'know (Bob) Dylan, Hank Williams."