Def Leppard Taking Pre-Orders For Deluxe Group Autobiography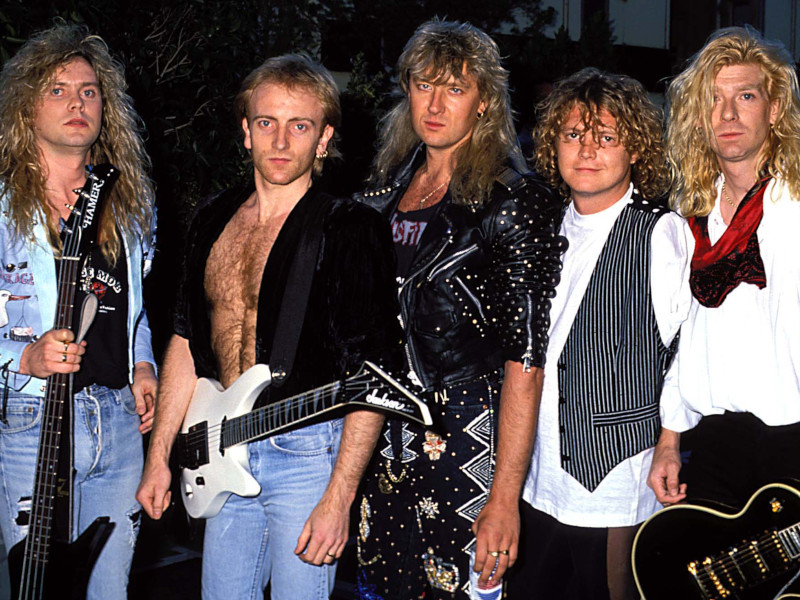 Pre-orders are now being taken for Def Leppard's first official band biography, titled Definitely: The Official Story Of Def Leppard. The book, which is being published via Genesis Publications, is described as "Part memoir, part scrapbook," and will be the ultimate official record of Leppard's legendary career.
According to the press release, the tome "is narrated by the band in their own words, illustrated with photography and memorabilia from the Def Leppard archives."
Genesis revealed, "The 62,000-word manuscript has been gathered from extensive new interviews with current band members, as well from archive interviews with Steve Clark and Pete Willis. With unlimited access to the band's archive, Definitely presents over 1,500 items of memorabilia and photography, spanning four decades of the band's history.
Definitely presents over four decades of the band's history through handwritten correspondence, rare vinyl pressings, tour memorabilia, set lists, lyrics, stage clothing, and elements from "a scrapbook compiled by Joe Elliott's mother, Cindy Elliott."
Fore ordering info, log on to: https://tinyurl.com/bdea8mhb
Def Leppard has always walked the fine line between pop and metal. Phil Collen told us the band took great pride in its massive pop crossover success with Hysteria: "Hysteria was. . . We had seven singles off that album, and where we really got a lot of fans is when it went into the Top 40 realm. So yeah, the pop thing, we're not embarrassed about that or ashamed. That's what we do. We're the hybrid. We always try to be."
Back in 2019, during their band's acceptance speech at the Rock Hall, frontman Joe Elliott explained that Def Leppard has always had its eyes on the future: "You have stayed on board with us for the best part of the following 36 years and supported us through some tough times along the way. But those tough times have helped make this band what it is today. It's solid, we're appreciative of who we are, and what we stand for. Those songs written over the years were always our main priority and although it seemed that there was always a looming sense of tragedy around every corner, we just wouldn't let it in."