Def Leppard's 'Hysteria' Turns 35!!!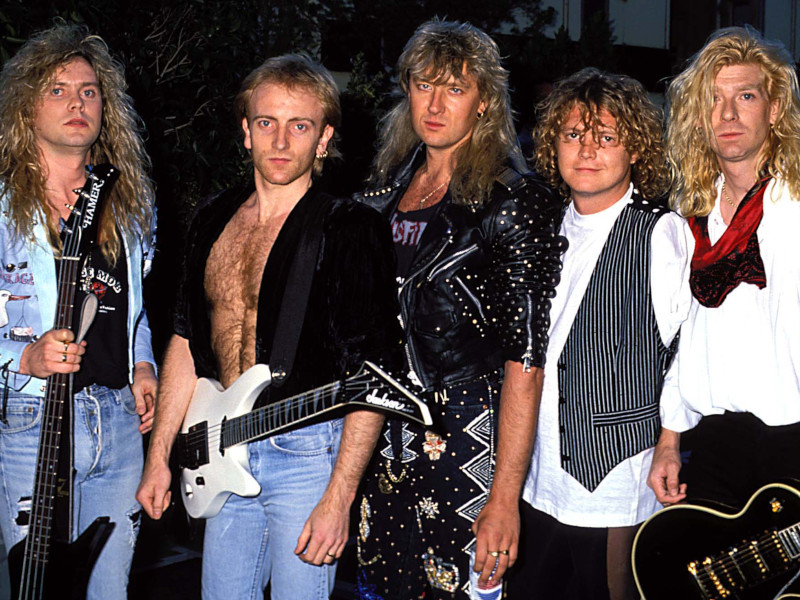 It was 35 years ago today (August 3rd, 1987) that Hysteria, Def Leppard released Hysteria — its long-awaited followup to 1983's Pyromania. The album was the first to feature Rick Allen drumming after his 1984 car accident, which severed his left arm.
Hysteria also marks the last album to be released prior to the 1991 death of guitarist Steve Clarke from a lethal combination of alcohol and prescription drugs. Clark went on to write and perform on the posthumously released 1992 album, Adrenalize.
Hysteria, which finally hit Number One nearly a year after its release on July 23rd, 1988, spent six non-consecutive weeks on top of the Billboard 200, spawned six Top 20 hits — including the chart-topping "Love Bites," "Animal" (#19), "Hysteria" (#10), "Pour Some Sugar On Me (#2), "Armageddon It" (#3), and "Rocket" (#12). To date, the album has sold over 35 million copies globally.
When pressed as to whether Hysteria collection feels like it was released over three decades ago, frontman Joe Elliott admitted: "Actually, it doesn't. Y'know, I've been talking to people about this recently and I think if you're, like, wrongfully imprisoned for 30 years — it's a long time. We're not naive. We realize that, like, (The) Dark Side Of The Moon for Pink Floyd, or Sgt. Pepper's (Lonely Hearts Club Band) for the Beatles, most bands have got one album that they'll forever always gonna be talking about and is always the yardstick, or whatever, is judged against. And if you're lucky enough to make one album like that, you should be blessed and accept it. We don't think of it as an albatross, really."
FAST FORWARD
In 2018, Def Leppard released Hysteria: The Singles, a limited edition, 10-disc vinyl box set featuring all of the seven-inch singles from their 1987 multi-platinum album. The box included all eight vinyl singles for Hysteria — including Def Leppard's Top Five hits — "Pour Some Sugar On Me," "Animal," "Love Bites," "Hysteria," "Rocket" and "Armageddon It." The collection also includes two bonus singles, "Excitable"/"Run Riot" (Album Version) and "Love and Affection"/"Don't Shoot The Shotgun" (Album Version).
Hysteria: The Singles is housed in a box with a lift-off lid and features new cover art made up of all 10 of the single's sleeves, including the special Spanish "Animal" single, plus a booklet with a full band discography and an introduction written by frontman Joe Elliott.
2017 saw several deluxe 30th anniversary configurations of Hysteria — a Super Deluxe Edition, Deluxe Version, One CD Vanilla Version, 2-LP Black Vinyl Version, and a limited edition 2-LP Colored Vinyl Version. The reissues included the album's assorted B-sides and live tracks — plus the audio from the In The Round In Your Face (Live) concert film on CD for the first time.