Elton John Awarded Humanitarian Medal By President Biden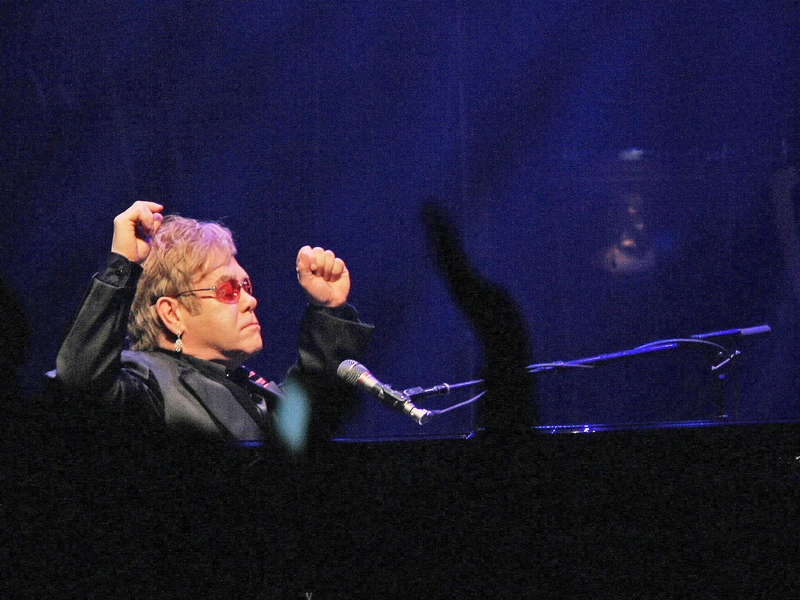 President Biden surprised Elton John on Friday night (September 23rd) by awarding him the prestigious National Humanities Medal for his decades in helping rid the world of AIDS through his Elton John AIDS Foundation. Rolling Stone reported the "Rocket Man" was on hand at the White House to perform a mini-set on the South Lawn for an event titled A Night When Hope And History Rhyme, which was produced in connection with both with A&E Networks and The History Channel.
President Biden and the First Lady Jill Biden appeared on stage at the end of Elton's set and surprised him with the honor, which a tearful Elton accepted from Biden who placed the medal around the songwriting legend's neck.
The dedication was read as Biden officially awarded Elton the honor: "The President of the United States awards this National Humanities Medal to Sir Elton John for moving our souls with his powerful voice, one of the defining songbooks of all time. An enduring icon and advocate with absolute courage, who found purpose to challenge convention, shatter stigma and advance a simple truth: that everyone deserves to be treated with dignity and respect."
President Biden posted on social media:
On his final tour, Jill and I invited Sir Elton John to the People's House.
I proudly presented him with the National Humanities Medal for a legacy of challenging convention, shuttering stigma, and advancing the truth that all of us deserve to be treated with dignity.
Elton John went on to post:
I'm so honoured and thankful to receive the National Humanities Medal from President Joe Biden at the White House, in recognition of my contribution to music and work to end AIDS through Elton John AIDS Foundation.
Over the past 30 years we've reached over 100 million people with testing and treatment for HIV and AIDS. There is so much more to be done to reach the most vulnerable communities – thank you to everyone who has joined and supported us so far on our mission to make sure no one is left behind.
Elton John has put his money where his mouth is by personally donating millions of dollars of his own money to raise AIDS awareness. He explained a while back that AIDS touches all our lives: "Every single that I put out, all the money from those singles goes to AIDS related charities. And I've seen a lot of people who have AIDS face up to their impending death with such courage and such dignity. But I also know that gay men are not the only people who suffer from this disease. Having been around and been fortunate to have know the (Ryan) White family (and) Elizabeth Glaser, I know this disease effects everybody."
Elton John performs on September 30th in Arlington, Texas at Globe Life Field.