Elton John Closes Glastonbury With Final UK Gig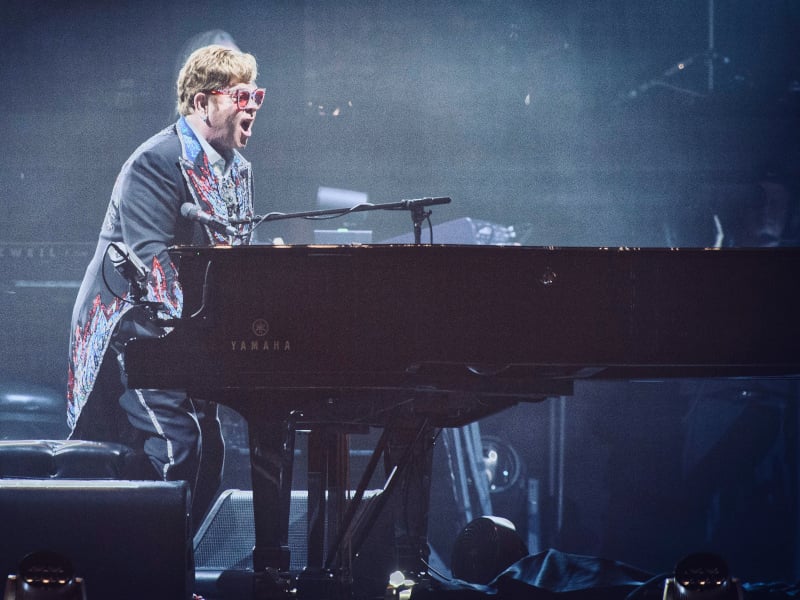 Last night (June 25th), Elton John closed out the 2023 Glastonbury festival with his final UK gig. NewsSky.com reported the "Rocket Man" spoke to the massive crowd, telling them, "It's a very special and emotional night for me because it might be my last show ever in England, so I had better play well, and I had better entertain you, you've been standing there so long, and I really appreciate all the outfits and everything."
The show differed from his usual "Farewell Yellow Brick Road" shows and opened with his famed cover of the Who's "Pinball Wizard," which marked the first time he'd tackled the tune since 2009. Prior to performing "Don't Let The Sun Go Down On Me," Elton saluted close friend and duet partner George Michael on what would've been the late-singer's 60th birthday yesterday.
Elton was joined throughout the Glastonbury finale by such notables as Jacob Lusk, the London Community Gospel Choir, Stephen Sanchez, Brandon Flowers, and Rina Sawayam.
There are few artists to have had as celebrated a career as Elton John. Despite that, he maintains that it's what's still to come that gives him the most excitement and pleasure regarding his work: "It's lovely to go and to look back, but I'm a person who looks forward; I'm more interested in what's going to happen next. I value the past and my career, and sometimes when I go back, I think, 'Oh, that's not band, that's pretty good' — but I'm all about what's going to happen next. That keeps me on my toes and it keeps me young. It's always about tomorrow and not the past."
Elton John next performs on June 27th in Paris at Accor Arena.
Elton John's Glastonbury setlist on June 25th, 2023 – via Setlist.fm:
"Pinball Wizard"
"The Bitch Is Back"
"Bennie And The Jets"
"Daniel"
"Goodbye Yellow Brick Road"
"I Guess That's Why They Call It The Blues"
"Philadelphia Freedom"
"Are You Ready For Love" – with Jacob Lusk & The London Community Gospel Choir
"Sad Songs (Say So Much)" – with London Community Gospel Choir
"Someone Saved My Life Tonight"
"Until I Found You" – with Stephen Sanchez
"Your Song"
"Candle In The Wind"
"Tiny Dancer" – with Brandon Flowers
"Don't Go Breaking My Heart" – with Rina Sawayam
"Crocodile Rock"
"Saturday Night's Alright For Fighting"
"I'm Still Standing"
"Cold Heart"
"Don't Let The Sun Go Down On Me"
"Rocket Man (I Think It's Going To Be A Long, Long Time)"