Elton John Likens Creating A Setlist To Having Sex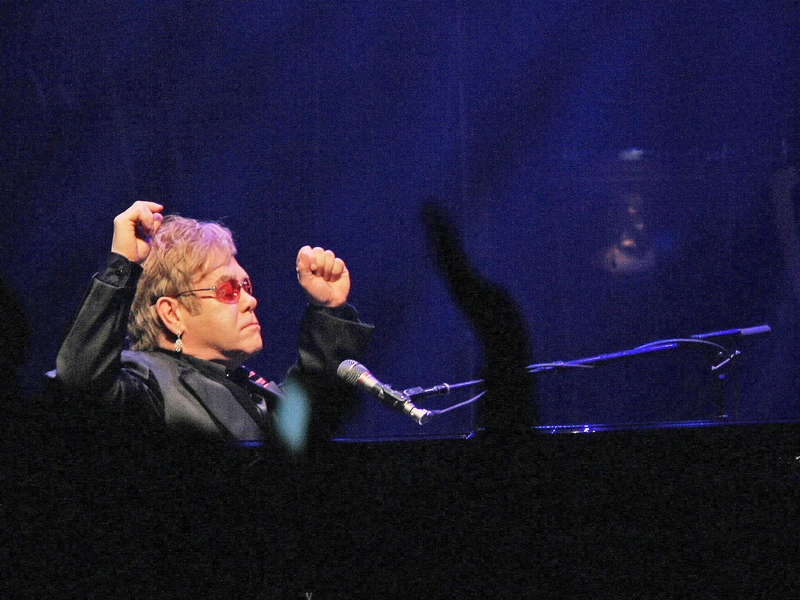 Elton John tipped off fans on what to expect come June 25th during final his UK show at the Glastonbury festival. While chatting with the BBC, the "Rocket Man" revealed, "I'm starting with a song I haven't played for about 10 years, so we'll see how it goes. I've got the set list down, I've got rehearsal dates booked for the guest artists, so we just have to hope the weather will still be nice. It's a different show to what people have been seeing. On (my) Farewell Yellow Brick Road (tour), there's quite a lot of deep cuts, it's not all hits, and you've got to keep people interested."
Elton went on to explain, "When you put a setlist together, I always say it's a bit like having sex. You start off really well, then you chill out a little bit, then towards the end of the show all hell breaks loose."
Elton John told us that having a lot of songs makes playing a lot easier — if he doesn't like something, he can substitute something else: "Songs come and go — having a big repertoire means that you could dump songs. I've got enough numbers to be happy with all of it, hopefully. If there are any numbers that you don't like playing, you can soon substitute them, and then put in something that works better."
FLASHBACK: 'REG STRIKES BACK' RELEASED
It was 35 years ago this week (June 24th, 1988) that Elton John released his 21st studio set, Reg Strikes Back.
The album, which peaked at Number 16, featured appearances by the classic Elton John Band — drummer Nigel Olson, bassist Dee Murray, and guitarist Davey Johnstone — along with cameos by Pete Townshend on the opening cut, "Tower Of Plenty" and the Beach Boys' Carl Wilson and Bruce Johnston on the album closer, "Since God Invented Girls."
Reg Strikes Back scored two solid hits; the album's lead single, "I Don't Wanna Go On With You Like That," which hit Number One on the Billboard Adult Contemporary chart and Number Two on the Billboard Hot 100.
Its follow-up — "A Word In Spanish" — topped out at Number 19 and was a video hit primarily on such Adult Contemporary outlets as VH1.
For the tour behind Reg Strikes Back, Elton dispensed on performing sideways at a grand piano, and for the first time, played facing the audience behind a slimmed-down 88-key electric keyboard.
While promoting Reg Strikes Back in '88, Elton John was quick to explain he wanted to be considered a modern artist — but one that wasn't ashamed of his past: "I want to be creative in the next 20 years. I don't want to rely on what 'Elton John' did in 1971 and '72. (Reg Strikes Back) is a very happy album — it's very much like a (Goodbye) Yellow Brick Road – Don't Shoot Me (I'm Only The Piano Player)-type album."