Flashback: AC/DC Releases 'Back In Black'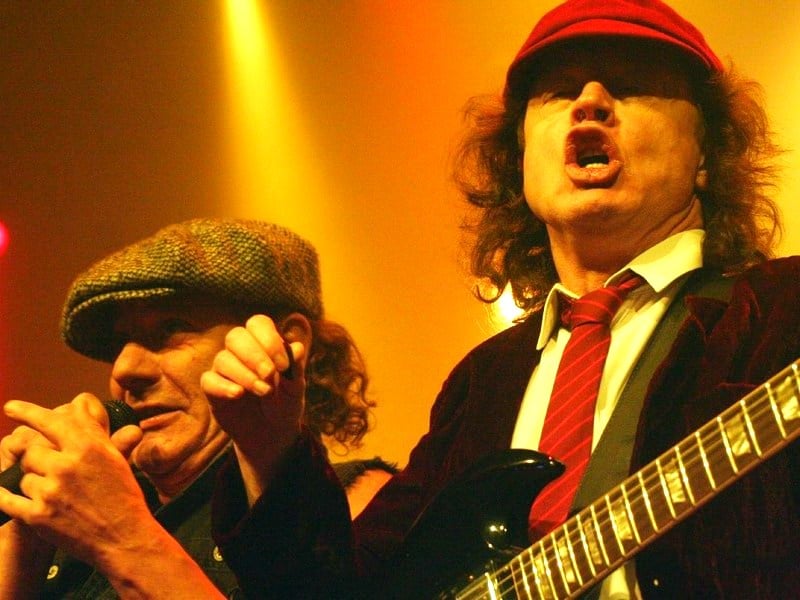 It was 42 years ago today (July 25th, 1980), that AC/DC released their biggest selling album ever, Back In Black. It was the band's first set without lead singer Bon Scott, who had died on February 19th, 1980 at age 33, after passing out and choking on his own vomit following a long night of drinking.+
The group quickly decided to press on and hired Brian Johnson from the band Geordie to take over on vocals, and they headed to the Bahamas for about six weeks to do the album. AC/DC had made some serious headway in America before Scott's death, but no one knew how Back In Black would be received. The album, produced by "Mutt" Lange, took off, and eventually sold over 25 million copies in the U.S. All told, Back In Black spent a whopping 22 weeks in the Billboard 200 Top Ten.
The tracklisting to AC/DC's Back In Black is: "Hells Bells," "Shoot To Thrill," "What Do You Do for Money Honey," "Given The Dog A Bone," "Let Me Put My Love Into You," "Back In Black," "You Shook Me All Night Long," "Have A Drink On Me," "Shake A Leg," and "Rock And Roll Ain't Noise Pollution."
Angus Young told us that Bon Scott would've absolutely given his blessing to AC/DC carrying on with a new frontman: "Yeah, he was just not one of those sort of people, y'know? For us, we'd always been playing rock n' roll, and I think that people were sort of glad that we continued."
Brian Johnson admitted that he didn't have a clue how successful Back In Black would turn out to be: "I'd just melted me brain in there, and I didn't know if it was good or bad. That was the first time I'd been in the Bahamas, anyway, or near America, y'know, and you (have to) remember, I was just fascinated by the whole culture and all, and I had no idea what the hell I was doing! And (laughs) lucky, really — I was a bit lucky, I think."
Johnson once told us that AC/DC's continued success over the years came directly from brothers Angus and the now-late Malcom Young: "Malcolm and Angus really gotta take a lot of credit for the fact that they've just stuck exactly to what the first thought about rock n' roll. . . Angus has got a lovely story. When Malcolm asked him to join the band, right at the very start, and Angus asked Malcolm, he said, 'Well, what kind of music are we gonna play?' And Malcolm looked at him, with a quizzical look in his eyes, and he went, 'rock n' roll!'"
Angus Young recently explained to us that AC/DC is like a killer recipe that always delivers, which is why the band has never changed its approach to playing live: "Somebody once had said, 'Y'know, people know what they like and like what they know.' In the beginning, we were a, y'know, just a rock n' roll band, and, y'know, when you would play in bars and clubs and stuff, y'know, this is what the audience was coming to hear you for."
Back In Black included the singles "You Shook Me All Night Long," which peaked at Number 35 on the Billboard Hot 100, and "Back In Black," which topped out at Number 37.
Despite its massive success, Back In Black never got higher than Number Four on the album charts. The band's next album, 1981's For Those About To Rock, marked the band's sole chart-topper to date.
To date, Back In Black, which has sold 25 million copies to date, is at Number Five on the list of the biggest selling albums in the U.S.
FAST FOWARD
Out now is renowned rock photographer Robert Ellis' latest book — AC/DC In The Black: Inside The Tour.
Ellis, who has taken some of the most iconic photos in music history, has captured such legends as Queen, Paul McCartney, Iron Maiden, Van Halen, Genesis, the Scorpions, Prince, and the Who, both on and off then stage across the decades.