Flashback: Elvis Presley Tops The Charts With 'Don't Be Cruel' And 'Hound Dog'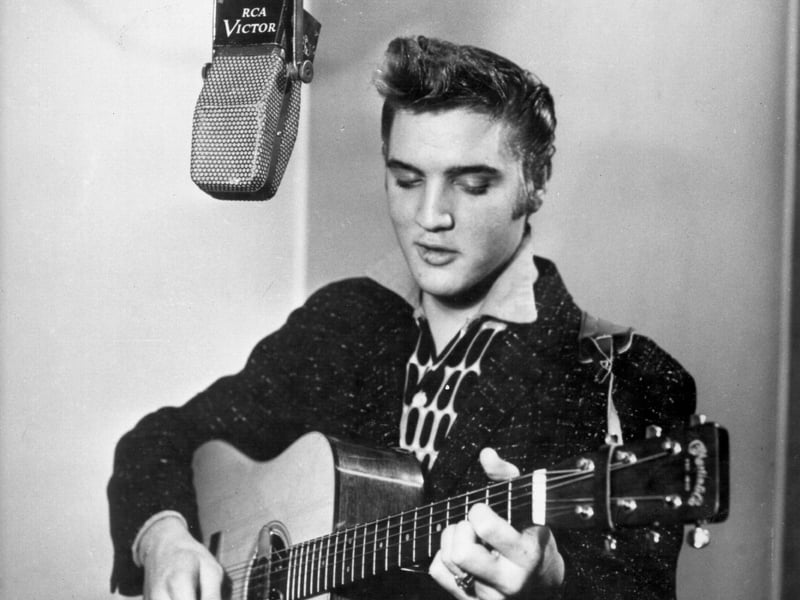 It was 66-years-ago today (August 18th, 1956) that Elvis Presley began his 11-week chart-topping run with his Double A-sided single "Don't Be Cruel" / "Hound Dog." The songs were recorded in Manhattan the previous July 2nd and although officially credited to RCA staffer Steve Sholes, both tracks were in fact produced by Elvis himself. The songs was the first of many to feature the Jordanaires on backing vocals.
Backing "The King" was his original guitarist, Scotty Moore, bassist Bill Black, and drummer DJ Fontana — known lovingly as the Blue Moon Boys. The group formed the core of Elvis's original sound on his early sides for Sun and RCA Records.
During his ill-fated first appearance in Las Vegas in April 1956, Elvis got the idea to record "Hound Dog" — a 1953 R&B chart topper for Big "Mama" Thornton — after watching his opening act Freddie Bell & The Bellboys perform a comedic version of the song. "Don't Be Cruel" was written by Otis Blackwell, who went on to write "Return To Sender" and "All Shook Up" for Elvis, as well as "Fever" for Peggy Lee, and "Great Balls Of Fire" for Jerry Lee Lewis.
On the released version of the track Elvis can be heard tapping out a beat on the back of his acoustic guitar. Unlike "Hound Dog," which took 31 takes to perfect, "Don't Be Cruel" took only 20 minutes to record.
In the days when the charts were based solely on sales, "Don't Be Cruel" and "Hound Dog," which was released as a double A-sided single, became the only 45 to have both sides reach Number One in the U.S. charts.
This single eventually topped the charts for a record-breaking 11 weeks — until it was knocked out of the top spot by Presley's follow-up and theme to his first movie, Love Me Tender.
Both "Don't Be Cruel" and "Hound Dog" were inducted into the Grammy Hall of Fame in 2002.
On February 27th, 1970 during a rare press conference in Houston, Texas, Elvis looked back at his early days onstage and admitted that he couldn't see what the fuss was all about: "Man, I was tame compared to what they do now — 'you kiddin'? (Laughter) I didn't do anything except jiggle, y'know?"
Graham Nash says that for him and his entire generation Elvis Presley was the defining "before and after" point: "Well, yeah, listening to early, early Presley stuff, before he went in the army, he was king of music. After he went into the army — not too much. Obviously we were listening to those records, and those early Sun records are tremendous records. Great energy."