Flashback: Elvis Presley's Final Recording Session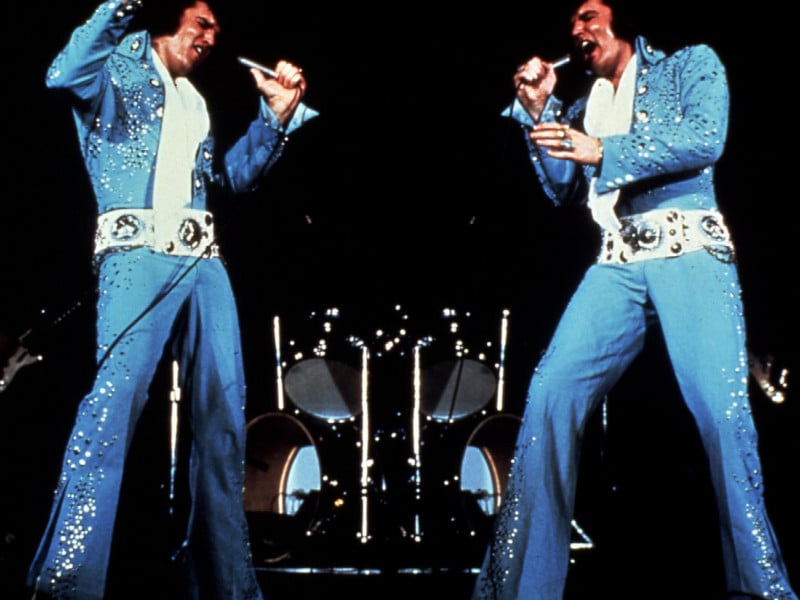 It was 46 years ago today (October 31st, 1976) that Elvis Presley last recorded professionally. Elvis, who was finishing up his latest round of sessions, recorded in the Jungle Room of his Graceland mansion in Memphis. He taped his vocal for a cover of "He'll Have To Go," which had been a Number Two hit in 1960 for the late Jim Reeves.
In the days prior to the session, Elvis, who due to health issues insisted on recording at home with a portable studio, had also recorded "Way Down," which went on to be his final Top 20 hit during his lifetime. Also recorded was a cover of the late Johnny Ace's 1955 Top 20 hit "Pledging My Love," and Andrew Lloyd Webber and Tim Rice's "It's Easy For You." All four of the songs appeared on "The King's" final album, 1977's Moody Blue.
Elvis' longtime lead guitarist and bandleader James Burton was asked if he or any of Presley's band ever verbally expressed that Presley was too intoxicated to perform: "It really wasn't our call to do that, y'know? The 'Memphis Mafia' guys went through with that, and it was really. . . It would really be more their decision than ours. Y'know what I'm saying? If they did, they didn't do it in front of us."
Moody Blue was released in July 1977, the month before Elvis' death of a heart attack at age 42.
The album, which peaked at Number Three, remains a favorite among die-hard fans, and includes live renditions of Olivia Newton-John's "Let Me Be There," the Diamonds' "Little Darlin'," and the album's title track, which was a Top 40 hit for Presley earlier that year.
Recently released is the Way Down In The Jungle Room collection, which compiles Elvis' final recording sessions. "The King" had temporarily transformed his legendary Graceland den — dubbed the "Jungle Room" — into a state of the art recording studio, and it was there over two sets of sessions in February and October 1976, that he recorded his final studio masters for RCA.
The sessions featured the members of his longtime touring band — including guitarist James Burton, drummer Ronnie Tutt, keyboardists Glenn D. Hardin and David Briggs, bassists Jerry Scheff and Norbert Putnam, along with backing vocals by J.D. Sumner & The Stamps.
The original masters found their way onto Elvis' two final albums, 1976's From Elvis Presley Boulevard, Memphis, Tennessee and 1977's Moody Blue. Highlights from the sessions include: "Moody Blue," "Way Down," "Hurt," "Pledging My Love," "She Thinks I Still Care," "It's Easy For You," "Danny Boy," "Blue Eyes Crying In The Rain," and "Bitter They Are, Harder They Fall," among others.