Flashback: Fleetwood Mac Releases 'Tusk'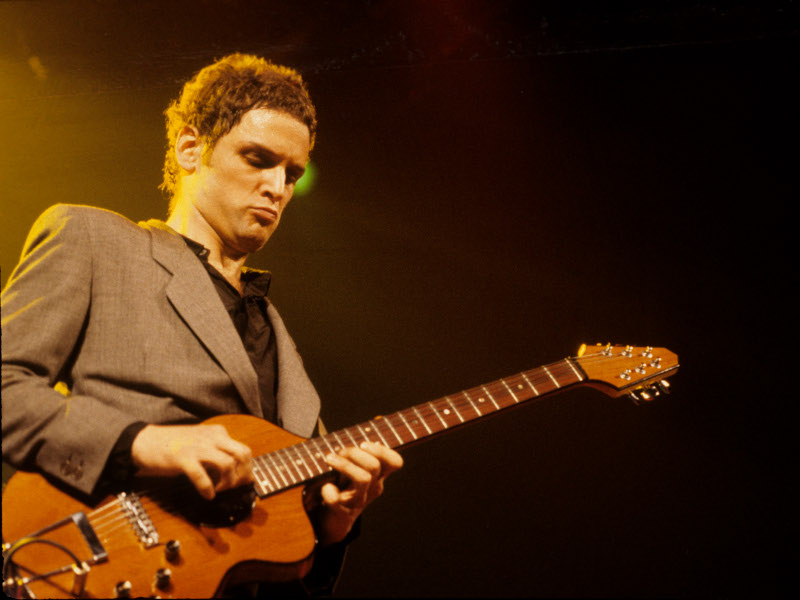 It was 43 years ago today (October 12th, 1979) that Fleetwood Mac released its long awaited followup to its 1977 mega-platinum selling Rumours collection. Tusk, which cost over $1 million to produce, fell short of commercial expectations depute being certified double platinum, hitting Number Four in the U.S. and topping the charts in England.
Tusk spent 15 weeks in the U.S. Top 10 and spawned three hit singles — the Lindsey Buckingham-written title track — recorded with the U.S.C. Trojan Marching Band — which hit Number Eight; Stevie Nicks' ethereal ballad, "Sara," which topped out at Number 11; and Christine McVie's infectious love letter to her then-main squeeze, late-Beach Boys drummer Dennis Wilson — "Think About Me," which stalled at Number 20 despite sounding the most like Rumours-era Fleetwood Mac.
Lindsey Buckingham told us the recording of both Rumours and Tusk forced the band to consistently bury their emotions for the sake of art: "If there was one worst thing it was probably just that it was difficult for all four of us as two couples to have broken up, to be alienated — probably to have not gotten anything close to closure. And to still kind of have to move forward. And in order to do that you had to kind of compartmentalize your emotions a little bit. You had to seal one thing off here and get on with the rest of it there. It was probably an exercise in denial."
Buckingham told us that after achieving such massive success across the board, he was desperate to see Fleetwood Mac break new boundaries: "I obviously, was still struggling with the idea that I was producing stuff for Stevie (Nicks). It was more about the struggle of trying to invest bandmates in a musical vision of what lay beyond the formula of Rumours. That's what the Tusk album was all about. It was saying, 'Okay, we just sold millions and millions of albums, but look what see we could be doing.' Y'know, a lot of new wave and the punk movement all had occurred, y'know, in the time after Rumours came out, and it just seemed to me that we were such a good band, that if we had the courage as a group to band together, to explore, to take chances, that we had vistas that would just lay off into infinity."
We asked Stevie Nicks to describe the process behind how a song makes it to the finished album as opposed to one that doesn't make the cut: "When you go into the studio, sometimes they just don't work. Then they go back into the vaults, because that doesn't mean they're not gonna work three years from now. So, I never even give anybody anything unless I think it's really good and really finished, as far as I can go with it. So, I never even play parts of songs for people. Y'know, it's like, they're done. You pretty much know really fast. You get one really good verse, and you're like, 'this is great,' y'know, so now we're gonna try to make a chorus that's as good as that verse."
It was during sessions for Rumours that Stevie Nicks and her Fleetwood Mac bandmates began a dangerous cycle of booze and drugs that tangled the group up in cross addiction, that was running full throttle throughout the Tusk sessions: "For us it was basically, y'know, brandy, cigarettes, pot, and coke — and that was just the wicked little circle — 'rat's wheel,' I call it — that everybody was on. Y'know, you do some coke and you were nervous and then you'd smoke some pot to calm down, and you were too stoned and then you'd, y'know, do some more coke to wake up and then you'd have a drink, 'cause you were too nervous. . . and it was just a nightmare."
There are differing opinions as to why Tusk — a successful album by any other standards — was deemed a "stiff" by the music industry. The blame lies in several places, although Lindsey Buckingham — the band's driving creative force — was blamed for pushing the band into recording far too experimental music, the simple truth is that although their contributions were brilliant, neither Stevie Nicks nor Christine McVie brought hit material to the sessions.
Another bone of contention was the hefty price tag of Tusk — a whopping $15.98 — which was a full two dollars more than other double LP at the time. Perhaps the biggest knock Tusk had against it at the sales rack was the decision to allow RKO Radio to broadcast the album in its entirety, leading millions of fans to simply tape the full album off the radio, rather than plonking down the big bucks for the album. In truth, all of the above factored into Tusk's under-performance, which took place in the midst of a major record industry slump.
Mick Fleetwood told us that having a deep catalogue featuring both blockbuster classics and more personal creative triumphs is one of the most rewarding aspects of Fleetwood Mac's career: "That's part of the advantage of having a broad-based deep catalogue that we have and being one of those bands that has got underneath that wire where within reason, we're not gonna go away in my lifetime. It would've already happened and it hasn't. So you're underneath that fence and you're on the other side in an area that's a privilege to be in."
In 2015 a five-CD deluxe box set of Tusk was released featuring a remastered version of the album, a complete alternate version of the set, as well as an additional selection of singles, demos, and remixes, including an outtake of "Think About Me," an early version of "That's Enough For Me" called "Out On The Road," plus several incarnations of "I Know I'm Not Wrong."
One of the main draws for fans was the double-disc live collection culled from the mammoth Tusk world tour, featuring songs taped in London, Tucson, and St. Louis. Highlights include then-current Tusk tunes "Sara," "Over And Over" and "Save Me A Place" — along with such Mac classics as "Landslide," "You Make Loving Fun," "Rhiannon," "Don't Stop," and "Go Your Own Way," among others.
The 2015 deluxe edition of Tusk also includes a 5.1 surround mix of the album on DVD-Audio, with a vinyl edition of the original album on two LP's, along with a newly produced booklet with extended liner notes featuring recent interviews with Lindsey Buckingham, Stevie Nicks, Christine McVie, Mick Fleetwood, and John McVie.
Back in 2019, the band's legendary co-producer Ken Caillat, along with the Mac's engineer Hernan Rojas, have collaborated on the new book, Get Tusked: The Inside Story Of Fleetwood Mac's Most Anticipated Album. The book follows Calliat's 2012 memoir on the band's Rumours sessions, titled, Making Rumours.