Flashback: George Harrison Becomes The First Solo Beatle To Tour America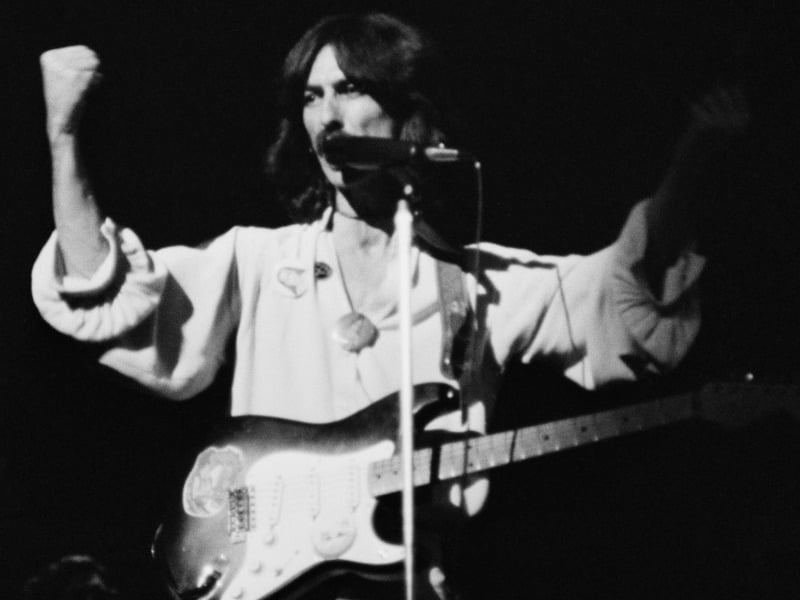 It was 48 years ago today night (November 2nd, 1974) that George Harrison launched his "George Harrison & Friends North American Tour" becoming the first solo Beatle to tour North America. Harrison opened the tour on November 2nd, 1974 at Vancouver's Pacific Coliseum. The 30-date tour was particularly grueling for Harrison, who had blown out his voice in the rush to complete his Dark Horse album, resulting in some reporters mockingly referring to the dates as the "Dark Hoarse" tour. To make matters worse, Harrison and his band were often playing two shows a day, with some dates not selling out. The show, which already had pacing problems due to Harrison's choice of material, featured guest spots by saxophonist Tom Scott and Billy Preston, as well as two long Indian music sets by sitar virtuoso Ravi Shankar interspersed within the concerts, which all but wrecked any momentum the "rock" aspects of the show had gained.
Although Harrison and the press liked to portray the concert audiences as hostile toward his performances, underground recordings of concerts — taped in such cities as Fort Worth, Long Beach, Los Angeles, and Baton Rouge — show boisterous fans cheering the show, including the songs from Harrison's soon-to-be critically bashed Dark Horse album — which didn't hit the stores until the tour was halfway over.
For many, the main problem with the tour was Harrison tampering with the lyrics and arrangement of Beatles classics. "Something," which surprised many as the second song of the night, had its lyrics changed to "When something's in the way we move it"; "For You Blue" was changed from an acoustic-based 12-bar romp into an extended up-tempo jazz number; "While My Guitar Gently Weeps" became "While My Guitar Tries To Smile"; and Harrison's update on John Lennon and Paul McCartney's "In My Life" had Harrison declaring during the song's chorus, "In my life, I love God more."
Among his solo hits performed on the tour were "What Is Life" and the Number Ones "My Sweet Lord" and "Give Me Love (Give Me Peace On Earth)." Conspicuously absent from the tour was Harrison's Beatles hit "Here Comes The Sun."
Billy Preston performed show-stopping renditions of his hits "Will It Go 'Round In Circles," "Outta Space," and "Nothing From Nothing."
Harrison had his share of friends visit him throughout the tour, with Bob Dylan checking out both his afternoon and evening Los Angeles Forum shows, John Lennon and girlfriend May Pang catching one of the Nassau Coliseum shows on Long Island, and Paul and Linda McCartney attending one of the New York City shows at Madison Square Garden. McCartney tried to disguise himself in an afro wig and fake mustache, but was easily spotted by die-hard fans.
Beatlefan magazine reported that David Bowie visited Harrison backstage in Memphis, but that he and Harrison "didn't hit it off that well."
After the dates, Harrison was so turned off to performing that it was 17 years before he embarked on his next tour, a series of dates in Japan far away from the glaring Western media.
Harrison explained that the rock press didn't do him any favors when reviewing the shows: "I think the public were just — didn't know what was happening, it was too much for them. Although, the public as a whole enjoyed it. It was always standing ovations — even for the Indian section. But they got on my case, the press — some of them anyway. And I don't know if I learned anything from that; it would probably be never to go on tour again."
Robert Rodriguez, author of the groundbreaking, Revolver – How The Beatles Reimagined Rock 'N' Roll , the two critically acclaimed Beatles FAQ books, and the recent Solo In The 70s: John, Paul, George, Ringo: 1970-1980, explained that the '74 Harrison shows added up to be much more than the two line quip history has afforded it: "I think, maybe the Ravi (Shankar) stuff might've been hard to take if people were going to the concert hall expecting to see, y'know, 'Beatle George,' or (The Concert For) Bangladesh – part two, or something. I think as. . . I put the quote in there from (Harrison drummer) Jim Keltner, y'know, 'George was breaking all the rules in a beautiful way.' He was so ahead of the curve in what he was trying to present; this whole integrated musical, rock jazz, funk, ensemble."
Mark Lapidos, who that same year founded what is now known as The Fest For Beatlefans, caught several of Harrison's 1974 New York shows and said that the press were too harsh on Harrison: "Y'know, after a while the headlines take over; Dark Hoarse, H-O-A-R-S-E, the Dark Hoarse Tour as it became known as. I don't think that the people were bothered by his voice. I noticed that it was a little bit off. My objection (laughs) was when he did 'In My Life' (and) he changed the words. I would have rathered him not to, but he was religious and that was his thing."
Harrison's widow, Olivia Harrison, who was with him for the duration of the '74 tour, says that although it's still on the back burner, she's planning some type of major retrospective around the tour, including a live CD and DVD — a taste of which was featured in 2011's documentary, Living In The Material World: "There's a lot of footage and a lot of history around that 1974 tour. Y'know George filmed quite a lot, so I think that it needs a little more time to sort that out. Because there's this great footage, y'know he filmed backstage, he filmed in lots of cities, so many things happened on that tour, as well as a live album."
In future years, George Harrison sporadically appeared onstage with friends such as Bob Dylan, Carl Perkins, and Eric Clapton, along with assorted one-off charity performances or tributes. Barring a brief — and incredibly lucrative — 12-date December 1991 tour of Japan, George Harrison stayed far away from the road in the wake of the infamous 1974 tour.