Flashback: George, Ringo, Elton, & Clapton Rock The Prince's Trust Gala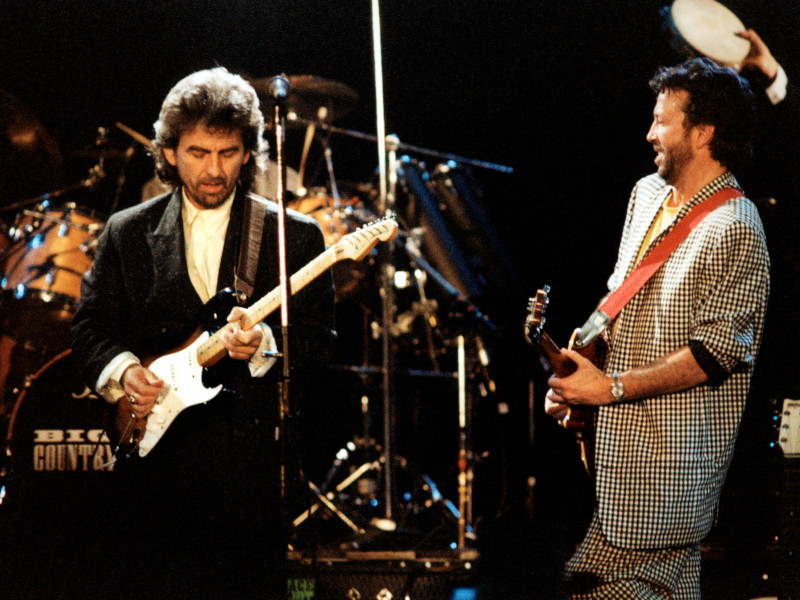 It was 36 years ago tonight (June 5th, 1987) that George Harrison and Ringo Starr joined forces at London's famed Wembley Arena for a three-song set to close out the Prince's Trust Gala charity concert. The previous year, on June 20th, 1986 — also backed by Eric Clapton, Phil Collins, Level 42's bassist Mark King, Elton John, and others — Paul McCartney was the surprise guest playing his own three-song set. The next year, Harrison, who was prepping his fall '87 comeback album Cloud Nine with ELO's Jeff Lynne, who also performed, had been out of the public eye for several years, having not released a new album since 1982's chart failure Gone Troppo. Apart from filming a Carl Perkins TV special in 1985 and sitting in at gigs by Bob Dylan, Taj Mahal, and Deep Purple, Harrison was better known to some as being the movie producer of Madonna and Sean Penn's then-recent Shanghai Surprise box office dud.
The event, which played nearly identical set over June 5th and 6th, 1987, was filmed for later broadcast on HBO, with the clips of the semi-Beatles reunion — "While My Guitar Gently Weeps," "Here Comes The Sun," and "With A Little Help From My Friends" — being featured in heavy rotation on both MTV and VH1.
By the time of the Prince's Trust gig, George Harrison was considered to be semi-retired from the music business, feeling both dispirited by the changing pop trends and the machine that went into promoting it: "I just felt there was no point, really. And from what I could see, the way the music was that was out there; I couldn't relate to it, and I just thought, 'I've got a lot of other things to do, I might as well have a rest."
1987 was not a particularly high point for Ringo Starr. With a generation reorganizing him as the spokesperson for Sun Country Wine Coolers, rather than the drummer on Abbey Road, Ringo's stock in the business was at an all-time low.
Earlier in '87, his drunken sessions in Memphis with legendary producer Chips Moman were scrapped and eventually saw the former-Beatle embroiled in a major lawsuit regarding the unfinished album. Ringo was also at the low ebb of his addiction and alcoholism issues, which finally brought him to rehab in 1988: "Well, it was very bad for me, that's why I ended up in the rehab. I just was drinking morning, Noon, and night. So, when you're only doin' that, that's all you do. I wasn't very happy; but that's all behind me now, thank God. A day at a time."