Flashback: John Lennon Ends Retirement And Releases '(Just Like) Starting Over'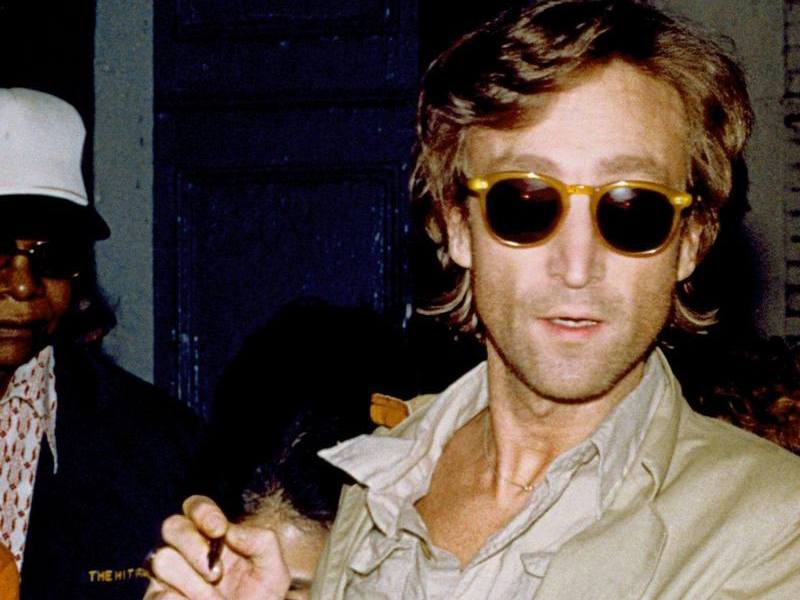 It was 42 years ago Sunday (October 23rd, 1980) that John Lennon's "comeback" single "(Just Like) Starting Over" was released, breaking Lennon's then-five year hiatus from recording. Lennon had devoted himself to becoming a self-proclaimed "house husband" following the birth of his and Yoko Ono's son Sean in 1975. "(Just Like) Starting Over" was a teaser for the forthcoming joint album between him and Yoko called Double Fantasy, which was released on November 17th. It was the last song completed for the album, using portions of Lennon's unfinished songs "My Life" and "The Worst Is Over."
At the time of the song's release, Lennon recalled how he immediately knew that the song had commercial potential: "It was obvious because it was the one where the musicians got very loose. Because it was so simple rock n' roll, there was no prob — y'know, they really relaxed and they'd all be like that after it. Even though I don't think it's the strongest track, perhaps, but 'Starting Over' was the best way to start over. And to me, it was like going back to 15 and singing ala (Elvis) Presley (sings, imitating Elvis), like that. And it's a kind of parody, but not really a parody."
Lennon's assistant Fred Seaman says that Lennon never considered "(Just Like) Starting Over" as being among his most inspired creations: "'Starting Over' was what John would call a 'formula song.' It was kind of a pastiche — a little bit of Elvis (Presley), a little bit of Roy Orbison, a little bit of other rockers that influenced John. And the lyrics are cliched, and it's a song that John didn't particularly enjoy writing or recording, but he felt he had to because the marketplace expected it."
Seaman says that in 1980, Double Fantasy producer Jack Douglas played an integral role in getting Lennon up to speed with modern recording techniques: "He hadn't been in the studio for a long time. He was behind in the technology, and his way of coping with it was, he just wanted more and more tracks. He wanted to multi-layer his voice — y'know, two, three, (laughs) 10 times. He didn't like the sound of his raw voice and Jack accommodated him, and in the end, they got a great sounding record out of it."
Prior to Lennon hitting the studio in early August 1980, Lennon had Douglas transcribe his demos and was rehearsing the musicians in secret, with none of them knowing who they would be recording with. The night before the first session, all the players finally gathered at Lennon's apartment at the Dakota for a makeshift and loose rehearsal of the songs.
Jack Douglas recalls that Lennon had a Fender Rhodes electric piano, just inside of his apartment to work out ideas either when he first entered the apartment or vice versa. It was the night before the start of the Double Fantasy sessions that Lennon sprung on the musicians what would be his comeback single: "After that rehearsal at the Dakota, the night before the studio, we're all walking out. Almost everyone's gone except (guitarist Hugh) McCracken, (bassist Tony) Levin, and myself. We're, like, we're approaching the door, and John — just before we got to the door, said, 'Before you go, Jack, I want you to hear this song.' And he played Tony and Hughie and I 'Starting Over' on the Rhodes, sang it, and sat down. . . And I said, 'John, that's a great song, it's perfect for this record, why don't we do that the first song that we do, so that we're rehearsing it for a little while and then recording it. And that way you'll get a good vibe with the whole rhythm section, 'cause you'll be working on a song with them from scratch.' And he said, 'That's a great idea,' and that was the first song we recorded."
Stephen Bard, co-host of the leading Beatles podcast, 'Fabcast,' recalled hearing "(Just Like) Starting Over" for the first time in October 1980: "'(Just Like) Starting Over' was a genius record from the first moment; with that guitar, and that voice, and that kind of almost strange delay, and there's the guy who made it all happen for us! He's back! What a beautiful introduction to that record. And then the drums kick in and it's off to the races. So, hearing it for the first time on the radio was a major moment. And I thought, 'Wow, this is a hit!'"
Upon the release of Double Fantasy album, John Lennon was excited to spread his positive message to the baby boomer generation: "When I was singing and writing this and workin' with her, I was visualizing all the people of my age group; I'm singing to them. I'm saying, 'Here I am now, how are you? How's your relationship going — did you get through it all? Wasn't the '70's a drag (laughter)? Here we are, let's try to make the '80s good, y'know?' It's not out of our control. I still believe in love, I still believe in peace, I still believe in positive thinking. Where there's life, there's hope. Because I always consider my work one piece and I consider that my work won't be finished until I'm dead and buried and hope that's a long, long time."
"(Just Like) Starting Over" debuted on the Billboard Hot 100 on November 9th, 1980 — the 14th anniversary of John and Yoko's first meeting — and eventually hit Number One on December 27th. "(Just Like) Starting Over" held the top spot for a total of five weeks and stayed in the Hot 100 for 22 weeks.
"(Just Like) Starting Over" was the second chart-topper by a solo Beatle in the 1980's, with Paul McCartney & Wings having scored a Number One hit the previous summer with "Coming Up (Live In Glasgow)."
"(Just Like) Starting Over" marked only Lennon's second solo Number One, following 1974's "Whatever Gets You Thru The Night," and stands as the 12th U.S. chart-topper by a solo Beatle.