Flashback: John Lennon Records 'Instant Karma (We All Shine On)'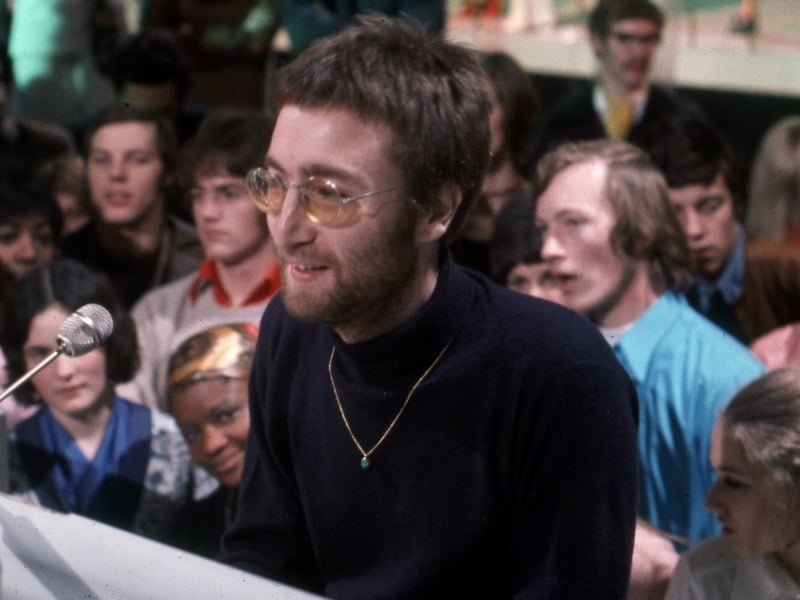 It was 53 years ago today (January 27th, 1970) that John Lennon recorded "Instant Karma." Lennon had already recorded several experimental albums and two singles under the name the Plastic Ono Band. "Instant Karma," however, was released under the name John Ono Lennon, the name he'd created when he legally changed his middle name from Winston to Ono the previous April. Although the public didn't know it, Lennon had quit the Beatles in September 1969, which is reportedly why he had the single's sleeve featured his name in bold, black letters, to announce himself to the world as a solo artist.
Lennon wrote the song in a single afternoon, recorded it within a week, and originally hoped to release it the following week. At the time, Lennon told Britain's music paper Melody Maker that he wanted to be able to release music as easily as issuing newspapers. Lennon talked about what the song meant, explaining, "Whenever you do something, there's a reaction to it. Even if you cough, you cough germs out all over the place. If you cough love out, out goes love. That's what 'Instant Karma' is."
The song was recorded between 7:00 p.m. on January 27th and 4:00 a.m. the following morning at London's Abbey Road Studios. At the suggestion of George Harrison, legendary "Wall Of Sound" creator Phil Spector produced the song. Harrison also played guitar and piano on the session. There's still some disagreement as to who actually performed on the backing track, with several reports listing Eric Clapton, Billy Preston, and Badfinger's Pete Ham overdubbing parts as well. Future Yes drummer Alan White — who had made his live debut with Lennon the prior September in Toronto — handled the drums. At the end of the session, the Beatles' road manager Mal Evans rounded up the patrons of Hatchett's, a nearby nightclub, to help supply backing vocals. Longtime "Fab Four" confidante and solo Beatles sideman, Klaus Voormann handled bass duties.
The late-Alan White, who was only 20-years-old at the time of the session, shed light on his iconic drum part on "Instant Karma": "I played most of the shuffle rhythm with my right hand on a 16-inch tom to my right — that was covered by a towel that was taped on (laughs). And, so, I was hearing (in my headphones) pretty much what you hear (on the record). And. . . obviously, when they mixed it, they added more echo to some of those drum breaks and stuff like that."
Klaus Voormann recalled that John Lennon never made apologies for his emotions: "John writes always about himself and it doesn't mean that he means that the rest of his life — like talking about Paul in that song — he felt like this at this particular moment. He uses the words, it's so strong, and it's always something he did himself. Something out of himself. He's very egotistical, you could say. Well, why not?"
"Instant Karma" was released to radio on February 22nd, several weeks ahead of the Beatles' "Let It Be" single. The two songs battled each other all the way up the Billboard Hot 100.
On April 10th, 1970, Paul McCartney issued a press release announcing his split from the Beatles, effectively ending the group. The next day "Instant Karma" peaked at Number Three behind the Jackson Five's "ABC," which held the Number Two spot while the Beatles were on top with "Let It Be."
Like "Let It Be," "Instant Karma" will forever be tied into the Beatles' breakup, with the single peaking at Number Three the week the group's split was announced. Lennon explained that the Beatles broke up simply because they had grown stale: "We didn't breakup because we weren't friends, we just broke up out of sheer boredom, y'know? And boredom creates tension. It was not going anywhere. We'd stopped touring, and we just said 'time to make an album.' Y'know, the same four of us, we'd be looking at each other and playing the same licks. We were very good friends and we'd known each other since we were 15, y'know? And we got over all the actual fighting."
Although 'Instant Karma' was originally only a single-only release, it has turned up on a number of Lennon compilations over the years, including Shaved Fish, Lennon Legend, Working Class Hero: The Definitive Lennon, Power To The People: The Hits — and most recently in remixed form on the Sean Lennon-produced 2020 Working Class Hero collection. An early-version — featuring George Harrison supplying key arrangement suggestions — was released in 2021 on the super deluxe version 50th anniversary edition of John Lennon/Plastic Ono Band.
John Lennon's 1972 live version of "Instant Karma" can be found on the posthumously released collection Live In New York City.