Flashback: John & Yoko Pose Nude For 'Two Virgins' Album Cover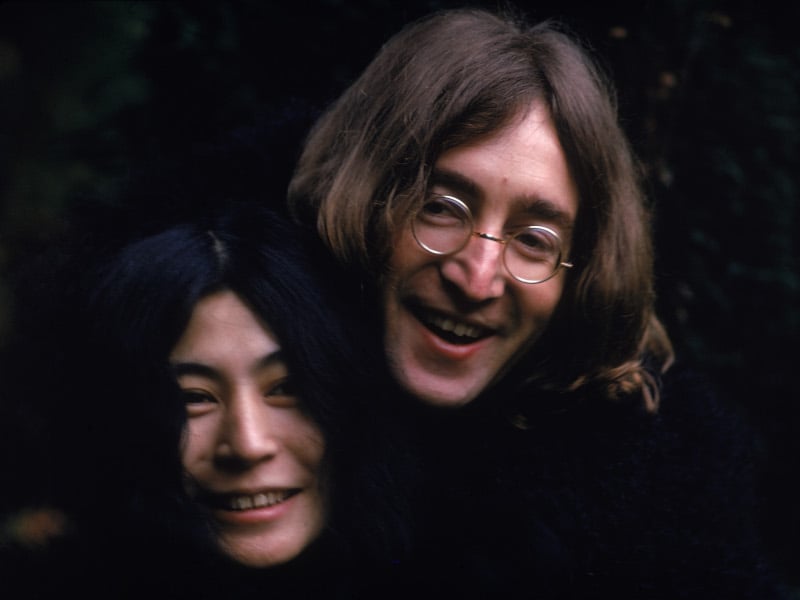 It was 54 years ago today (November 11th, 1968) that John Lennon and Yoko Ono released their first album together, the infamous Unfinished Music No. 1: Two Virgins. The album, which featured John and Yoko nude on the front and back covers, has been jokingly referred to over the years as the "most talked about album to have never been played."
The album was recorded in May 1968, supposedly during John and Yoko's first night together, and features an assortment of oddly mixed random noise, screeching, backwards tape loops, and other "found sound."
An early supporter of the album was Paul McCartney, who accompanied John and Yoko to the office of EMI Records chairman Sir Joseph Lockwood to persuade him to allow EMI to distribute the album. When Lockwood pressed the couple as to why they wanted to issue the album with the nude photos, Yoko replied "It's art." Lockwood's legendary response was, "Well, why not show Paul in the nude, he's so much better looking."
The album was released only weeks after John and Yoko's pot bust in London while staying in Ringo Starr's Montague Square apartment — where the Two Virgins cover was shot — and further alienated Lennon from his British fans, who were increasingly confused by the chief Beatle's odd behavior. Many stores would only carry Two Virgins wrapped in brown paper.
Shortly before her recent death, the late Cynthia Lennon recalled the period in which she was granted a divorce from Lennon and Two Virgins was released. She felt that the couple's drug bust during those weeks was a form of "Instant Karma" for the way in which Lennon abandoned her and their son Julian to run off with Yoko: "And yes, they were busted. I'm a great believer of 'action-reaction.' And I felt that because of what they had done, and made everything so public in such a cruel way, then something was going to happen in reaction to that. And what happened was that the police decided that they were going to make an example of him."
Paul McCartney felt that the deeper Lennon fell for Yoko the more clear it became to him that the Beatles' days were numbered: "When John hooked up with Yoko so, sort of, intensely; that was obviously — it was kind of obvious that there could be no looking back after that. Y'know, he. . . I always felt that he had to clear the decks of us in order to give her enough attention."
Two Virgins was released on Apple Records, but EMI and its U.S. subsidiary Capitol refused to distribute the album because of the cover. In Britain, the Who's label Track Records distributed the disc, and in the U.S. Tetragrammaton Records, which was co-founded by Bill Cosby, pressed the album.
UK sales at the time peaked at 5,000, with the U.S. sales totaling about 25,000. A further 30,000 copies were confiscated in a warehouse in Newark, New Jersey due to obscenity laws.
Although the album received no substantial airplay, having the distinction of being the first solo John Lennon album ensured that it made the charts by topping out at Number 124 on the Billboard album charts in early 1969. Two Virgins didn't chart in Britain.