Flashback: Paul McCartney Disbands Wings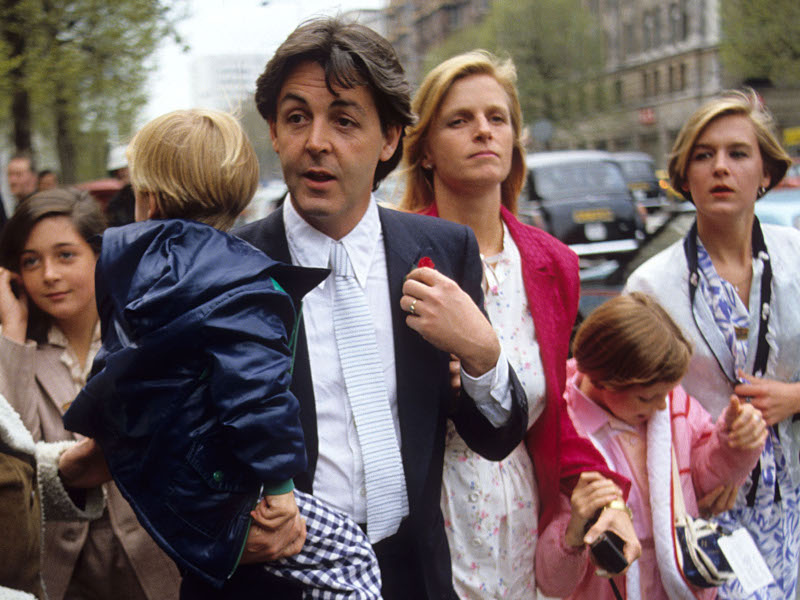 It was announced 42 years ago (April 27th, 1981), that Paul McCartney's solo band Wings had disbanded. McCartney and his first wife Linda had formed the group in the summer of 1971 with drummer Denny Seiwell and guitarist and Moody Blues co-founder Denny Laine. The McCartney's and Laine remained the nucleus of the band's ever-changing line up throughout their decade-long run. At the time of Wings' split the band included Wings' third lead guitarist Laurence Juber and fourth drummer Steve Holley.
The same day the announcement was leaked to the press, McCartney, along with Linda and their four children, joined his bandmates from his other band, George Harrison and Ringo Starr, at Ringo's wedding to actress Barbara Bach in London.
McCartney first broke Wings in by playing small, unannounced university gigs throughout Britain in early 1972. Gradually, he began booking the group into theaters and arenas across Europe, Australia, and America as the group started racking up Top Ten hits such as "Hi, Hi, Hi," "Live And Let Die," "Helen Wheels," "Jet," "Junior's Farm," "Let 'Em In," and "Goodnight Tonight," along with the Number Ones "My Love," "Band On The Run," "Listen To What The Man Said," "Silly Love Songs," "With A Little Luck," and "Coming Up."
In 2001 McCartney released his Wingspan documentary chronicling the group's career. He admitted at the time that he was horrified by at the public and critical beating Linda took after marrying and co-founding Wings with him: "She took some s*** — major league. Not only from the critics, (but) from the fans. I mean, we had stuff daubed on our front wall in large letters, and it was highly offensive, y'know? So, she had to put up with that. Luckily, she was a very strong woman, and was able to overcome it and the period passed, and as she went on, people started to appreciate more and more."
Denny Laine says that despite the band's success, being an active member of top act like Wings is hardly as easy as it looks: "Well, there's a lot of pressure on you when you're in a band like Wings — to come up with the goods, to be continually working. It's not like taking it easy and taking it at your own pace. Y'know, you're out there and you've got to do what the public expects you to."
The Beatles' late-engineer Geoff Emerick, who went on to work on several Wings projects, including the One Hand Clapping film and the Band On The Run and London Town albums, told us that above all the members, it was Linda that was really the unsung hero of the group: "Wings was Wings, and Linda was such an integral part of that — if you took Linda's vocals out of those harmony voices — it wasn't Wings anymore."
Wings' final lead guitarist, Laurence Juber, told us that although the band was specifically not brought on for McCartney's Tug Of War sessions, they remained an active studio unit for McCartney's other recording work — including his still-unreleased outtakes project, Cold Cuts: "George Martin didn't want it to be a Wings album, that's what I was told. Paul called up and said, 'George wants to make this a 'Paul McCartney' album and thanks, but no thanks.' But subsequently, we were still back in the studio as Wings, 'cause during January of '81 we were loosely working on what was called Cold Cuts."
Beatlefan magazine publisher Bill King had covered all of McCartney's exploits leading up to Wings calling it quits — including his infamous January 1980 Tokyo drug bust which curtailed Wings' second proposed world tour. We asked King if he was shocked by the announcement signaling the end of the band: "I was mildly surprised but after the who Japanese thing, that was sort of a major demarcation in his life and career. 'Cause we had heard the reports that the last British tour was underwhelming. Everybody remembered Pete Townshend's comment about him getting out there with an 'under-rehearsed band.' I seem to recall that my feeling was that this had run its course, it was a good time for him to try something different, and to basically record with a whole bunch of different people."
McCartney biographer Christopher Sanford feels that there was probably no clear moment at which McCartney decided that Wings was an unworkable situation: "His solo album (McCartney II) that came out in May of '80 was sort of an organic process. I don't think there was a 'big bang' moment where he decided to demolish Wings. And I think it developed in the first six or seven months of 1980. And I suspect that John's murder had — among many other horrible repercussions — a disinclination to go out on the road immediately. I mean, for one thing, you're more vulnerable physically; and secondly it's hard to go out and sing with the best will in the world 'Silly Love Songs' and the other upbeat stuff when you're grieving your best friend."