Flashback: Paul McCartney & Wings' 'Coming Up' Hits Number One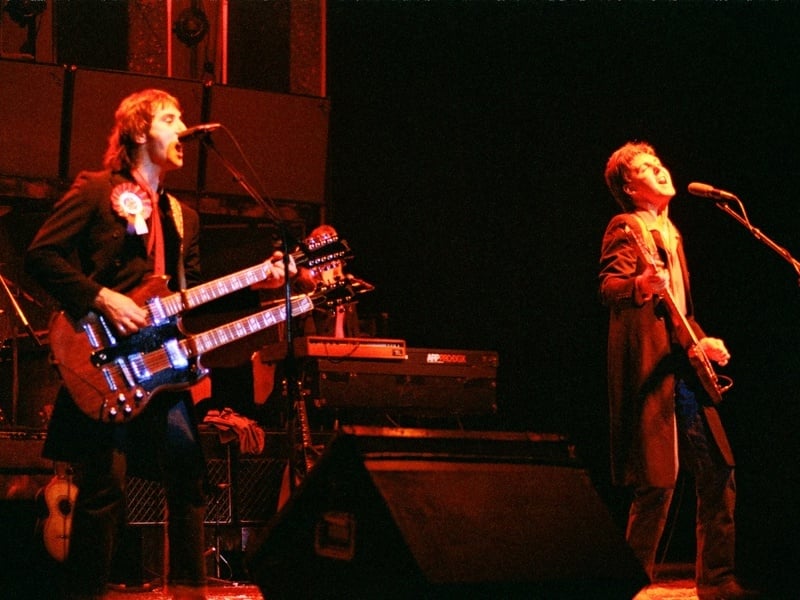 It was 43 years ago today (June 28th, 1980) that Paul McCartney's "Coming Up (Live At Glasgow)" began its three-week run on top of the charts. The song was recorded live by McCartney and Wings during their final tour on December 17th, 1979 at the Apollo in Glasgow, Scotland. The live version was actually only intended as the B-Side of the studio version of "Coming Up" — which was the lead single and opening cut from McCartney's 1980 solo set McCartney II.
Although the modern-sounding gimmicky studio version was a smash overseas, U.S. disc jockeys flipped the single over for the normal voiced-live McCartney version — which resulted in Wings' sixth and final chart topper and McCartney's first Number One single of the 1980's. Despite Wings receiving co-billing, "Coming Up" also marks the final time McCartney topped the charts as a "solo" act. His final two Number One's were duets with Stevie Wonder ("Ebony And Ivory" – 1982) and Michael Jackson ("Say Say Say" – 1983).
Incidentally, shortly before his death, McCartney's former partner John Lennon went on record saying how much he loved McCartney's originally studio version of "Coming Up."
By the time of "Coming Up's" release, McCartney's proposed world tour had been sidelined by the former Beatle's infamous pot bust the previous January, which landed McCartney in a Tokyo jail for 10 days. Wings lead guitarist Lawrence Juber recalled that with Wings still together — but with McCartney also pursuing a solo career — it was a strange time to be scoring a Number One hit: "The shame of it was, that if we had continued — he would've been touring the States with a Number One record, 'cause 'Coming Up' was Number One. But the fact that there was this conflict, this dichotomy between Paul as 'Paul' and Paul as 'Wings,' as the band, it was most epitomized by 'Coming Up.' Because in England, the studio. . . Paul's McCartney II version came out. In America, nobody wanted to play the McCartney II version."
Paul McCartney recalled how the offbeat, yet groundbreaking, McCartney II project happened almost by accident: "What happened was, originally I just went into the studio to have a mess around. 'Cause I was fed up of formally making records, y'know, going in and doing it all properly. I wanted to just hire a machine — which I did, I hired a 16-track machine and put a microphone into the back, so it's a very primitive way of doing it, and you bypass the mixing console. And I wanted to just go in for, like, about two weeks and just have a mess around and definitely not do anything for a new album, and definitely not try to do anything properly, and definitely experiment with anything."
McCartney recalled the difference between the live version of "Coming Up" to the solo one-man-band version on McCartney II: "The live version of 'Coming Up' — and the solo one is off this. And we were working with an engineer and he listened — we'd been working on mixing the live one, workin' on it for half-an-hour or so, and then I said, 'Wait a minute, I'll just play you this other one.' And he got a totally different feeling off the solo one. The solo thing, I just think there's just a lot of things I wouldn't have done; a lot of raw edges, a lot of silly sounds that I did for my own amusement, that normally I might think, 'Well, y'know, that's just a bit of a goof.'"
Lawrence Juber was in New York City during the summer of 1980, and remembers the absolute enormity of "Coming Up": "I was walking down the street and y'know, I'd hear 'Coming Up' blaring from the radio. Oh, it was fabulous — I'd walk in Manny's (Music) and I'd hear someone playing the lick, y'know? Yeah, no, I was acutely conscious of it. And every time an issue comes up — like when we were doing Wingspan, and I sat down with Paul and I said, 'y'know, at least for the American market, put the live version of 'Coming Up' on it, and he said, 'Yeah, people keep telling me that (laughs).' And they did. He's, kind of, over the years, I think he's been more accepting of it."
Since returning to the stage in 1989, "Coming Up" has remained a constant part of McCartney's setlist. Although over the past few tours it's been relegated to soundcheck run-throughs, McCartney did perform "Coming Up" live during his July 15th, 2009 appearance on the marquee of New York City's Ed Sullivan Theatre during his appearance on The Late Show With David Letterman.
The recent expanded reissue of 1970's McCartney album features three additional songs from Wings' final show from December 17th, 1979 in Glasgow: "Every Night," "Hot As Sun"," and "Maybe I'm Amazed." Both the live, studio, and original extended unreleased version of the studio "Coming Up" are included on the deluxe McCartney II reissue.