Flashback: Pink Floyd's 'Another Brick In The Wall (Part 2)' Tops The Charts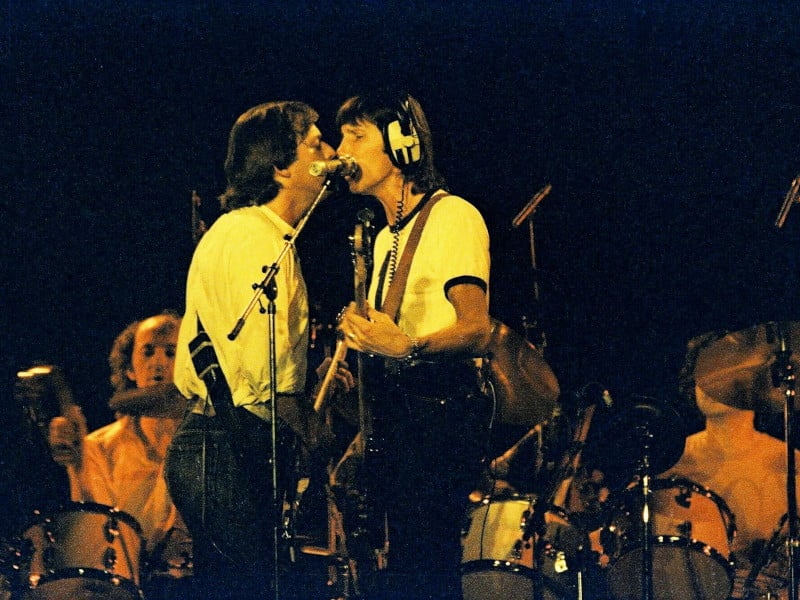 It was 43 years ago today (March 22nd, 1980), that Pink Floyd's "Another Brick In The Wall (Part 2)" became a surprise Number One hit in 1980, topping the Billboard Hot 100 charts for four weeks. The Wall, which was the band's 11th studio album, was spearheaded by co-founder Roger Waters and released on November 30th, 1979. The double-album set, which was co-produced by Waters, guitarist David Gilmour, and Bob Ezrin, had hit Number One the previous January 19th, and enjoyed a 15-week run on top of the Billboard 200 albums chart.
The chorus of "Another Brick In The Wall (Part 2)" was made up of 23 kids aged 13 to 15, overdubbed a total of 12 times to make them sound like an auditorium full of singers. In 2004, 25 years after the recording, the singers — then in their late-'30s or early-'40s — were tracked down and finally began receiving royalties for their appearance on the Floyd classic.
David Gilmour admitted to us that choosing singles from Floyd's albums was never his strong suit: "If I had a very clear idea of what I wanted to be a single, I would have stated it. But I like to ask what the record company people feel that they could support — and I'm often not the best person to know what would be the best single."
"Another Brick In The Wall (Part 2)" is not only Pink Floyd's one and only U.S. chart topper — it's the band's only Top Ten hit. Their next biggest single was 1973's "Money," which topped out at Number 13.
Even though future songs appeared in the Top Ten of Billboard's Mainstream Rock charts — on the singles charts, nearly all of them tanked. For example, a major hit like 1987's "Learning To Fly" hit Number One on the Mainstream Rock chart — yet stalled at Number 70 on the Billboard Hot 100.