Flashback: REO Speedwagon Hits Number One With 'Keep On Loving You'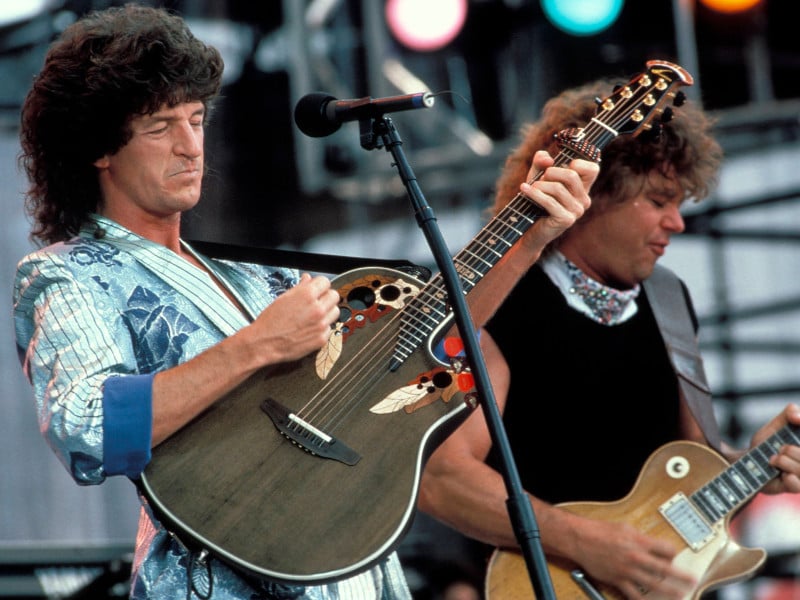 It was 42 years ago today (March 21st, 1981) that REO Speedwagon first hit Number One with "Keep On Loving You." The single was the first to be issued from the band's ninth album, Hi Infidelity, and replaced Eddie Rabbitt's "I Love A Rainy Night" at the spot for a single week before being toppled a week later by Blondie's "Rapture."
Hi Infidelity hit Number One on February 21st, 1981 ending John Lennon & Yoko Ono's eight-week run with Double Fantasy. The album stayed at Number One for 15 nonconsecutive weeks, spent 30 weeks in the Billboard Top 10, and was on the Billboard 200 album chart for a total of 101 weeks — an unprecedented feat for an American rock band at the time. Three more singles were pulled from Hi Infidelty — "Take It On The Run" (#5), "Don't Let Go" (#25), and "In Your Letter" (#20).
Hi Infidelity was the best-selling rock LP of 1981 and has sold over 10 million copies in the U.S. since its release. REO Speedwagon returned to Number One in 1985 with the three-week chart-topper, "I Can't Fight This Feeling."
In concert, REO Speedwagon covers most of its hits — including a healthy dose from Hi Infidelity. Bandleader and frontman Kevin Cronin told us that forget about the band painstakingly crafting their masterpiece — the only game plan behind the album was to not get dumped by their record label: "Basically, we were in the studio and we had the guillotine hanging above our necks. Y'know, the record company was like, 'Something better happen (laughs) with this next record, or you guys are history,' y'know? Pretty much every record we made, we were on the brink of having our contract canceled. But looking back on it, it probably helped motivate us in some way."
Cronin explained that Hi Infidelity remains one of those key albums in rock that managed to seep into everyone's musical DNA at precisely the same time: "The record just got under people's skin; and I was saying that anyone who was in junior high through college in 1981, y'know, people couldn't help but have this record kind of drilled into 'em — whether they (laughed) liked it or not. And so for us to kind of look back fondly and with humor and think back (to) what we were going through, that seems surreal because I remember it so vividly as though it were last week, or something."
REO Speedwagon performs tonight (March 21st) at Bemidji, Minnesota's Sanford Center.