Flashback: Sting Goes Solo With 'The Dream Of The Blue Turtles'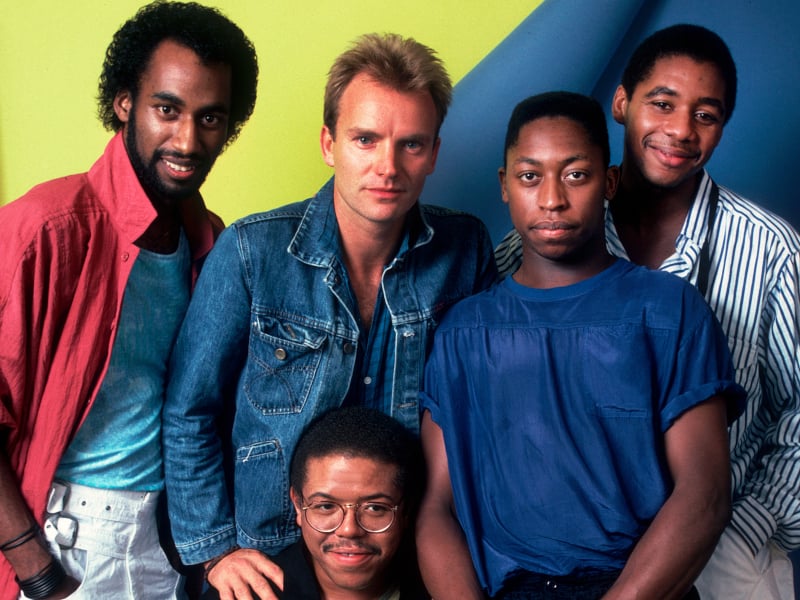 It was 38 years ago today (June 1st, 1985) that Sting released his first solo album apart from the Police. Although the collection was originally conceived as just one of the three separate solo projects he, Andy Summers, and Stewart Copeland embarked on following the global success of the band's Grammy Award-Winning 1983 Synchronicity album and its subsequent world tour, which stretched into 1984; barring one reunion track the following year for their greatest hits compilation, The Dream Of The Blue Turtles marked the end of the Police and the official start of Sting's solo career.
The Dream Of The Blue Turtles, which topped out at Number Two on the Billboard 200, has remained one of the decade's most important and durable albums, spawning four Top 20 hits: "If You Love Somebody Set Them Free" (#3), "Fortress Around Your Heart" (#8), "Love Is The Seventh Wave" (#17), and "Russians" (#16).
Sting enlisted the era's top young jazz musicians for the sessions, introducing a whole new audience to such heavyweights as saxophonist Branford Marsalis, keyboardist Kenny Kirkland, drummer Omar Hakim, and future Rolling Stones bassist Darryl Jones, who was then best known for his work with Miles Davis. The Dream Of The Blue Turtles, which was co-produced by Sting and Pete Smith, went on to snag Grammy nominations for Album Of The Year, Best Male Pop Vocal Performance, Best Jazz Instrumental Performance, and Best Engineered Recording.
At the time of the album's release, Sting was far from pitching it as his first album following the split of the Police, telling Spin magazine: "The Police and my solitary projects are logically very separate. We haven't broken up, but we've become separated by our own plans for ourselves for the time being. It's nothing more than that. . . We're all extremely busy. Stewart is immersed in a successful musical life that includes a solo album this summer. Andy's working on a solo record starting next month. We're pleasantly preoccupied, which is a good sign, rather than a bad one."
Then-Musician magazine editor Vic Garbarini played a pivotal role in the sound of Blue Turtles, telling Spin: "Sting knew I was in close touch with this network of players. I said to him, 'But you don't want the older jazzmen who grew up playing bebop. What you want are the young ones who were raised on jazz, fusion and funk and are closet rock fans. In other words, a more assimilated crew but still with a contemporary edge. I suggested he sign up Branford sight unseen, because I knew Branford and his sax has got that Wayne Shorter/(John) Coltrane sensibility but also his own very contemporary funk-influenced sound. Sting agreed. Overnight, I put together workshop-type auditions with the full spectrum, from the avant-garde end of James Blood Ulmer sidemen to the neo-classical guys. By the second day, we had most of the group."
Sting told us that leaving the Police had nothing to do with ego and everything about pushing his own musical boundaries: "I think it was really about freedom. The freedom to follow my muse, to follow my curiosity about music. And a band is a very restrictive, reactionary, conservative thing — any band — 'Oh, we gotta be the band! We have to have our little image! And we must never change, it's what we do.' My nature is much more of a gadfly (laughs), y'know? I'm intrigued by a lot of things. I'm also intrigued by music as a universal mystery — not just one bit of it."
He told us that despite his fans criticizing him at the time for switching musical gears — he didn't "go jazz" — as many Police fans accused him of doing: "It wasn't really a direction. It might've looked like a direction because of the casting of the band was very much from the world of jazz; but we weren't playing jazz. Anything but. That direction was driven by songs. Very disparate song genres. As different as 'Moon Over Bourbon Street,' which is a kind of Kurt Weil sort of (laughs) strange theater song, to "Fortress Around Your Heart," uh, "If You Love Someone Set Them Free" — it was just a very, very disparate collection of songs. No, there was no, like, 'direction.' There was no, like, 'This is what we're doing' — other than me exploring my freedom."
Although Sting's initial break from the Police was only supposed to be temporary — yet open ended, solo super-stardom kept him from rejoining his bandmates for nearly a quarter century. Andy Summers told us he's got no issues with the fact that Sting essentially left the Police behind following the release of Blue Turtles: "I think he made, y'know, what was the right decision for him. Y'know, I don't point any fingers at him for doing that. Y'know, we'd had phenomenal success. . . Y'know, he wanted to do his own thing and, and he actually proved it, because he has become a very successful male solo singer. Now, a lot of guys who leave big bands, that's not true, or they don't make it, and then they have to do the reunion thing, y'know?"
Sting kicks off his next North American dates on September 1st and 2nd at Vienna, Virginia's Wolf Trap.