Flashback: The Band And Friends Perform 'The Last Waltz'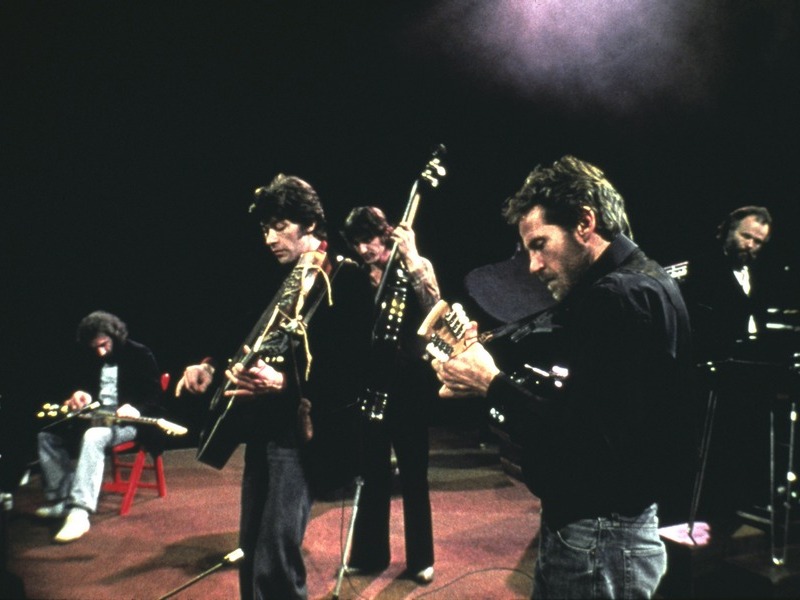 It was 46 Thanksgivings ago (November 25th, 1976) that the Band played its most famous — and final — concert. Billed as The Last Waltz, the show at Winterland in San Francisco featured the group, along with an all-star guest list, in what became the farewell performance of the original quintet. Among the friends on the bill that night were Eric Clapton, Neil Young, Van Morrison, Ringo Starr, Ron Wood, Ronnie Hawkins, Dr. John, Muddy Waters, Neil Diamond, and Joni Mitchell. The legendary movie, directed by Martin Scorsese, opened on April 26th, 1978 and is largely believed to be the greatest big screen concert film of all time.
Band leader Robbie Robertson told us that the events leading up to the Band's swan song were truly disturbing to him: "In a certain period leading up to The Last Waltz, it felt really crazy out there. When we were in Malibu, or on the road, and everywhere, everything was distorted in life. Everything was bent. So, part of the reason, leading up to The Last Waltz, was, like, can we do this before something terrible happens?"
Robertson told us that he saw the Band parting ways — if only temporarily — was crucial to their personal survival: "So many people, y'know, that we knew were dying. It was a reckless, reckless period. So you say, 'Wait a minute. Let's get in a huddle here and figure out how we don't go over the cliff. What can we do? What can we do in celebration of our music, our brotherhood — everything that we stand for. What can we do?' And then, let's shut it down."
Shortly before his death in 1999, singer-bassist Rick Danko spoke about the Band's decision to break up: "It seemed that it was time to bring it in. Y'know, it seemed like it was time to have a kinda going-out-of-business sale. I didn't really believe that we were putting it away like that — thought we'd maybe at least release a record a year, but we didn't."
Robbie Robertson said that the intent of The Last Waltz was meant as a farewell to the road so the musicians could concentrate on recording projects: "What really happened was after The Last Waltz, people had some projects they'd been wanting to do for a while. Everybody was looking forward to the opportunity of just spreading their wings and experimenting in different areas. And everybody drifted off in these different directions, and what happened was — 'cause that wasn't the idea — what happened was everybody drifted off and never drifted back."
Released in 2016 released as a four-CD/Blu-ray set and — for the first time — on vinyl as a six-LP set, was the "40th Anniversary Deluxe Edition" of the original soundtrack to The Last Waltz has 54 tracks, including the entire concert, as well as rehearsals and outtakes.
Among the rarities are performances not featured in the film, such as "Furry Sings The Blues" with Joni Mitchell and "All Our Past Times" with Eric Clapton, plus rehearsals for "Caravan" with Van Morrison, "Such A Night" with Dr. John, and "King Harvest (Has Surely Come)" a song that was not performed in concert.
The CD version also includes newly penned liner notes by revered music journalists David Fricke and Ben Fong-Torres along with a classic essay from 1977 written by iconic author Emmett Grogan.
The "40th Anniversary Collector's Edition," was limited to 2,500 copies worldwide, and included a replication of Scorsese's original shooting script. Once the film was complete, director Martin Scorsese had two copies of the script bound in a red leather book; one copy for himself and the other a gift to Robbie Robertson, which now resides at the Rock and Roll Hall of Fame. "The Collector's Edition" also includes a foreword by Scorsese and an essay from screenwriter Mardik Martin.