Flashback: The Beach Boys Release 'Good Vibrations'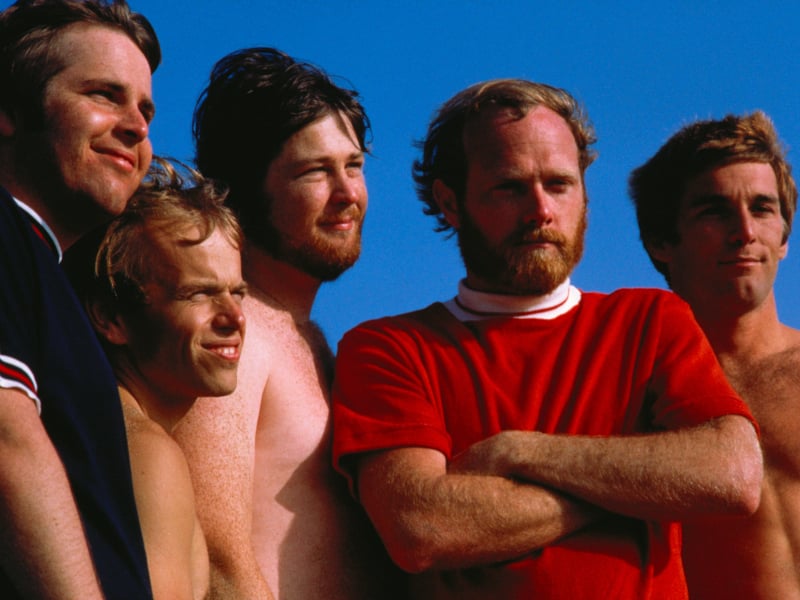 It was 56 years ago today (October 10th, 1966) that the Beach Boys' released their masterpiece, "Good Vibrations." The song went on to top the chart for one week exactly two months later (December 10th to 16th, 1966). "Good Vibrations" was bandleader Brian Wilson's first attempt at a "modular" recording approach, which pieced together many different musical sections to form a constantly changing musical landscape. The song was also unique for its choice of lead instruments, which included flutes, cellos, and a version of a theremin, called a tannerin, which provided the song's eerie "woo woo" sound.
Wilson recorded the track over a series of months, using over 90 hours of tape and dozens of session musicians at several different Los Angeles recording studios. The song cost between $75,000 and $100,000 to record — an astonishing amount for 1966. "Good Vibrations" was such an immediate hit that it reportedly sold 230,000 copies in the first four days of its release. Although it only topped the chart for a single week, "Good Vibrations" went on to become the group's first million-selling single.
The song was originally begun during the group's 1966 Pet Sounds sessions, with music by Wilson and lyrics by his then-collaborator, Tony Asher. Wilson continued to tinker with the song's melody and production, but all without a permanent set of lyrics. Wilson's first cousin and bandmate Mike Love asked to take a crack at the lyrics as he had done for the Beach Boys' two other Number One hits, 1964's "I Get Around," and 1965's "Help Me, Rhonda."
"Good Vibrations" is considered the musical "missing link" between the Beach Boys' 1966 Pet Sounds album and their then-unreleased 1967 album Smile. Wilson never intended for "Good Vibrations" to be included in the original track listing for Smile, but finally succumbed to record company pressure in 1967 to include the track on the album. After Smile was abandoned, it was included on the album that was released in its place, called Smiley Smile.
"Good Vibrations" continues to either top or place highly in various rock and roll "Best Of" lists, most notably in 1997 when it topped Britain's Mojo magazine's list of Top 100 Records of All Time — beating out the Beatles' 1967 double A-sided single "Penny Lane"/"Strawberry Fields Forever."
Over the years, the song has mainly been performed as one of the group's many show-stopping encores. In the early '70s however, the group sometimes took fans by surprise by opening their concerts with the song.
Mike Love told us that when looking back on the group's golden era — "Good Vibrations" stands out as the stars perfectly aligning in terms of creativity and commerce: "Well, I think 'Good Vibrations was probably the height of our creativity in the '60s. It was not only successful — really successful — but it was very unique. (It was) probably the least derivative of our hit singles. Meaning, y'know, everything is based on something that came before — that's what I mean by derivative. But with 'Good Vibrations,' it was so darn different, so unique sounding. And yet it was successful as well. And I admit to liking things that are both successful and creative (laughs)."
Noted Beach Boys author and historian Jon Stebbins says that mixing Wilson's groundbreaking music and record production with cousin Mike Love's ability to craft hook-based relatable lyrics created a simply unbeatable musical combination: "Y'know, Brian was kind of esoteric, and the stuff that Brian created that your ear enjoys — like Brian is like bliss for the ear. The things that he created are the things that give your ears orgasms, y'know? They're so wonderful to hear over and over again and you get addicted to them (and) you wanna hear them again and again. That's Brian. But the things that make it interesting the first time you see them or the first time you hear them directly are some of the things that Mike added in there — and also things that made them so catchy."
Wilson's youngest brother Carl Wilson sang the lead vocals, with co-writer Mike Love supplying the song's chorus. Brian Wilson revealed to us that it was none other than his brother Dennis Wilson who contributed the church-like organ during the slower portion of the group's 1966 Number One hit "Good Vibrations." Brian explained how Dennis ended up with such a high profile spot on his debut as the Beach Boys' keyboardist: "He was sitting at the organ, and I said, 'I wanna play the organ,' and he says, 'Well, let me play.' So I said, 'Alright,' and I taught him his part."
The Beach Boys' Al Jardine says that he recalls the "Good Vibrations" sessions as being highly charged and exhausting: "The technology and the recording machines would even change while we were going through these processes. From four-track, to eight-track, to 16-track. And so we had more oppor. . . more availability of overdubbing. So we'd work long hours. Double tracking, triple tracking. It took six months to do 'Good Vibrations.'"
Brian Wilson admitted that even during his recent concert tours, he recalls one of the vocal sessions' funniest moments: "Every time I have to sing 'Good Vibrations' it takes me back to the time when Al Jardine had to stand up on a big box because he was too short for the microphone. And he had to stand up on a box, so he could sing with us on microphone. And we did 'Good Vibrations' that way and he fell off the box! (Laughs) Right in the middle of a take!"
Mike Love still takes tremendous pride in writing the words to Brian Wilson's music for the Beach Boys' epic 1966 chart-topper: "It was a pleasure to work with my cousin Brian on co-creating that song. And, I think, may years ago, Rolling Stone had some poll and they regarded 'Good Vibrations' as the 'Single of the Century,' or something like that."
2016 saw the release of the Beach Boys' "Good Vibrations 50th Anniversary Edition" vinyl EP.
The sunburst disc features five different versions of "Good Vibrations" — the remastered 2001 track; various sessions; an alternate take; the song's instrumental track; a 1968 concert rehearsal; and the single's original 1966 B-side, the Pet Sounds instrumental, "Let's Go Away For Awhile."
The 2022 remixed version of Sounds Of Summer: The Very Best Of The Beach Boys features the latest and most definitive stereo mix of "Good Vibrations" utilizing the most up to date studio technology.