Flashback: The Beatles Kick Off 'Let It Be' Project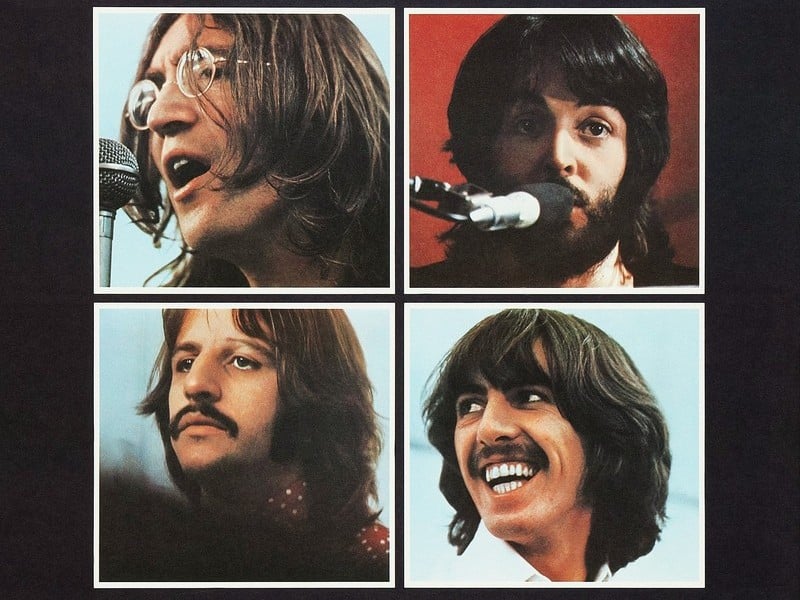 It was 54 years ago today (January 2nd, 1969), that the Beatles' began their second-to-last project together, the movie and album, which was eventually released as Let It Be. The film and resulting music, which was shot and recorded throughout January 1969, was originally intended to be a TV special featuring the group rehearsing for their first live show in over two years. The early rehearsals captured the group, along with John Lennon's soon-to-be wife Yoko Ono, clearly bored, with only Paul McCartney showing any real enthusiasm for the new material. The first part of the film shows the strain of the early morning sessions held in a cavernous soundstage at London's Twickenham film studios.
Among the songs featured in the film are "Let It Be," "Get Back," "Don't Let Me Down," "Maxwell's Silver Hammer," "For You Blue," "Octopus' Garden," "I Me Mine," "Across The Universe," and "The Long And Winding Road," and covers of "Besame Mucho," "Shake, Rattle And Roll," and "Kansas City," among many others.
The Beatles' late-producer George Martin recalled that the Let It Be project held great promise in the beginning: ["They were going through a very, very revolutionary period at that time. And they were trying to think of something new. They did actually come up with a very good idea, which I thought was well worth working on; The wanted to write an album completely and rehearse it and then perform it in front of a large audience — and for that to be a live album of new material. And we started rehearsing down at Twickenham film studios, and I went along with them."] SOUNDCUE (:26 OC: . . . along with them)
George Harrison, who was the least invested member of the band in regards to returning to the stage, recalled the band's initial plan: ["I think the original idea was to rehearse some new songs, and then we were going to pick a location and record the album of the songs in a concert. I suppose kinda like they do these days on Unplugged, except, y'know, it wasn't to be unplugged. It was to do a live album."] SOUNDCUE (:20 OC: . . . a live album)
The tracklisting to the Let It Be album is: "Two Of Us," "Dig A Pony," "Across The Universe," "I Me Mine," "Dig It," "Let It Be," "Maggie Mae," "I've Got A Feeling," "One After 909," "The Long And Winding Road," "For You Blue," and "Get Back."
The tension between the group is palpable, especially during the sequence where George Harrison and McCartney argue over Harrison's playing on the song "Two Of Us."
The movie lightens up considerably during the second half, when the filming moved to the group's new Apple Studios, with the addition of keyboardist Billy Preston. A major highlight of the film is the final sequence, when the Beatles play in impromptu set on the Apple headquarters rooftop, featuring "Get Back," "Dig A Pony," "I've Got A Feeling," "Don't Let Me Down," and "One After 909." Filmed on January 30th, 1969, it would be the band's final public performance.
Reviews for the film, which was released in May 1970 — a month after the group's breakup — were mixed, citing the sluggish and depressing nature of the film, as well as director Michael Lindsay-Hogg's sloppy editorial choices. But across the board, both critics and fans agreed on the power of the group's triumphant rooftop set.
In 1970, John Lennon recalled the early part of the Let It Be project, in which the band was filmed rehearsing in the cavernous Twickenham studio, which was the size of a small airplane hanger: ["It was just a dreadful, dreadful feeling being filmed all the time. I just wanted them to go away. And we'd be there at eight in the morning and you couldn't make music at eight in the morning, or 10, or whatever it was . . . in a strange place with people filming you and colored lights."] SOUNDCUE (:14 OC: . . . and colored lights)
Paul McCartney explained that unconsciously, the Beatles were actually telling the world that they were breaking up: ["In fact what happened was when we got in there we showed how the breakup of a group works because we didn't realize that we were actually breaking up, y'know as it was happening."] SOUNDCUE (:10 OC: . . . it was happening)
Author Ritchie Unterberger chronicled the prolonged Get Back/Let It Be sessions in his book, titled The Unreleased Beatles: ["They had bitten off more than they could chew. Y'know, even before they assembled in January, the idea was, 'Let's get back to playing as a live band' — pretty good idea. But then it was, 'Let's make it an album and a film, and we're going to make the album a film of us doing a concert of songs we've never recorded before.' It's kind of like trying to do too much at once. And then you're recording it — the comparison I made in the book is kind of Nixon's 'The Watergate Tapes,' you have no idea that this stuff is going to comeback to haunt you forever."] SOUNDCUE (:27 OC: . . . haunt you forever)
Beatlefan magazine's executive editor Al Sussman saw the film within days of its premiere and was left speechless by the group's live swan song: ["It was really depressing. But, what made it worthwhile was the rooftop, y'know? Because when I left that theater, I was this far off the ground. Despite the fact that we knew everything that happened afterward. Yeah, that saves the film."] SOUNDCUE (:14 OC: . . . saves the film)
George Martin said that he felt betrayed by Lennon and Harrison when they enlisted Phil Spector to rework the Let It Be tapes prior to their eventual release: ["When the record came to be issued, EMI rang me up and said, 'They don't want your name on the record. It'll be 'Produced by Phil Spector.' I said, 'But I produced all the original stuff that they worked on.' I said, 'I'm not having that. Why don't you put on it, 'Produced by George Martin, over-produced by Phil Spector?' But they didn't seem to go for that."] SOUNDCUE (:18 OC: . . . go for that)
The Let It Be album marks the only Beatles album to house three Number One songs — albeit in different mixes to their single counterparts: "Get Back," "Let It Be," and the group's last chart-topper, "The Long And Winding Road."
Let It Be earned the Beatles their only Academy Award, when they won the 1970 Oscar for Best Original Song Score. The film was briefly available on VHS in 1981 — but is still not yet available on DVD.
FAST FORWARD
Beatles fans were besides themselves with the long-awaited release of Peter Jackson's The Beatles – Get Back documentary. The three-part series rolled out over three days, November 25th, 26th, and 27th, 2021, exclusively on Disney+. All told, the complete running time for all three parts came out to a staggering near-eight hours of never-before-seen coverage of "The Fab Four" at work, which is now available on DVD and Blu-ray.
The new doc forever changes history in that the band's Let It Be sessions — seen in a much wider scope than the 90-minute original film from 1970, showcasing the "Fab Four" not at loggerheads — but joyfully collaborating while producing new, solid music.
We caught up with Ringo Starr and he explained why the Get Back film bests the long out-of-print Let It Be movie: ["On the roof was seven minutes, eight minutes-long. On the roof with Peter is 43 minutes long (laughs). . .  that's. . . Y'know, it's about the music — and a lot of joy.  Y'know, I didn't feel any joy in the original documentary. The fact that we found 56 hours of unused video tells you everything, really. And I said — 'There's lots of laughter (in that footage) — I was there! We were laughin', we were having fun. We were playin', y'know, we were doin' what we do. It's full of fun.' I mean, there was a lot of joy in makin' those records."] SOUNDCUE (:32 OC: . . . makin' those records)
At the doc's L.A. premiere, George Harrison's son Dhani Harrison admitted that the quality of the Get Back footage, mixed with the intimacy of the subject matter was nothing less than mind-blowing for him: ["When you see Peter (Jackson's) footage all res'd up. . . Me and my mom first saw John singing and I was, like, 'John had gold teeth?' (Laughter) Something you don't think of. Y'know, you see him singing and you can see he's got a gold crown."] SOUNDCUE (:11 OC: . . . a gold crown)
At the London premiere of Get Back, Ringo Starr's son and Who drummer for the past 25 years, Zak Starkey, spoke about his dad and the original 1970 Let It Be movie: ["He's the greatest living rock n' roll drummer– and that's it with my dad. And he's better now than he was then. Let It Be was withdrawn wasn't it? That was a great movie. It's very dark and heavy, but it's a great movie. Y'know, there are four guys that know the truth and one of them's not me."] SOUNDCUE (:13 OC: . . . them's not me)
Last September, the Beatles won big at the Creative Arts Emmy Awards for The Beatles: Get Back documentary. The critically acclaimed doc snagged the awards for Directing for a Documentary/Nonfiction Program for Jackson, Picture Editing for a Nonfiction Program, Outstanding Documentary Or Nonfiction Series, Sound Editing for a Nonfiction or Reality Program (Single or Multi-Camera), and Outstanding Sound Mixing for a Nonfiction or Reality Program (Single or Multi-Camera).
Interestingly, with Paul McCartney and Ringo Starr sharing in the win as co-producers of Get Back — both surviving members of the "Fab Four" are just one Tony Award away from achieving EGOT (Emmy, Grammy, Oscar, Tony) status.