Flashback: The Beatles 'Live At The Star-Club' Album Released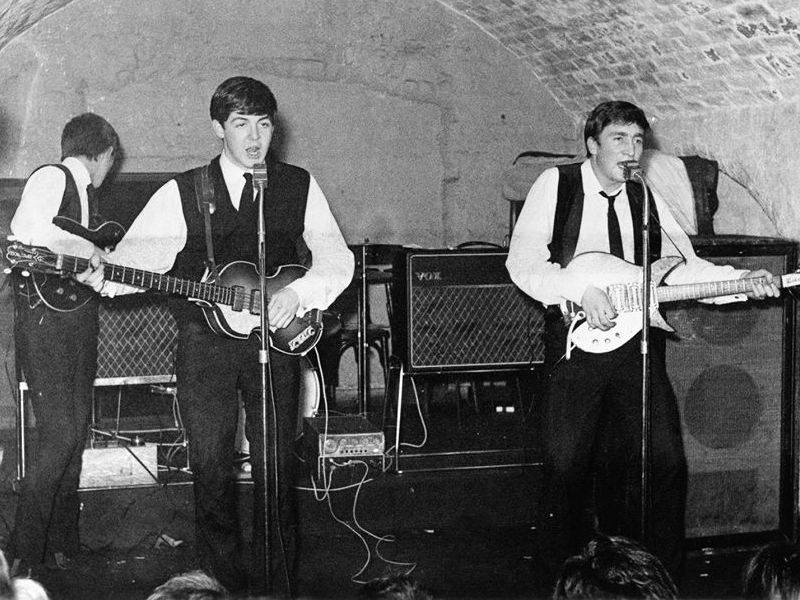 It was 46 years ago today (June 13th, 1977) that the Beatles' pre-fame live album was released in the U.S. The infamous Live! At The Star-Club In Hamburg, Germany; 1962 album was culled from tapes recorded during Christmas week 1962. Although they have been advertised many times as being either a night in which Ringo Starr was sitting in for the band's first drummer Pete Best, or his debut performance with the group, he had in fact been a full member of the Beatles for over four months at the time of the recording. It should be noted that the Beatles were under contract to EMI Records at the time of the recording until today, which legally nullifies any claim of exclusive ownership to their performances.
In 1977, nearly 30 performances from the Beatles final stint in Hamburg were released as The Beatles – Live At The Star-Club In Hamburg, Germany 1962. It was the first ever live release to document the group's early, cover band repertoire. The group, who had never authorized the album's release, sued and won the rights to the master tapes in 1998. During the trial, George Harrison took the stand representing the Beatles and claimed that they never knew they were being recorded.
The recordings include several dozen songs, which were taped by fellow Liverpool musician Ted "Kingsize" Taylor over several nights. The Star-Club tapes feature many songs the Beatles never officially recorded, such as Tommy Roe's "Shelia," Frank Ifield's "I Remember You," Marlene Dietrich's "Falling In Love Again," Chuck Berry's "Little Queenie" and "I'm Talkin' 'Bout You," Fats Waller's "You're Feet's Too Big," Gene Vincent's "Be-Bop-A-Lula," Nat "King" Cole's "Red Sails In The Sunset," Arthur Alexander's "Where Have You Been All My Life?," and Buddy Holly's "Reminiscing," among others.
Despite the low fidelity of the Star-Club tapes, the variety of its material and energy in which the Beatles performed throughout, has made them a fan favorite over the years.
Over the years, John Lennon and George Harrison said that the Beatles were at the top of their game as performers during their Hamburg era, which spanned from 1960 to 1962. Original drummer Pete Best told us the long hours the band played made them a top attraction: "I mean, we didn't realize how long we were going to be playing. And what we played in Liverpool was an hour, possibly two hours maximum, something like that which was par for the course. But when we got out to Germany we got told we were playing six, seven hours a night — possibly 15, 20 minutes off, y'know on the hour. There's nothing you can do about it. You're there, you're not gonna contest it. It's just like, 'Okay, we've got a job to do, let's just get on with it.'"
Paul McCartney remembers the Beatles' early days in Liverpool and Hamburg as being the first high point of the group's incredible career: "You're in Hamburg. You're 18. You've never been abroad in your life and you've got a bit of money in your pocket and you go drinking on a Saturday night. Y'know, and you end up on the Sunday morning and you do a couple of loony things — like most 18-year-old or servicemen on abroad, y'know, there's always some lunacy. And it just grows. Someone remembers and they say, 'Oh, do you remember that?' — it's the old story — and it grows into this amazing legend about, 'Whew, I remember them, they were tough days' — but y'know, it wasn't that much different from now. A little bit more lunacy, that's all. (Laughs) Quite a bit more lunacy, but it was only kind of good clean fun. Good dirty fun (laughs), actually."
During his 2012 keynote address at Austin's South By Southwest music festival, Bruce Springsteen spoke about the importance of seeing the photos of the Beatles during their Hamburg era for the first time: "And then in some fanzine, I came across a picture of the Beatles in Hamburg, and they had on the leather jackets and the slicked-back pompadours, and they had acne'd faces, and I said, 'Hey, wait a minute, those are. . . those are the guys I grew up with' — y'know, Liverpool wharf rats. So, minus their Nehru jackets and haircuts, (I thought) 'These guys — they're kids — they're a lot cooler than me, but they're still kids. There must be a way to get there from here.'"
Although the Beatles own the rights to the 1962 Star-Club tapes, they have never officially released any tracks from them, although a video montage featuring Star-Club recordings was used as part of 1995's The Beatles Anthology.