Flashback: The Beatles Perform 'All You Need Is Love' Live Via Global Satellite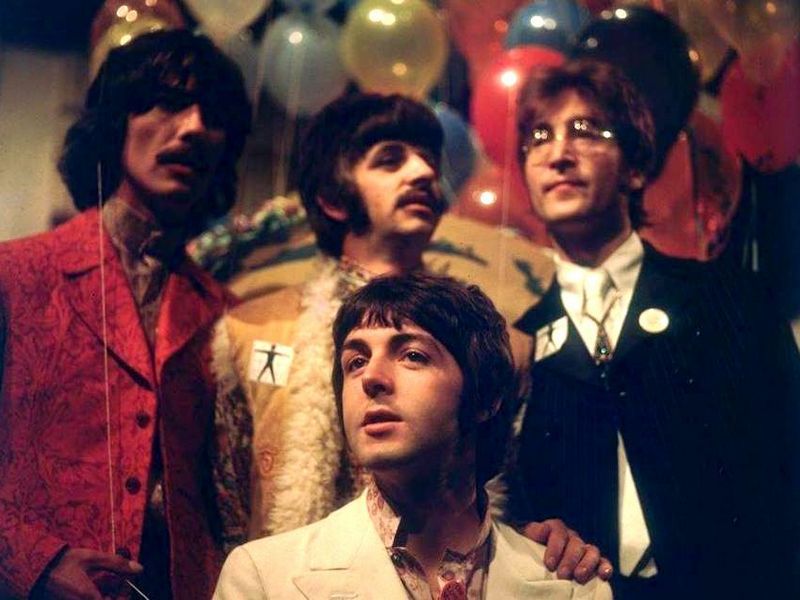 It was 56 years ago Sunday (June 25th, 1967) that the Beatles performed "All You Need Is Love," which was broadcast live via global satellite to an estimated 400 million viewers. The Beatles were representing the U.K. in the Our World TV special, which was the first major televised hookup linking five continents.
The Beatles were riding high on the success of Sgt. Pepper's Lonely Hearts Club Band, which had been released earlier that month. For the broadcast, the four Beatles were surrounded by such high-profile guests as Mick Jagger, Marianne Faithful, Keith Richards, Eric Clapton, Keith Moon, George Harrison's wife Pattie Boyd, Paul McCartney's girlfriend Jane Asher, his brother Mike "McGear" McCartney, Graham Nash, and numerous other assorted friends and family.
The Beatles, who sat on high stools in Abbey Road Studio Number One, were decked out in their finest Swinging London apparel, with John Lennon, who composed the song, sitting center stage without an instrument. Although the Beatles were playing live, over the preceding ten days they had recorded a basic track to play along to, which included Lennon on harpsichord, Paul McCartney on double bass, George Harrison's lead guitar solo, and Ringo Starr's drums.
Graham Nash gave us the backstory on how he ended up participating in the 'All You Need Is Love' recording session: "Got a call one Sunday morning from Paul (McCartney). He asked me what I was doing later that day and I said, 'Well, first of all it's only nine o'clock in the morning, Paul. What are you doing call. . . I mean, Saturday evening, who the hell goes to sleep?' Right? So, anyway, I was joking with him. I said, 'What are you up to?' He says, 'Well, at Abbey Road (Studios) later on, we're gonna do this new song called 'All You Need Is Love,' it's going to be on satellite and it's going to be for a few people.' I said, 'How many people?' He said, 'A couple of billion.' 'What?!' We went down there — all friends (Mick) Jagger's over there, Keith (Richards') over there, and I'm over here, Marianne (Faithfull's) over there, y'know, and we're just sitting there watching the boys do their performance. I can actually hear myself whistling on the end of that track (laughs)."
George Harrison recalled the recording of the song in 1995's The Beatles Anthology: "I don't know how many millions of people but it was supposed to be some phenomenal amount of people and it was probably the very earliest technology that enabled that kind of satellite link. We just thought, 'Well, we'll just sing 'All You Need Is Love," because it's a kind of subtle bit of PR for God,' (laughs) basically."
Paul McCartney recalled the recording of the song and said that he wasn't sure whether Lennon had written the tune especially for the satellite event: "It was John's song mainly. I don't think it was written especially for (the global broadcast) but it was one of the songs that we had. It was certainly tailored to it once we had it. But I've got a feeling it was just one of John's."
In The Beatles Anthology book, Ringo Starr commented on the altruistic aspects of the Beatles performing "All You Need Is Love" on a truly global stage: "We were big enough to command an audience of that size, and it was for love. It was for love and bloody peace. It was a fabulous time. I even get excited now when I realize that's what it was for: peace and love, people putting flowers in guns."
According to legend, had Lennon not come up with "All You Need Is Love" on May 22nd, 1967, the Beatles were planning to perform McCartney's "Your Mother Should Know."
"All You Need Is Love" knocked the Doors' "Light My Fire" out of the Number One spot on August 19th, 1967, becoming the group's 14th Number One song, and topping the charts for one week. Over the years, the song has become synonymous with 1967's legendary "Summer Of Love."
"All You Need Is Love", along with the Beatles' other two Number One's from that year, "Penny Lane" and "Hello Goodbye," was included on the soundtrack album to the group's Magical Mystery Tour album, which was released that December.
A colorized version of the Beatles performance of "All You Need Is Love" was included in the 1995 Beatles Anthology.
The Beatles never performed the song live, having given up touring in 1966. In 2002, Paul McCartney, Rod Stewart, Cliff Richard, and many others performed "All You Need Is Love" in London at Queen Elizabeth's Jubilee Concert outside Buckingham Palace. In recent years, McCartney performed the song's end-chorus in medley with the "Fab Four's" Rubber Soul classic, "The Word."