Flashback: The Beatles Release 'Revolver'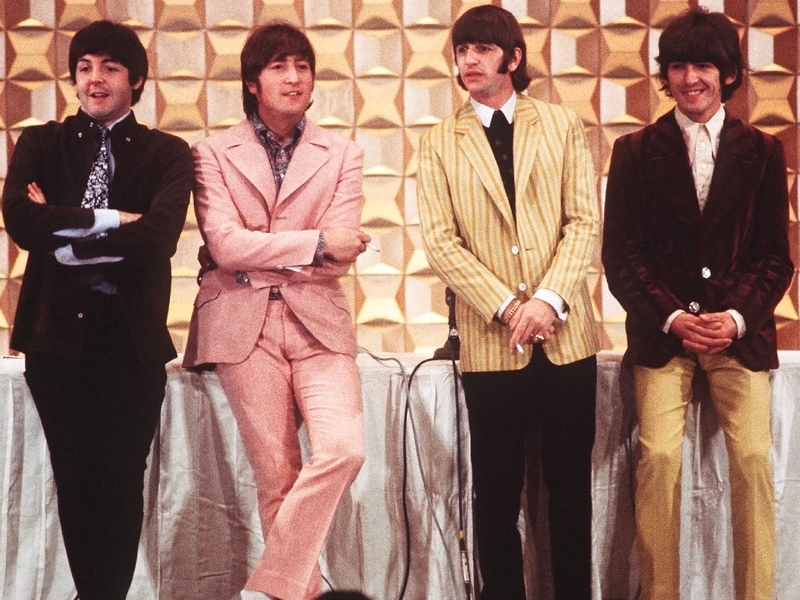 It was 56 years ago tday (August 5th, 1966), that the Beatles released their groundbreaking seventh album Revolver. What sets the album apart from its predecessors is that aside from a brief nine date UK tour the previous winter, and no new movie to be shot for 1966, the group had an unprecedented five months off to recharge their creative batteries, and for the first time the group was able to spend open-ended hours working on new sounds by experimenting with new instruments and state of the art technology. With a lighter schedule, the Beatles were able to take a full 11 weeks to record what has become one of rock's most important milestones.
The album's sessions, which also included a separate single, "Paperback Writer" and "Rain," were the first with newly promoted chief engineer Geoff Emerick working side-by-side with producer George Martin.
The album featured touches of ragtime on Paul McCartney's "Good Day Sunshine"; Indian ragas on George Harrison's "Love You To"; hard rock on Harrison's "Taxman"; a children's song sung by Ringo Starr on "Yellow Submarine"; and John Lennon's proto-psychedelic anthems such as "She Said She Said," "And Your Bird Can Sing," and "Tomorrow Never Knows," which broke new ground with dramatic use of backwards music and tape looped sound effects.
It was on this album that the group, still working as a four-piece ensemble, was able to break sonic boundaries, such as the use of the Emerick-invented automatic double tracking. McCartney's bass was sometimes recorded through a megaphone, or plugged directly into the recording console, bypassing the amplifier completely. Harrison worked out a backwards guitar part, which was then played forward for Lennon's "I'm Only Sleeping."
On Revolver, McCartney developed most as an artist, with his classics "Eleanor Rigby," "Here, There And Everywhere," the Tamla-Motown influenced "Got To Get You Into My Life," and "For No One."
In 1980, John Lennon told Playboy that he was always a fan of McCartney's work on Revolver, saying that, "'Eleanor Rigby' was Paul's baby, and I helped with the education of the child. . . 'Here, There And Everywhere' was Paul's song completely. . . and one of my favorite songs of the Beatles."
"Got To Get You Into My Life" was a surprise Top 10 hit for the Beatles in the summer of 1976, when it was reissued as a single to promote the group's Rock 'N' Roll Music compilation.
Paul McCartney says that after all these years, he's quite comfortable looking back and discussing the Beatles' career: "Y'know, I'm very proud of everything that we did with the Beatles. In truth looking back, I kinda can't believe it. Y'know, we were just working, each day year-in, year-out making records. Now that it's over, the Beatles is a body of work now, so I can look back on it, kind of dispassionately and judge it for what it is."
Revolver marked the beginning of the Beatles' work with engineer Geoff Emerick behind the boards with George Martin, replacing the band's longtime engineer Norman Smith, who was promoted to becoming Pink Floyd's producer. Emerick immediately began reshaping the Beatles studio sound and remained the way they were recorded at Abbey Road — especially Ringo Starr's drums: "Norman would mic it, I don't know, about a foot away, and I was mic-ing it about three inches away towards the end. And Norman's overhead mic was, what, four, five foot up and I came in close with that. Most of those original — on Revolver we started, I mean it was just one overhead, snare mic, and hi-hat and bass drum. And then I started experimenting with mic-ing the toms, y'know, closely."
John Lennon was quick to give to give credit to George Martin and his tireless effort to help realize and expand their musical visions: "We did a lot of learning together. He had a very great musical knowledge and background, so he could translate for us and suggest a lot of things; which he did. And he'd come up with amazing technical things, like slowing down the piano, playing it slow and putting it on. . . . and things like that. Where who'd be saying: 'Well can we, we wanna go 'ooh' and 'eee-eee' and he'd say (imitates Martin), 'Look chaps, I thought of this this afternoon. Last evening I was talking to . . . .' – whoever he was talking to – '. . . and I came up with this.' Y'know, and we'd say, 'Oh, great!' But he'd also come up with things like, 'Well, have you heard an oboe?' — ''Oh, which one's that?' — 'It's this one.'"
Revolver marked the one and only time that George Harrison received three songwriting credits on a single Beatles album, contributing such classics as "Taxman," "Love You To," and "I Want To Tell You." We asked his then-wife Pattie Boyd if she saw a change in Harrison as he became more self-aware as a songwriter: "This is exactly what George does. I didn't take note because this was part of his personality. This is what he does, y'know, always plays guitar."
Boyd, says that his infatuation with Hinduism, spiritual topics, and Indian music was his attempt to seek out the "bigger picture": "He had a bit of difficulty understanding why he — this little boy from Liverpool — had been selected to be so famous. And he didn't understand the fame and he thought that maybe Eastern philosophy could give him some sort of idea or clue as to why he had been chosen."
Beatles author Bruce Spizer says that Revolver has historically been shortchanged: "When you talk about the greatest Beatle albums, everyone of course has to mention Sgt. Pepper. I don't think Sgt. Pepper's the best Beatles album, I think it's the most important, because it revolutionized the way that people thought about albums. But Revolver was a real breakthrough. And that was the album where the Beatles truly learned how to use the studio instrument itself (with) all the unique sounds they were getting. And as great as an album that Revolver is, think about how much better it would have been had it included 'Paperback Writer' and 'Rain.'"
Robert Rodriguez's recent groundbreaking book, Revolver – How The Beatles Reimagined Rock 'N' Roll, touches upon the fact that the seeds of the "Fab Four's" split happened well before Yoko Ono's arrival. Rodriguez sheds light on the fact that Paul McCartney walked out on the band during their June 21st, 1966 recording session at Abbey Road Studios, which produced the John Lennon classic, "She Said, She Said" — presumably leaving George Harrison to supply the bass work for the track.
Rodriguez told us that in recent years, who exactly the bassist is on "She Said, She Said" — and more importantly why Paul McCartney isn't the bassist — has been one of the biggest unanswered questions in all of "Beatledom:" "It's been this question mark hanging out there. In (McCartney's musical memoir) Many Years From Now, he tosses that out there as an aside — 'Yeah, I didn't play bass on that. . . I don't know what happened. . . We had a barney and I said 'F – you' and stormed off and they said, 'We'll do it without you. . .' and it's like, what?! (Beatles author Mark) Lewisohn does his book — and he's got more coming — and you sort of expect the insider's secret research perspective, but nobody touched it. It doesn't even get mentioned in (The) Beatles Recording Sessions."
Rodriguez goes on to raise the issue that despite the historical accolades, the "Fab Four's" true musical masterpiece and greatest studio innovation was Revolver — not the beloved "Summer of Love" soundtrack, Sgt. Pepper's Lonely Hearts Club Band: "Y'know, among the hardcores, or maybe the more savvy music critic people out there, y'know, you know what's what, You know that this is a landmark, brilliant advance in the history of rock and the Beatles' career. And yet, it was just like under this cloud upon release. Y'know, it did go to Number One and all, and stuff, but it didn't get the world attention the way Pepper did. Y'know, Pepper was the one that everything was in place for, everyone was waiting for, all the anticipation. Revolver couldn't get a break — and Pepper got every break."
Today, Paul McCartney feels that one of the major components of the Beatles striking a chord across the globe was their dedication to creativity and — above all else — honesty: "If we hadn't have done it — somebody else would've. Um, we were like spokesmen for our generation; we were not the only people that thought like that — but we were the most public, and we had this fame — early fame, as young guys, so people would come with television cameras (and) say: 'What do you think? . . . What do you think?' And, things like, we'd go to America and they said, the first thing they said (was) 'Don't mention Vietnam.' Well, we did, 'cause we were honest guys, and they said, 'Well, what do you think about Vietnam?' We said we think it's a bad war.' And I think all of this changed people's attitudes, y'know?"
Four days after releasing Revolver, the group launched their final U.S. tour. Except for their recent chart topper "Paperback Writer," they ignored all of their new and complex material, preferring instead to play older songs such as "She's A Woman," "I Wanna Be Your Man," and "I Feel Fine."
Paul McCartney began performing songs from the Revolver sessions in 1979 during his final tour with Wings, when the band opened with "Got To Get You Into My Life." He re-recorded "Good Day Sunshine," "For No One," and "Here, There, And Everywhere" for the soundtrack to his 1984 movie Give My Regards To Broad Street. Over the past two decades McCartney has performed every one of his songs from Revolver in concert, along with "Paperback Writer," which was recorded during the sessions.
McCartney has also been known to break into impromptu renditions of "Yellow Submarine," which he and John Lennon wrote, during the acoustic portions of his shows over the past decade. The song remains a staple of Ringo Starr's All Starr Band concerts.
In 1991 during his second and final solo tour, George Harrison, while out on the road in Japan with Eric Clapton and his band, performed "Taxman" and opened his shows with the Revolver standout "I Want To Tell You."
Revolver became the Beatles' ninth American Number One album, hitting the top spot on September 10th, 1966 and staying at Number One for six weeks. It was replaced at Number One by the Supremes' one-and-only original chart-topping album, Supremes A'-Go-Go.
FAST FORWARD
Beatlefan magazine has heard from two sources that "a multi-disc Revolver box set is planned for this October 26th or October 28th." Producer Giles Martin revealed last year that a Revolver set was in the works — but no official announcement has been made.
While chatting with Variety last October, Martin was asked if the "Fab Four's" pre-1967 catalogue will get the detailed and specialized treatment that the later works have — specifically, 1966's Revolver: "I think we have to do it, and I've said this before. . . If you take something like 'Taxman' from Revolver (a track often cited for its bizarre stereo separation), 'Taxman' is guitar, bass and drums on one track, and vocals and a sort of shaking and guitar solo (on the right). And it sounds good; they're amazing recordings, and amazing mixes. Y'know, we have to look into what technology we can do to make things de-mixed and all this kind of stuff, which I'm looking into."
He added, "I'm looking for the technology to do it with, to do something really innovative with Rubber Soul and Revolver, as opposed to just a remastering job, because it's been remastered already. So I think we will. I think we also will look at outtakes as well."