Flashback: The Beatles Release Sgt. Pepper's Lonely Hearts Club Band'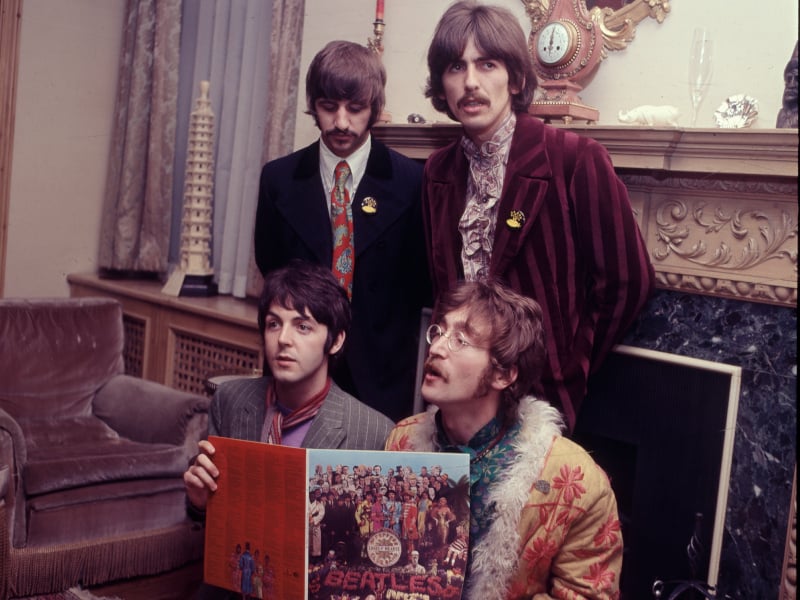 It was 56 years ago today (June 1st, 1967), that the Beatles released the legendary Sgt. Pepper's Lonely Hearts Club Band album in the U.K. The album, which was released a day later in the U.S., was one of the most groundbreaking and influential records in history. There had been an unprecedented eight-month gap with no new Beatles music since the group's previous album, 1966's Revolver, with the exception of the double A-sided single "Penny Lane/Strawberry Fields Forever," which was recorded during the Sgt Pepper sessions. The album was highly anticipated and an immediate critical and commercial success.
In June 2017, the Beatles released the six-disc 50th anniversary deluxe edition of Sgt. Pepper's Lonely Hearts Club Band. The album was re-released in both single and double-disc versions, as well as a two-record set. The motherload was the super deluxe six-CD set that featured a brand-new stereo mix by Giles Martin and Sam Okell created from the original master tapes, with two discs including 100 minutes of never-before heard outtakes, along with new mixes of "Strawberry Fields Forever" and "Penny Lane."
Also included are both DVD and Blu-ray versions of the 1992 documentary, The Making Of Sgt. Pepper, along with 5.1 surround sound and hi-res stereo mixes, a 114-page booklet, two posters and a replica "cut-out" insert from the original album release. The remixed and remastered Sgt. Pepper album debuted at Number Three on the Billboard 200 album chart.
Sgt. Pepper was the first Beatles album to be recorded after the group had stopped touring. As a result, the band could now take all the time they wanted with producer George Martin, rather than try to squeeze sessions in between tours, films, and other activities. The recording sessions stretched over a five-month period, spanning from November 24th, 1966 to April 21st, 1967, at the legendary Abbey Road Studios.
The album was notable for its advance in the Beatles' songwriting, its unusual arrangements and orchestration, and its groundbreaking production techniques. It also represented a musical and visual step into psychedelia and the counterculture by the world's most popular band, and its release coincided with the famous 1967 "Summer of Love." It was hailed as a masterpiece by musicians and critics in all fields, and helped show the world that pop music could be taken more seriously as art.
Many other aspects of the album raised the bar for pop music albums, from the way the songs ran into each other, to sonic jokes embedded in the tracks, to the elaborate cover photo and packaging. The album's influence on pop culture has been immense.
Because of the group's success, they were allowed unlimited studio time and creative carte blanche to rehearse, arrange, record, and overdub while in the studio. Instead of coming to the studio with finished and fully arranged tracks as they did in the past, many of their songs were brought to life on the studio floor, including "With A Little Help From My Friends," "Lucy In The Sky With Diamonds," "Being For The Benefit Of Mr. Kite," and "A Day In The Life."
THE SONGS
SIDE ONE:
"Sgt. Pepper's Lonely Hearts Club Band" – The album opener, which led many people to initially believe that the album was recorded in front of a live audience, features a searing lead guitar part from Paul McCartney. Since 1989, the song has been a concert staple for McCartney.
"With A Little Help From My Friends" – One of the last songs recorded for the project, it features Ringo Starr on lead vocals, with McCartney on piano and also playing one of his most distinctive and melodic bass parts. The song was originally called "Bad-Finger Boogie."
Since returning to the road in 1989, Starr has included "With A Little Help From My Friends" in his concert setlists, usually as the show closer
On April 4th, 2009 McCartney and Starr performed the song for the first time together in public at New York City's Radio City Music Hall during the "Change Begins Within" benefit concert.
"Lucy In The Sky With Diamonds"– This song caused more controversy than the other tracks. The initials of the song's title were rumored to stand for the hallucinogenic drug LSD, and caused the song to be banned from British airwaves. John Lennon, who wrote the majority of the lyrics, always insisted that the song was written after his then three-year-old son Julian came home from school with a crayon drawing of a schoolmate. When Lennon asked him what the picture was of, Julian answered, "Lucy in the sky with diamonds."
This was the only song from the album that Lennon ever performed live, when he sang it with Elton John on Thanksgiving night, 1974, at New York's Madison Square Garden.
"Getting Better" – The most straight-forward pop track on the album, and stylistically closest to the band's signature lineup of two guitars, bass and drums, is representative of how Lennon and McCartney were collaborating at the time. McCartney wrote the main body of the song, with Lennon supplying the "bridge" or "middle eight," of "I used to be cruel to my woman . . ."
McCartney has said that Lennon's answering vocal of "Couldn't get much worse" to his "It's getting better all the time" perfectly summed up the sweet and sour elements of their musical partnership.
McCartney cribbed the title from a pet phrase of substitute drummer Jimmy Nicol, who filled in for Ringo during the Beatles' Australian tour in 1964.
The song got its concert premiere during McCartney's 2002-2003 world tour.
"Fixing A Hole" – There is some uncertainty as to the exact instrumental lineup on this song. According to session tapes, McCartney is featured on the harpsichord, with the bass part being recorded simultaneously on the same track. Seeing as how McCartney couldn't be in two places at once, it's a safe bet George Harrison was on bass guitar. Harrison also provides the distinctive "spiraling" guitar solo in his only true six-string spotlight of the album.
"Fixing A Hole" got its live premiere in 1992 when McCartney returned to the Ed Sullivan Theater. On his 2005 tour, he performed the song alone, unaccompanied on the piano.
"She's Leaving Home" – A classic Lennon and McCartney collaboration about the burgeoning 1960's generation gap. The verses of the song were written by McCartney, with Lennon supplying the song's bridge of "We gave her most of our lives . . ." No Beatles play instruments on this track.
McCartney and George Martin got into a slight tiff over this song when McCartney enlisted the help of producer Mike Leander to score the string part for the song, rather than waiting for Martin to finish his session work with Cilla Black.
McCartney premiered the song live during his 2002-2003 world tour.
"Being For The Benefit Of Mr. Kite" – Lennon composed the song after purchasing an 1800's circus poster which literally describes the story of the song. The song's characteristic pump organ circus sound came from Lennon playing an actual organ, combined with tape loops of an organ played by George Martin spliced, thrown into the air, and reassembled. McCartney supplies the acoustic guitar solo that sounds like a Greek stringed instrument.
An early version of the song can be found on The Beatles Anthology 3, with McCartney coaching Lennon on how to deliver the song's lead vocal.
McCartney is currently performing a note-perfect rendition of the song on his current dates.
SIDE TWO:
"Within You, Without You" – George Harrison's sole songwriting contribution to the album, this features a mini-Indian orchestra arranged by producer George Martin. It was Harrison's idea to add the laughter at the end of the track, to dispense with the overly serious mood and subject of the song.
The song, which is the longest on the album, reflects Harrison's deepening spiritual quest through Hindu teachings.
Shortly before his death in 1980, Lennon praised this song as one of Harrison's best, and said it was a personal favorite of his.
"When I'm Sixty-Four" – One of McCartney's earliest songs, which he began around 1958 but took another eight years to finish. The song has a speeded-up lead vocal with a wordless backing vocal by McCartney, Harrison and Lennon, who although admittedly not a fan of the song, supplied the names of the subject's mythical grandchildren, "Vera, Chuck, and Dave," along with other lyrics. This song, "Strawberry Fields Forever," and "Penny Lane" were the only tracks on the album to have been recorded in 1966.
"When I'm Sixty-Four" and is the only McCartney tracks on the album that he has never performed live.
In 2002 Julian Lennon recorded a version of the song for an Allstate TV commercial.
"Lovely Rita" – McCartney's ode to a mythical British meter maid. The song features soaring backing vocals by Lennon, McCartney, and Harrison, as well as a piano solo by George Martin, and comb and paper effects by Lennon and Harrison. McCartney currently performs the song, playing a 12-string acoustic guitar.
"Good Morning, Good Morning" – Lennon was inspired by a Kellogg's Cornflake commercial for this slightly psychedelic look at suburbia. The song features the horn section of the Brian Epstein-managed group Sounds Incorporated — who opened for the Beatles on their 1965 U.S. tour. George Harrison doesn't appear on the track, which features McCartney supplying a virtuosic raga-like lead guitar solo. In 1980 Lennon dismissed the song as "garbage."
"Sgt. Pepper's Lonely Hearts Club Band – Reprise"– This short reprise matches its opening guitar note perfectly with the rooster crow that ends the previous track. McCartney occasionally closes his shows with the "Pepper" reprise played in medley with "The End" from 1969's Abbey Road.
"A Day In The Life" – Lennon, McCartney and George Martin's tour de force combined a stark and plaintive ballad by Lennon with a brisk shuffle by McCartney. At Lennon and McCartney's urging, George Martin arranged an orchestra to go from the lowest note of their instruments to the highest in order to create the cacophony of sound that links the sections. The song also used the orchestra part to end the song, before the final droning piano chord, which had all four Beatles hitting the chord with both hands on different keyboards.
On June 1st, 2008, in the Beatles' hometown of Liverpool, England, McCartney paid a poignant tribute to both the 41st anniversary of the release of Sgt. Pepper and his former partner John Lennon, by performing for the first time ever their crowning production moment "A Day In The Life." Shortly after, the song was regularly featured in McCartney's setlists in medley with Lennon's "Give Peace A Chance."
The Beatles produced a promotional video for the song, filmed primarily at the orchestral session, but it was not released at the time. Studio guests seen in the footage include Mick Jagger, Keith Richards, Marianne Faithful, Donovan and the Monkees' Mike Nesmith.
At the end of "A Day In The Life," the band added two sonic "jokes" — first, a high-pitched "dog whistle" noise many people could not hear, but which was audible to small children and dogs, and then a two-second loop of laughing gibberish in the vinyl record's run-out groove, that would continue playing indefinitely on many phonographs.
AUDIO CLIPS
In 1995's Beatles Anthology, George Harrison credited Paul McCartney with coming up with the concept of the Beatles taking on an alter-ego for Sgt. Pepper: "Well really, it was Paul who had been on a plane journey with (Beatles road manager) Mal Evans and come up with this idea of Sgt. Pepper. And he was just kind of. . . To me, we were just kind of in the studio to make the next record, and he was going on about this idea of some fictitious band."
Paul McCartney recalled that the types of names that various West Coast groups were using inspired the concept of Sgt. Pepper's Lonely Hearts Club Band: "At the time there were lots of those sort of bands that y'know, 'Laughing Joe and his Medicine Band Thank You Wham Bam Ma'am', kind of group names. 'Colonel Tucker's Medicinal Brew & Compound.' So I just thought, if there was a band, what would be a mad name for it?"
John Lennon claimed that despite Sgt. Pepper being called rock's first concept album, he never considered it to be one: "It's called the first concept album. It doesn't go anywhere. '(Being For The Benefit Of) Mr. Kite,' all of my contributions have absolutely nothing to do with this idea of Sgt. Pepper and his band. But it works because we said it worked, and that's how it appeared."
Paul McCartney recalled how the recording sessions for Sgt. Pepper differed from all that had come before: "'Let's pretend we're not the Beatles' — that's a pretty big dare right there, y'know, and it changed everything. What was great about it, it was liberating, because you could go in and work on a track and whereas before someone would sort of say, 'Okay, y'know, it's 'Eleanor Rigby' — now Paul sings the lead.' Now it could be 'Crazy Moon-dog' is going to do the vocal.'"
Not long before his 2021 death, the Monkees' Mike Nesmith recalled the group traveling to London in early-1967 — with Nesmith and his first wife Phyllis staying with John and Cynthia Lennon at their Weybridge estate during the recording of Sgt. Pepper: "It was just a small bedroom, one of many that he had. I remember a lot about the poster for '(Being For The Benefit For) Mr. Kite' being in John's little music room and us sitting there painting that piano — he had the paintbrushes and everything. Sitting side-by-side playing the piano with him, and when he would play 'Mr. Kite' for me. 'Showed me how it went and sharing the music space with him, that was really nice. It was good. He was, y'know, gifted."
McCartney recalls writing "A Day In The Life" with Lennon: "For instance, 'A Day In The Life," John and I sat down and he had the opening verse. I think he had the opening idea, or we then took the idea from like The Daily Mirror or something. The Black-burn Lanc-ashire, the holes, Albert Hall all got mixed, a little poetic jumble that sounded nice. It was obviously a gorgeous song when he brought it. And I say, I was a big fan of John's, you gotta remember that. It wouldn't be, 'Yes professional person, we'll write this.' It would be, 'Can't wait to get my hands on this!'"
George Martin recalled scoring the orchestra that linked Lennon and McCartney's sections together: "They told me they wanted an orchestral climax to fill these empty bars. A giant orgasm of sound rising from nothing at all to the most incredible noise."
George Harrison explained that the Beatles' drug use — mainly pot and LSD — greatly influenced the music they were making in the mid-'60s: "It mightn't have affected creativity for other people — I know it did for us, and it did for me. I mean, the first thing for people who smoke marijuana and were into music, is that somehow, it focuses your attention better on the music, and so, you can hear it clearer. You can see things, or y'know, you could see things much different. I mean, LSD was something else, it wasn't just. . . marijuana was just like having a couple of beers, really (compared to acid). But LSD was more like going to the moon."
Ringo Starr recalls that although the "Fab Four" were known to party during their sessions during their "psychedelic" period, they always needed to keep it in check for the sake of the recording: "We actually learned that years ago in the Beatles. Because we weren't saints and we would work late some nights and we'd make these (laughs) records — it was like 'Oh wow! yeah, yeah, give me a cassette, let's take that home!' And every time we'd come in the next day to EMI (Studios) (and say), 'Well we'd better re-do that.' Because the next morning it was never so thrilling."
McCartney felt vindicated after the album's release, in view of the press' constant speculation that the Beatles were breaking up: "I was very pleased 'cause the newspapers, the musical papers, had been saying recently — a month or two before — 'What are the Beatles up to? Drying up, I suppose.' And it was nice making an album like Pepper thinking, 'Drying up? Yeah, I suppose that's right, yeah.' So it was lovely to have that on them, you know?"
The group's recording engineer Geoff Emerick says that while the group worked out the songs' arrangements, he was happy to have the extra time to experiment on the group's sound: "They never realized what we were doing. As you know most of the tracks were constructed down in that studio. And while they were doing that it gave me the time, the luxury of time to, to be able to think up ideas of how to record different instruments in a different way and get different sounds. But they were never really aware of what we were doing, I don't think"
Paul McCartney recalled some of the snags that the Beatles faced with their label EMI while creating the mosaic of people surrounding them on the Sgt. Pepper cover: "There was a bit of dispute about this cover, y'know, everyone — 'Oh, you can't do t hat!' Y'know? 'Cause that's the thing if you're being free, it's obviously a lot of people saying, "Naughty! Watch it.' He was great (EMI Chairman) Sir Joe (Lockwood), actually. He was very good during that time. 'Cause, I think it must've come as shock to him, all this stuff. Anyway, he came around to my house and said, 'I'm afraid old chap, we can't have Gandhi (laughs).' (I said) 'Whaddya mean, can't? He's alright! Y'know, what's wrong with him?' 'Well,' he said, 'Might offend the Indians.'"
Beatlefan magazine's executive editor Al Sussman explains that the wait for new Beatles music seemed almost intolerable: "The week that Sgt. Pepper came out was absolutely amazing, because we had been by that point it had been 10 months since the last Beatles album . . . I mean that's an eternity in those days!"
Sussman went on to say that Sgt. Pepper's Lonely Hearts Club album was the first major example that the youth of the world were all in tune with each other: "In those days, records came out on Friday. So that weekend, everybody was listening to this album. The same thing happened when 'The White Album' came out (the year after). And you knew, that everybody, everybody, who were at all hip to what was musically relevant was listening to this. Oh yeah."
Sussman recalls that at the time most fans were noticing that their heroes might be smoking something stronger that just cigarettes: "The fold-out of Sgt. Pepper. You'd fold the picture over and look in their eyes, and you can tell. There was definitely a glint, a certain glint to their eyes, that we hadn't really seen before."
Al Sussman says that one of the album's greatest achievements is that it showed the world that rock n' roll was not just disposable kids music: "Sgt. Pepper was the first album the non-rock n' roll world looked upon as being. . . this is a significant record. Y'know, this isn't 'yeah, yeah, yeah' anymore. These guys are doing music that really says something."
After the Beatles' 1970 breakup, John Lennon re-evaluated everything he ever did with the band: "It wasn't that spectacular when you look back on it. I mean, like anything, it was great then, but people just have this dream about Pepper. And it was good for then, y'know?"
THE ALBUM COVER
The Beatles designed the album cover concept with then-husband-and-wife team Peter Blake and Jann Haworth, explaining that they wanted to appear with a crowd behind them of "people they liked." Blake created the scene of the group wearing psychedelic marching band outfits, being flanked by their audience, using mainly cardboard blown-up photographs of famous people. The final shot, which was photographed by the late Michael Cooper, has gone on to be one of the most recognizable and imitated album covers in rock history.
Among the famous figures that the group's record company EMI flat out rejected for the cover were John Lennon's suggestions of Jesus Christ, Mahatma Gandhi and Adolph Hitler — although a Hitler cardboard cutout was prepared.
The label made the Beatles write to each of the people appearing on the cover and ask them for permission. Prior to granting approval, Mae West responded by asking, "What would I be doing in a lonely hearts club?" Only Bowery Boy star Leo Gorcey declined, after requesting $400. His face was painted over.
Among the many 72 faces featured in the cover are Lenny Bruce, W.C. Fields, Edgar Allan Poe, psychoanalyst Carl Jung, Dion, Fred Astaire, Bob Dylan, Aldous Huxley, Tony Curtis, Marilyn Monroe, Stan Laurel and Oliver Hardy, Karl Marx, original Beatles bassist Stuart Sutcliffe, Oscar Wilde, Albert Einstein, Marlene Dietrich, and Shirley Temple.
Also featured on the cover were figures on loan from Madame Tussaud's Wax Museum, of former heavyweight champion Sonny Liston and the Beatles themselves with their earlier "mop-top" look.
A wax figure rumored to be the Beach Boys' Brian Wilson has cropped up on several photos from the session.
A doll featured in the corner of the cover wore a sweater declaring "Welcome The Rolling Stones," as a nod to the group's good friends and friendly rivals.